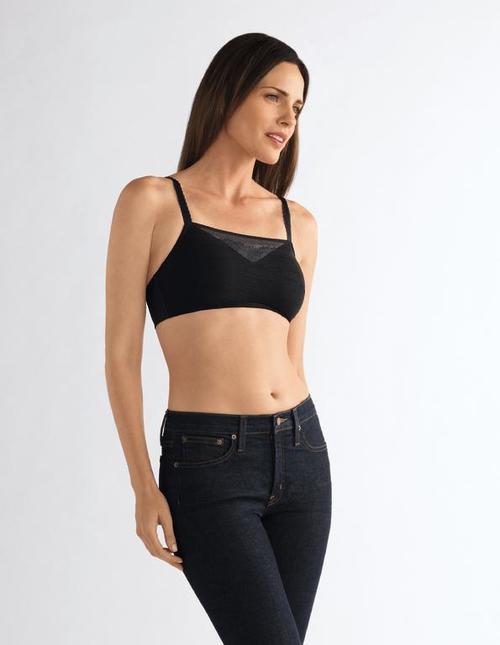 Some of the wardrobe changes required after a mastectomy, such as buying a post-surgical bra, are obvious. Others can be more of a surprise, like the way certain cuts or necklines may look different on you.
It can be challenging to adjust to these changes. You may find yourself rethinking your entire wardrobe. However, before you become overwhelmed with the task at hand, read the following tips on post-mastectomy dressing. With the right approach, you can find new ways of expressing your style and confidence in your clothes.
1. Take your time
The changes your body goes through with a mastectomy surgery can be a shock. It will take time to get used to the way you look, and your new clothing needs. Right after the surgery, the changes can seem overwhelming. Giving yourself time to look at clothing you like, and trying different ideas is important.
Research outfit ideas online and make lists of looks to try. Trying on lots of different breast surgery garments before finding the perfect one is also an important process.
2. Dress for your recovery stage
The way you dress after a double mastectomy will be affected by your stage of recovery. In the time immediately following the surgery, you will have additional needs to think about. This includes stiffness, soreness, and restricted movement. Early on, you also have to consider how drain tubes will affect your clothing.
Later, you may have more freedom when it comes to movement. However, you may be concerned about how your breast forms will sit in your clothing, or whether your scars will show.
In the weeks after surgery you need to highly consider wearing compression bras. This helps sensitive breast tissue and scar tissue heal easily. These bras are also designed to fit around surgical drains and put the needed amount of pressure on lymph nodes to prevent infection.
3. Choose the right breast form
If you decide to use a breast form, it is always worth taking the time to get the best one you can. This often means looking at high quality brands and materials, which will provide the best quality and comfort.
As well as choosing a good brand, pay attention to your preferences. An insert breast form may be preferred, as these can slip into a pocket attached to your bra. A contact or adhesive breast prosthesis is attached directly to your chest, which might feel more natural.
A professional fitter is generally the best option. A Fitting Experience Mastectomy Shoppe can help you pick out the best breast form and measure you for a perfect fit. With the benefit of years of experience, they can also talk you through how your new breast form will work with different clothing options.
4. Invest in good bras
A post-surgical bra from MastectomyShop.com can make a big difference in your comfort level. It is particularly important to choose a specially designed post-mastectomy bra just after your surgery.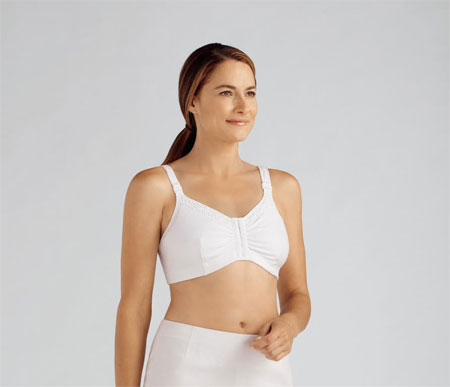 Wide straps will add comfort, and soft fabric will be gentle on your skin. During early recovery, you can use a bra designed to house drain tubes and provide compression. The Amoena bras available at MastectomyShop.com like the Amoena 2160 Hannah non-wired front closure bra are a good option because they come with a front closure for easier removal when you have more restricted movement.
5. Keep your style in mind
While comfort is important, your self-esteem and confidence should also be considered. Your self-expression through clothing should not be lost. You may make some significant changes to your signature style after your mastectomy. However, you might want to find ways to wear the looks you love best, adapting them to your new needs.
If you have a favorite style, do not be afraid to focus on it while you shop. Even if it takes time, you may be surprised at how many great new looks you can put together.
6. Easy to wear items
At the earlier stages of recovery, it can be challenging to move your arms and get clothing on and off. Even reaching for a side zipper can pull at your surgical site and cause discomfort. To avoid this, look for clothing that it easy to put on and take off. Items with front closures are the best, as you can reach them easily. Buttons, ties, and zippers are all easiest at the front of a shirt, skirt, or dress. A wrap around top or dress can be even easier.
If choosing a t-shirt, make sure the neck is wide. While many will choose high necklines to cover their décolletage, a small necked shirt will be difficult to pull off without raising your arms.
7. Soft fabrics
Comfort is key when dressing after a mastectomy. Soft, breathable fabrics should take priority. This can include cotton, jersey, modal, or bamboo. These fabrics might be more expensive than others but can be worth the investment.
The appearance of a softer fabric can also assist with styling. Prosthetic breast forms might press against more stiff fabrics, drawing attention to the area. Softer fabrics can drape around the chest area without pushing the breast form.
8. Loose arms
If you are still suffering pain or restricted movement after your surgery, large arm spaces are vital. This might mean opting for sleeveless tops and dresses, as these allow your arms to move without pulling the fabric at your chest.
Loose, large sleeves are also an option. There are plenty of trends for this, including more boxy cuts or flowing bell sleeves. You should be able to remove any sleeved item without pain.
9. Necklines
Choosing a neckline can be difficult when selecting a post-mastectomy outfit. Naturally, many women will choose to cover up. It is important to note that a breast form will generally not give the appearance of natural cleavage.
However, you may be surprised at the different types of necklines that work for you. Try a few options to see how they fall on your chest before deciding. You may still feel more comfortable with a high neck, but your choices do not have to be restricted.
If you find a low neckline on an otherwise perfect item, you can still wear it. There are many ways to adapt your outfits such as button downs can have an extra button added, or you can hold open areas closed with a brooch.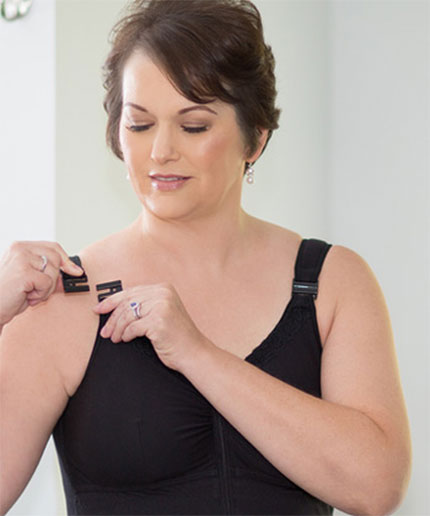 10. Layering
Wearing a camisole underneath something more revealing can be an excellent way to expand your wardrobe choices. For post-surgery outfits, a specially designed camisole is best. These add compression and comfort and are often designed to hold drain tubes.
Additional layers such as a button-down, a vest, a cardigan, or a jacket, can all help camouflage your top half. As well as being an excellent option for those who feel self-conscious about their shape, you can have a lot of fun dressing with layers.
Try playing with colors and textures, as well as interesting cuts. A vest could be worn over a blouse for trendy office wear. A cropped, structured jacket could be added to a flowing dress for a day out.
11. Scarves and throws
Scarves, throws, and wraps are a wonderful addition to a post-mastectomy outfit. They can be worn in a number of styles that hide the chest area. The soft, draped fabric can also feel pleasant if you are having an uncomfortable recovery day.
If you are sticking with a more basic wardrobe with key pieces, having multiple scarves can allow you to change up your look effortlessly. Different colors, shapes, textures, and prints can be added to any outfit for a brand-new feel.
12. Draped and flowing
If you enjoy the coverage and comfort of a scarf, you might also enjoy a completely loose, flowing look. This might mean long shift dresses, peasant blouses, tunics, and wraps.
Many women may dress in this manner immediately following their surgery. However, you might decide to stick with the look afterward as well. Loose tops can be paired with more fitted pants and skirts, but you could also choose to wear an outfit of entirely loose items for a summery, bohemian look.
13. Draw attention downward
A good approach to any outfit is choosing what you want to accentuate. If you are feeling self-conscious about your chest, you can draw attention to your legs instead. This might be done by choosing a shorter skirt or shorts, or something with a bright color or pattern to catch the eye.
When in the process of adapting to your body after a mastectomy, it can be difficult to feel sexy. This can be a good way to ease back into that feeling. For example, a short dress with a high neck might show off your legs on a night out while covering your chest.
14. Cinch the waist
It can be easy to feel as though you have lost your shape, post-surgery. As well as playing up aspects of your figure such as hips or legs, try out some looks that enhance your waist. This has the added benefit of drawing attention down from your chest.
These looks can be in a classic style, such as an A-line skirt. Newer trends such as wide-legged, high waisted trousers could be another option. For a more daring look, add a bright belt or tie at your waist. You could also pair a tighter bottom half item, such as a pencil skirt, with a cropped, wide-cut top.
15. Shaped tops
Shaped tops can be a great way to hide the shape of your chest, but they must be chosen with care. If your aim is to direct attention away from your chest, be careful not to buy anything with ruching or tucks at the bust line.
Tucks or ruching at the waist, however, can add emphasis to your shape without drawing focus to your chest. Large ruffles can be another camouflage option. This can depend on where they lie on the garment, however, so make sure to try on any ruffled items before purchase.
16. Prints and patterns
When aiming to disguise your shape, prints and patterns can help. A busy print will stop the lines of the underlying form showing through.
Florals and botanicals are popular and can work with a trendy or classic look. Geometric prints or animal prints might offer a more modern flair. Multi-colored prints can also be a great way to expand the mix and match options of your wardrobe.
17. Accessorize
Accessories can make a big difference in deciding which areas of your outfit get attention. Bold and daring accessories are often a great choice to make with a post-mastectomy outfit, as they can take attention away from your chest.
Expressive earrings, belts, and necklaces can add flair to your outfit and take the spotlight. If you are trying to keep the focus off your chest, make sure to choose a shorter necklace. For a trendy option, try a choker.
Statement shoes can liven up an outfit and allow you to express yourself. At the same time, they can bring focus to your lower half.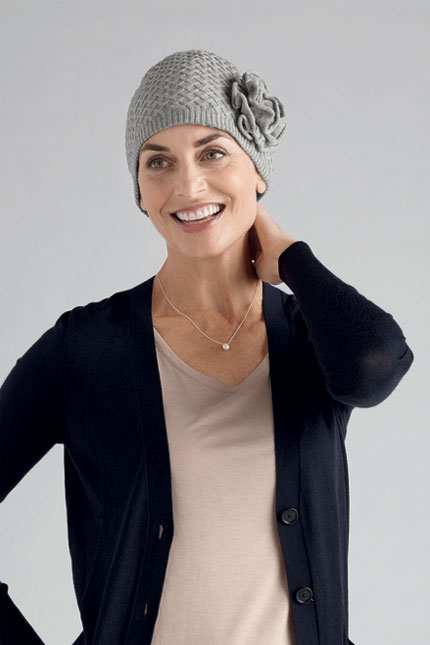 Headwear
If you experienced hair loss during treatment, your choice of headwear could make a big impact on your outfit. Hats, chemo beanies, scarves, and wraps can help you feel securely covered, while also adding to your style choices.
A wig can be a great cover-up option post-chemo. Choosing one that looks like your natural hair can help you feel more comfortable. However, some might choose to have a few different wigs for different looks.
18. Loungewear and pajamas
Do not forget to consider your pajamas when shopping for your new requirements. Early on, this means looking for easy to wear, soft pieces that fasten in front. It is also worth looking for some attractive loungewear. During recovery, it can be nice to change into something other than pajamas for days spent in bed.
You may wish to replace revealing nightdresses or camisoles with something more covering. While comfort is important, make sure to look for pieces you enjoy wearing. This will be the first thing you see yourself wearing in the morning, and you deserve to appreciate your reflection.
The pressure to choose "sexy" items might make some women uncomfortable. Always remember that you are dressing for yourself. A cute flannel pajama set or a cozy nightgown might be exactly what you want. However, if you want to try something more daring, do not let anyone stop you.
19. Perspective
Getting used to a new shape and a new way of dressing can be difficult. It is important to keep an outside perspective and remember that you will notice the difference more than anyone else. No-one will look as closely at you as you do. This means you can focus on dressing to please yourself before considering anyone else.