Mastectomy camisoles are a comfortable and versatile piece of clothing that any woman living post-mastectomy should have in her mastectomy-wear arsenal.
Function, versatility, and comfort
When it comes mastectomy wear, one of the most important features that a piece of clothing can offer is versatility: The versatility to adjust the size, fit, and function. This is why mastectomy camisoles are so popular among women at every stage of post-mastectomy life.
First, your mastectomy camisole can be worn with or without a bra, as many of the designs we feature on our site include pocketed pieces for use with breast prostheses or fiber forms.
Post-surgery, a mastectomy recovery camisole is often recommended to patients and can serve as a vital tool to help women stay comfortable throughout the process. This is because post-op recovery camisoles include various features, such as compression material and drainage bag pockets, that add a functional convenience to the recovery process.
Post-surgery camisoles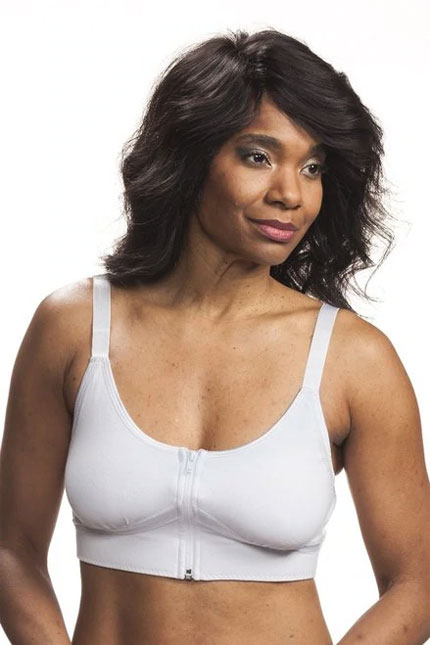 The perfect garment to wear for post-surgery support, mastectomy camisoles can provide comfort, much-needed post-op features, and stability during recovery. They can also be worn after a range of treatments or surgical procedures, including lumpectomies, biopsies, mastectomies, breast reduction, breast reconstruction, breast augmentation, and radiation treatments.
Features to look for in a post-op camisole
All our recovery camisoles are pocketed to hold drainage bags and tubes in place and mitigate shifting throughout the day, reducing the time you spend adjusting and readjusting for comfort.
For the post-op period, look for strong, yet breathable fabrics that offer the appropriate amount of compression to aid in recovery but remain comfortable for all-day wear. Many of the camisoles featured on our site consist of lightweight but durable fabrics for comfort and support.
Other features to look for include either eye-hook or zipper frontal closures, as many women experience limited mobility of the arms and shoulders after surgery.
Some of our post-op camisoles can also be fitted with fiberfill forms that are gentle on the skin and provide the desired symmetry you might be looking for until your surgical sites heal and you can use a breast prosthesis.
Finally, for a fully customized fit, consider pairing any of our camisoles with one of our post-surgical bras for support and easy comfort during your recovery.
Standout post-op camisoles
The Amoena 2105 Michelle Mastectomy Camisole with Drain Management, and ABC 952 Zip-Front Post-Surgical Camisole with Drain Management are two of our best sellers for a variety of reasons.
Both models include added VELCRO® attachments that aid women in keeping drain tubes in place and feature cotton pockets that are designed with an invisible seam that is gentle on sensitive areas.
Fashion camisoles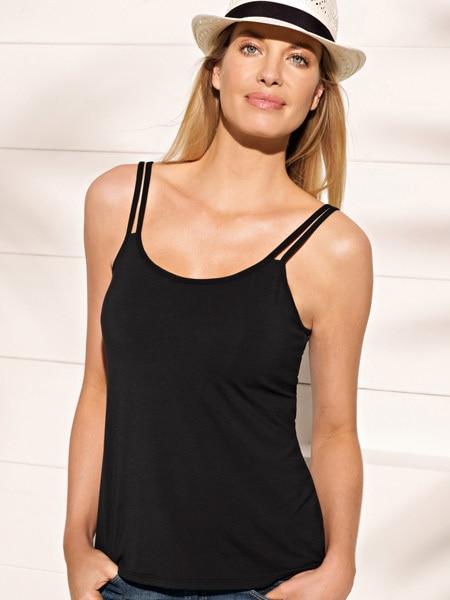 At MastectoyShop.com, we also a carry a selection of fun and flirty mastectomy camisoles that can be worn as a functional fashion statement with all your favorite low cut pieces in your closet while providing the support you need to stay comfortable throughout the day.
Dress them up under a blazer or a low-cut dress for work or keep things casual by pairing your fashion camisole with a simple v-neck t-shirt.
Features to look for in a fashion camisole
Our camisoles are designed to offer comfort that doesn't compromise on style, and many of our models feature additional touches of lace, patterns, or are available in a wide range of colors to add the perfect finishing touch to your outfit.
Some of our models feature wide and adjustable shoulder bands for customizable security that adjusts to your needs as well as bilateral pockets for use with fiber-fill forms.
While our fashion camisoles can be worn with any bra for our wide selection of post-mastectomy bras – including Amoena bras and Jodee bras – they can also simply be worn alone as a comfortable throw-on piece during downtime.
Standout fashion camisoles
The Still You Alise Jacquard Cotton Lace Mastectomy Camisole is a great, versatile choice when it comes to choosing a basic fashion camisole to pair with your favorite outfits.
Available in five colors, the garment is composed of a soft-knit fabric that won't rub or irritate sensitive skin. It also features adjustable straps and bilateral pockets for convenient use with your American Breast Care prostheses.
The takeaway
Whether you're looking for fashionable functionality or secure style a mastectomy camisole is a fun and reliable garment that every woman living post-mastectomy should have as a wardrobe staple.