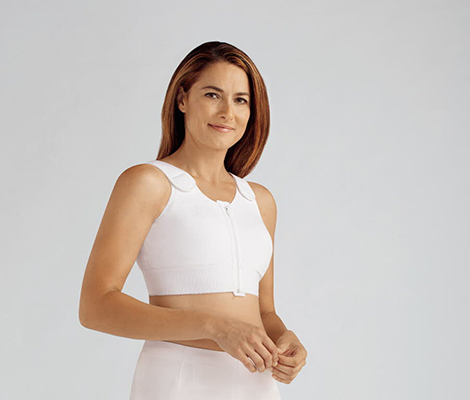 For women who are about to undergo breast surgery, whether it is a mastectomy or reconstructive surgery, your doctor may have recommended that you be fitted for and purchase a post-surgical bra.
While you may be tempted to keep using your regular bras, they, unfortunately, do not provide any features that enhance your recovery and can be uncomfortable to wear after surgery. A post-surgical bra offers a range of features to help you recover faster and more comfortably.
Features of Post-surgical Bras
Compression Technology
One of the risk factors associated with breast surgery is lymphedema. Lymphedema, though generally not life-threatening, can cause discomfort and slow the healing process.
Unlike a regular bra, a post-surgical bra features compression technology that applies gentle pressure to key points around the chest and underarms to move lymph fluid away from the surgical site and boost blood flow to the area which can speed up the recovery process.
Post-surgical compression bras are not only recommended for mastectomy patients but also women who have undergone reconstructive surgery as they prevent lymphedema and secure and support implants to avoid dislocation and unevenness.
Velcro straps
While standard bras offer adjustable straps, these straps are not supportive or comfortable when recovering from breast surgery. The narrow width can irritate the shoulders and the maneuvering required to secure and adjust the straps can cause pain to surgical sites and risk splitting your stitches.
Many post-surgical bras feature wide, padded straps to evenly distribute the weight of implants or remaining breast tissue across your shoulders to minimize pain and provide enhanced support and comfort. Other styles feature straps that fasten over the shoulder with Velcro which allows for easier, pain-free dressing for patients with limited upper body mobility.
Front Closures
Though some bras do feature front closures, they are often not supportive enough or simple to use making post-surgery dressing a hassle.
So, in addition to over-the-shoulder straps, many post-surgical bras feature front closures with either a zipper or hook-and-eye fastener. Front closures make it easier to dress independently after surgery and allow medical staff easier access to drainage ports and wound dressings to ensure the incisions are healing properly.
Pocketed Cups
Though it is not recommended that you wear breast forms immediately after a mastectomy, once the incisions have healed, your doctor may allow you to wear lightweight forms, such as the American Breast Care Classic Air, to help you to adjust to life post-mastectomy. Breast forms are best worn inside a supportive mastectomy bra, but a regular bra does not offer any features that hold breast forms securely, and you risk the forms shifting throughout the day.
Many styles of post-surgical bra feature built-in bilateral pockets designed to hold breast forms securely. They are compatible with different forms to suit various body types and allow you to wear single, double or partial forms.
Soft Material
The skin around the surgical sites is highly sensitive during the recovery period and regular bras, especially those featuring embellishments such as lace or beading, can irritate the skin and cause discomfort during your recovery.
Post-surgical bras are typically constructed of ultra-soft cotton and elastane blend that provides a snug fit and is comfortable against the skin. The cotton material allows the skin to breathe and helps to regulate your temperature and many styles also feature a soft toweled lining designed to wick away moisture to keep you feeling cool and fresh.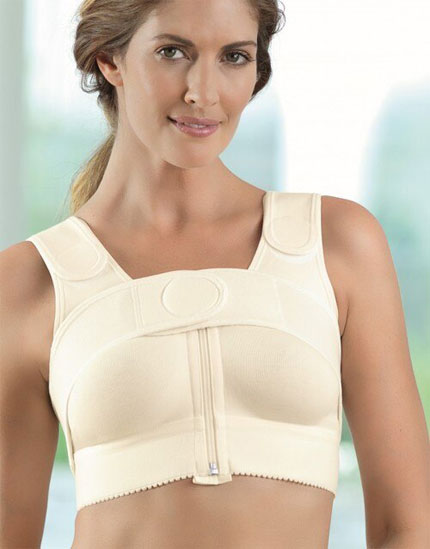 Final Thoughts
Post-surgical bras are an essential item to ensure you have a safe and comfortable recovery period after breast surgery. Before you buy a post-surgical bra, check with your health insurance about coverage for a post-surgical bra and go for a professional fitting with a certified fitter to find the best bra for your body.
You have almost endless choices of post-mastectomy lines of breast forms, bras, clothing, and accessories at MastectomyShop.com, contact us today.