A single mastectomy is a significant change, and you will likely encounter many questions along the way. We want to help you answer questions you may have about bra size change after a mastectomy, as well as giving you some ideas for bras—like MastectomyShop.com's Anita bras that can provide support, style, and discretion.
How will your bra size change?
The simple answer is that it will depend on your particular case and your surgery. After a single mastectomy, you will want to shop for one breast prostheses. This will be the biggest part of your bra change and will involve going to be fitted for a silicone breast prosthesis. You might want several breast form options for different activities.
Where can I get fitted?
A Fitting Experience Mastectomy Shoppe offers personal fittings to help you determine the exact breast form type and size that will be right for you. You can even choose to have a customized American Breast Care breast form. Your certified fitter will use 3D scanning technology to help you get the perfect fit and skin tone.
What are my breast form options?
There are a wide variety of breast form options. First, you have different shape options.
For example, you can buy shaper forms, which are forms that help fill in your bra cup after a lumpectomy or partial mastectomy.
On the other hand, you have teardrop-shaped forms and triangular forms and oval forms, depending on your natural breast shape and what kind of cup you want to fill. There are also asymmetrical forms, which are designed with an elongated tail to help fill in any area around the chest wall or under the arm from more extensive surgery.
It is recommended you see a certified fitter can help you determine the best breast form shape for your body type and lifestyle.
Breast forms also come in a variety of materials to suit a range of purposes:
Silicone breast forms

Silicone breast forms mimic the weight and texture of a natural breast.

Swim forms

Swim forms are specially designed for the water. Their concave back prevents any suction to the chest wall, and they're constructed from ultra-lightweight aerated silicone for comfort while swimming.

Foam breast forms

These forms are constructed from a hypoallergenic fiberfill and are incredibly comfortable--perfect for sleeping or for wearing with a leisure bra.
Bra-shopping after a single mastectomy
After a single mastectomy, your bra needs will be different. Standard bras don't support a breast prosthesis so you will need a mastectomy bra that is designed for your specific needs. Your post-surgery bra should feature compression technology, front closures, velcro straps, soft material and pocketed cups to ensure a safe and comfortable recovery in the weeks following your surgery.
Pockets and your breast prosthesis
Post-surgical mastectomy bras typically feature pockets inside each cup. This lets you put your breast form on whichever side you need.
Anita bras
Anita bras come in a variety of colors and degrees of supportiveness, from the high-performance Anita sports bra to lovely lingerie.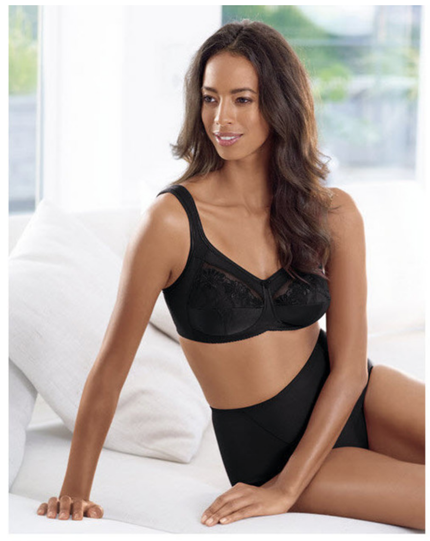 Just because your silhouette has changed that doesn't mean you can't still enjoy feminine intimate apparel. The Anita Safina bra comes in a range of sizes—from 34-50 A-D and 34-44 A-F. The straps are softly padded, wide, and easily adjusted to provide support.
With its skin-friendly, cotton jersey breast form cup pockets and its tulle embroidery, it's the perfect combination of beauty and comfort.
Amoena bras
Amoena bras offer a unique look and the features you need as you recover from your surgery. But they also provide features to enhance your silhouette and add a touch of glam to your intimate wardrobe. For example, the Amoena Dana Camisole bra mimics the look of a camisole and gives wearers a higher neckline.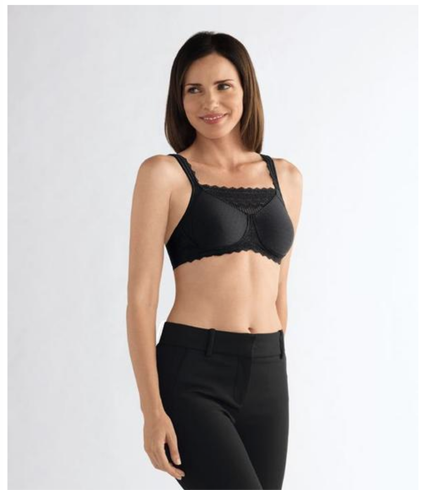 Whether you want to conceal scarring or enjoy wearing lower neckline shirts, this versatile bra gives you several options. It also features bilateral pockets to accommodate your breast form on whichever side it is needed.
Choosing the right post-surgical bra for you
MastectomyShop.com offers a wide range of lingerie, post-surgical bras, everyday bras, camisoles, and sports bras. Some mastectomy products can only be purchased from ABC retailers like MastectomyShop.com.
Think about the degree of support you need, the coverage you want, and the styles that will work best with your fashion sense. Remember, above all else, it's about what makes you feel comfortable and confident in your skin.
Conclusion
If you are looking for more details on sizing, adjustability, or post-mastectomy products, contact MastectomyShop.com. Call 1-877-413-2272 and our caring, compassionate, and knowledgeable team can assist you and help you find the perfect bra for your individual needs.