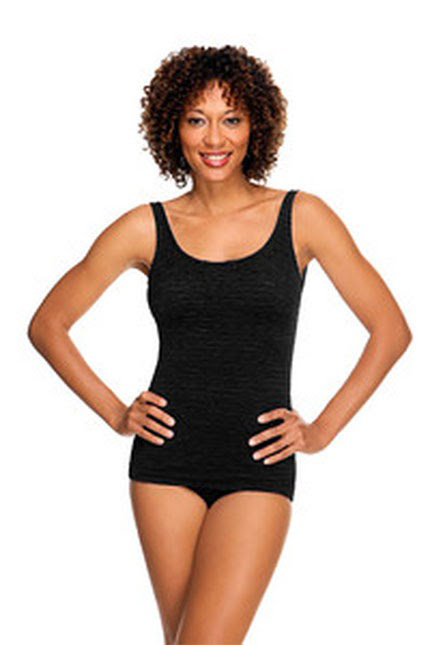 Summer is at an end, but just because the weather is cooling doesn't mean that you can't still enjoy the last few weeks of sunshine with a fall vacation. So you can make the most of your fall vacation and soak up the sun, here are a selection of mastectomy swimsuits and other post mastectomy apparel that are a perfect choice for summer and fall vacations.
1. Mastectomy Swimsuit
One-piece suits fit and flatter your body to give you more confidence while on your vacation. All of our mastectomy swimwear offer a range of features to keep you comfortable and supported, as well as helping your look your best. Here are our favorite fall one-piece mastectomy swimsuits.
This retro style one piece is an elegant suit for the stylish woman. Constructed from UV and chlorine resistant fabric to keep its shape, it also features a krinkle cut texture, deep scooped back and full coverage briefs or modesty and flexibility.
The Penbrooke Sheath Swimsuit features a tummy control panel underneath the faux-sheath front for a slim silhouette and a built-in shelf bra with interior pockets for swim form security.
The Amoena Cocos One Piece in black is instantly slimming. It features laser cut woven pattern in white underneath the bust for added interest and offers just the right amount of coverage up top with a medium height neckline. Adjustable straps flow into a low scooped back that also has an optional removable horizontal strap to keep them in place if necessary.
T.H.E Shirred Girl Leg Mastectomy Swimsuit
The Shirred Leg Swimsuit from T.H.E has just the right amount of sexy that will keep you feeling comfortable on your vacation. The fitted shape with ruched along the front creates a slim silhouette, with a high neckline for added coverage, and high back for support. The cups feature interior pockets for breast forms, and the straps are adjustable with three buttons for a perfect fit.
2. Tankini Swimsuits
For the woman who loves a two piece, but also likes a little extra coverage during the cooler fall months, the tankini is the perfect addition to your fall wardrobe. At MastectomyShop.com, our range of tankini tops offer plenty of functional and stylish features to help you look and feel your best by the water this fall season.
The Jodee Floral Sunrise Top comes in a delicate pastel floral print that will have you thinking about summer all fall long. The blouson style top drapes beautifully down around the hips and ties at the side for a look that fits and flatters all body shapes.
With a high neckline and small armholes for additional coverage, and pockets for your breast forms, this swim top is as functional as it is beautiful.
For a fall-inspired swim top to take on your vacation, we offer the Amoena Ayon Tankini in a sleek and chic monochrome print. The geometric pattern is contrasted by solid black straps that are fully adjustable to create a more comfortable fit.
The loose flowing top drapes gently over your tummy with a slight flare at the hem for movement and is constructed from special LYCRA XTRA LIFE fabric that is chlorine resistant for better shape retention and longevity.
The T.H.E tankini, with its fit and flare shape, is designed to flatter your body to give you confidence in the water on your vacation. It features an eye-catching floral and leaf print in blue, black and red, and a built-in shelf bra with internal pockets for holding your breast forms.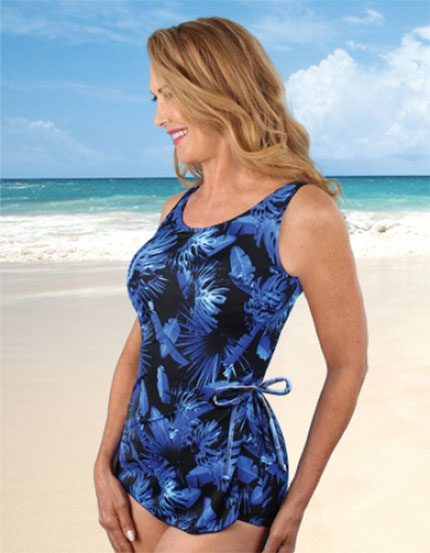 3. Swimdresses and Sarong Suits
If you are looking for a sleek and sexy one piece that gives you the coverage of a cute sundress, then our selection of swimdresses and sarong suits are the choice for you.
For a sleek, sexy one piece with a little added coverage, try the Jodee Solid Black Swim Dress. Solid black is instantly flattering for all women, this swimsuit features a high neckline that flows into wide straps and a full coverage back designed to cover surgical scars and give added support to breast forms.
The cups are pocketed to hold breast forms securely, and the front panel features a tummy control lining to give you a slimmer silhouette. The skirt skims the upper thighs with full briefs underneath for better coverage for your behind.
The T.H.E. Collection Mastectomy swim dress is a swimsuit to give you the comfort and confidence to enjoy splashing around and making the most of the last days of sunshine.
In a flattering A-line princess cut, the dress falls to the upper thigh to give you the added coverage you want. It comes in a range of patterns and colors to suit your style. Try the dazzling electric blue feather and foliage print, or the stunning purple, black and blue galaxy gazing print for the perfect fall-inspired swimsuit to add to your wardrobe.
It features 3 button adjustable straps so you can find the most comfortable fit and bilateral interior pockets for holding your breast forms or shapers.
If a swimdress is not your style, but you still want added coverage, the Jodee Sarong Swimsuit has you covered. The one-piece swimsuit features a sarong panel at the front that ties to the side for a look that flatters your body.
The top features interior cups and a high neck and back for support and comfort. For added coverage at the back, the suit features full briefs.
4. Swim Skirt
Swim skirts are a great way to get added coverage during the fall while still offering plenty of flexibility to move freely in the water. Our range of swim skirts match beautifully with our selection of tankinis and bikini tops.
The Jodee black swim skirt sits comfortably at your natural waist, and it constructed of quick dry fabric to prevent skin irritation. The skirt is attached securely to full briefs for added coverage underneath and falls in a flattering A-line cut.
The Penbrooke Swim skirt is like wearing your favorite tennis skirt to the beach. The straight cut features a side slit for better movement and firm tummy control to give you a sexy silhouette, while the full briefs underneath have you covered at the back.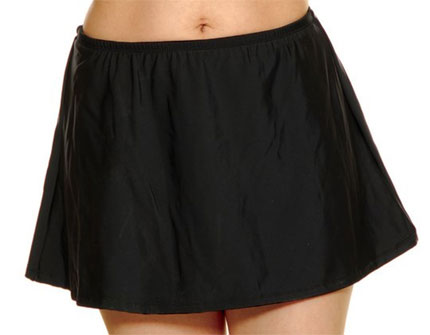 5. Swim Shorts
A great alternative to a swim skirt is a swim short, which keeps you covered in the water and lets you move easily so you can enjoy plenty of beach activities on your vacation.
Penbrooke Swim shorts in solid black offer full coverage as well as easy movement with side slits in the legs and a wide elastic hem at the waist for a more comfortable fit. The shorts also feature a tummy control panel for slimming and a short leg length that is both feminine and modest.
If you love to mix and match your swimwear, then the T.H.E Topanga shorts are the right fit for you. Available in black, navy, turquoise, and brown, these shorts are sure to fit with any of your swimwear separates. The shorts are constructed from quick dry polyester and offer a high cut for better coverage.
6. Swim Briefs
For a classic look for your fall vacation, match your favorite tankini or swim top with one of our range of gorgeous swim briefs.
The ultra-high waist on these swim briefs gives them a stylish retro look and keeps the briefs in place, whether you are splashing in the water or running along the sand. The Penbrooke Ultra High Waist swim briefs are available in black, brown, and navy and feature an added tummy control panel for a slim, sexy look.
The Penbrooke Girl Leg swim briefs extend slightly down the thigh to give you extra coverage at the back and sit comfortably at your natural waist with a wide band for added comfort. Available in solid black, theses briefs will match perfectly with any of our fall-inspired separates.
Though designed to match the Amoena Cocos bikini top, these solid black briefs can match easily with any of the tankini tops and bikinis we have to offer at MastectomyShop.com. They feature a full coverage back with ruching at the side to flatter your figure. They sit at a comfortable medium height and are made from supportive LYCRA XTRA LIFE that is 100% chlorine resistant, so your briefs will always hold their shape.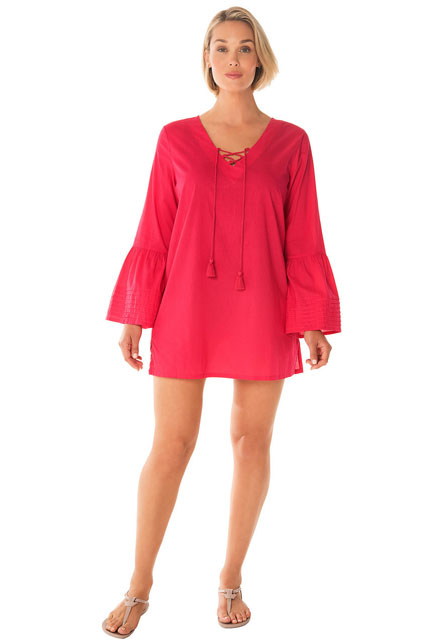 7. Coverups
While early fall is still wonderfully warm in most places around the country, the less intense sun and potential for cloudy days mean that you should always be prepared with a coverup to keep the chill away after swimming. Here are some of our favorite fall-inspired coverups at MastectomyShop.com.
Jump on the bell sleeve trend this fall season, with the stylish Penbrooke V-neck Coverup. It is constructed from 100% machine washable cotton and features a long sleeve length perfect for fall weather. With fun tassel tie at the neck, stunning magenta color, and a flattering A-line cut, this cover up is a must-have for your fall vacation wardrobe.
For added coverage after spending time on the water this fall, try the Penbrooke Button Front Shirt coverup with half-length sleeves, and a mid-thigh scooped hem. It is made from breathable cotton fabric and features sweet embroidered eyelet details for a feminine touch.
The Penbrooke Tie Front Coverup is made from beautiful sheer polyester with half sleeves and a mid-thigh hem length for better coverage. With ties at the neck for easy dressing and tailored pleats in the back for added movement, this coverup offers a loose fit made for relaxing on your vacation.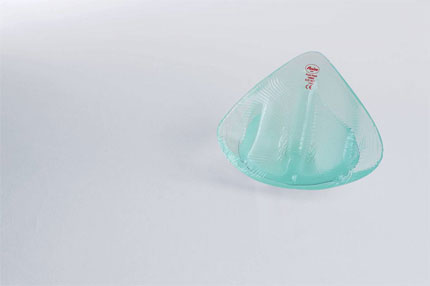 8. Swim Forms
Unlike standard breast forms, swim forms are specifically designed to be used in the water to help you achieve shape and symmetry in your swimsuit. Include swim forms when packing for your fall vacation.
The Anita Silicone swim forms are constructed from a lightweight silicone shell filled with silicone gel to give the forms a natural weight and feel. The silicone is UV, salt and chlorine resistant, and can even be used in thermal baths. The concave structure helps to prevent the form from suctioning to the chest water and allows for optimal air and water flow to avoid skin irritation.
Amoena AquaWave swim forms are made from clear silicone and feature a ribbed back allows water to flow freely and lets the forms dry quickly. The back is less concave that most other swimforms, which means it performs just as well out of the water as in it.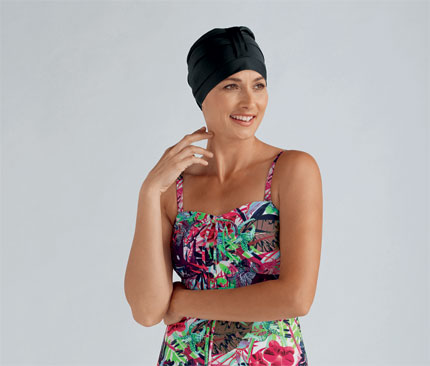 9. Swim Cap
For women who have experienced hair loss due to chemotherapy, scalp care is a vital part of your recovery process. An effective way to protect your scalp from the elements while enjoying your fall vacation is with a swim cap to prevent irritation from chlorine, saltwater, wind, and the sun.
The Amoena swim cap is constructed from quick drying fabric that is UV and chlorine resistant to keep your head comfortable and protected in the water. In a chic turban style and navy-blue color, this swim cap will match perfectly with any of your mastectomy swimsuits. It is easy to slip on and off and features a reinforced elastic hem that keeps the cap in place, whether you are swimming laps or enjoying a water aerobics class.
Final Thoughts
Relax and enjoy your fall vacation in style with these fantastic mastectomy swimsuits and swimwear options from MastectomyShop.com. To find out what other options we have available, contact our friendly staff on (877)-912-0775, and let us help you find the perfect swimsuit for you.