With the summer months quickly approaching, this is the perfect time to purchase your mastectomy swimsuits and cover-ups. So many women after a mastectomy can feel self-conscious and less feminine. Choosing to have a mastectomy is a courageous decision, and you should never feel like you aren't still sexy and able to flaunt your bare skin in a swimsuit.
Finding the perfect swimsuit is difficult enough, but after a mastectomy, it can be even more challenging to find the right fit, comfort, and style. It is so important, though, to start the healing process both physically and emotionally, and swimming is one of the best and healthiest ways for post-mastectomy women to get their lives back to normal. That's why finding the perfect mastectomy swimwear that can boost your morale and allow you to carry on with your exercise or recreation program is so crucial.
With Penbrooke's 2019 mastectomy swimsuit and cover-up collection, you can shed the winter layers and feel beautiful in a specially designed post-mastectomy swimsuit that is fitted with pockets for your breast forms, while still looking natural and fashionable.
One-Piece Swim Suits
Whether you're planning on swimming laps, lounging in the sun, or prefer a little extra coverage, Penbrooke's collection of one-piece swimsuits are designed for maximum comfort and practicality without sacrificing style.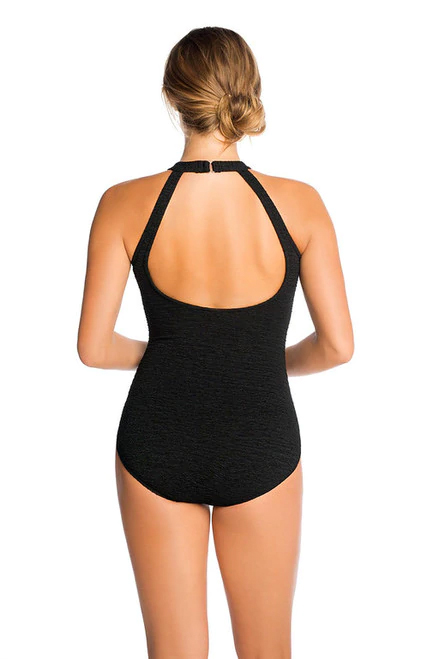 Penbrooke High Neck Maillot Krinkle Mastectomy Swimsuit: This one-piece mastectomy swimsuit is designed with a high round neckline, high-cut arm openings, a low leg line, and tummy control panels for a slimming effect. The shelf bra has sewn-in mastectomy pockets and is made from a chlorine-resistant material. With full bottom coverage and over-the-shoulder straps for a secure fit, this is a perfect suit for an active wearer.
Penbrooke Missy Empire Maillot Mastectomy Swimsuit: With a pretty floral pattern, a high round neckline and a low scoop back design, the Missy Empire Maillot suit will have you feeling feminine and confident while you stay active in the water. The thick straps provide extra comfort, and the built-in soft cups deliver coverage and support.
Penbrooke Corners Empire Sarong Mastectomy Swimsuit: Flattering in all the right places, this is a swimsuit with an empire waist and a sarong style bottom. A low scoop back and wide fixed straps make this both pleasing to the eye and comfortable. Soft molded cups and pockets for mastectomy breast forms and breast prostheses are built-in and give a very natural look.
Penbrooke Scoop Neck Sheath Mastectomy Swimsuit: This retro-inspired mastectomy swimsuit is perfect for the sassy swimmer. It has a scoop neckline and tummy control panels that make this a becoming suit for all. There's a deep rounded back design but still maintains full bottom coverage.
Penbrooke One Piece Mastectomy Blouson Swimsuit: Feel confident and look beautiful in this blouson styled one-piece swimsuit. With a garden lily print, this lovely multi-colored floral pattern on a black background is comfortable and offers full support with soft pads and pockets that will fit your breast forms perfectly and naturally.
Penbrooke Missy Empire Maillot Krinkle Mastectomy Swim Suit: Designed similarly to the basic Miss Empire Maillot swimsuit, this Krinkle style swimsuit also features a high round neckline and a low scoop back design. It is enhanced, however, for the more active swimmer, with the advanced Krinkle material, which is made from a chlorine-proof fabric meant for durability and a longer lasting swimsuit. This Krinkle swimsuit makes it easy for post-mastectomy women to get back into the pool and stay in longer.
No matter the style, Penbrooke's one-piece suits are designed explicitly with post-mastectomy needs in mind. Getting your life back on schedule after a life-changing surgery is a struggle but exercising and keeping your body healthy can help you on your road to recovery. With their line of Krinkle material swimsuits, Penbrooke has made sure your breast prostheses are well protected from the water and chlorine, allowing you to take a stress-free dip or swim in the pool. Swimming is one of the best forms of exercise because of the low impact, and Penbrooke's one-piece swimsuits will have you looking and feeling your best while remaining practical.
Tankini Swim Tops
Tankinis are perfect for lounging in the sun, taking a dip in the pool or ocean, and relaxing while still looking feminine and poised. Penbrooke's bright colors, tropical patterns, and elegant designs make their tankinis a perfect purchase for Summer 2019.
Penbrooke Missy High Neck Mastectomy Tankini: Bright blues, reds, oranges, and pinks make this tankini stand out amongst the rest. It features a high-neck with double straps that cut a flattering shape around the collar-bone. It is lined with tummy control panels and soft cups to enhance your figure.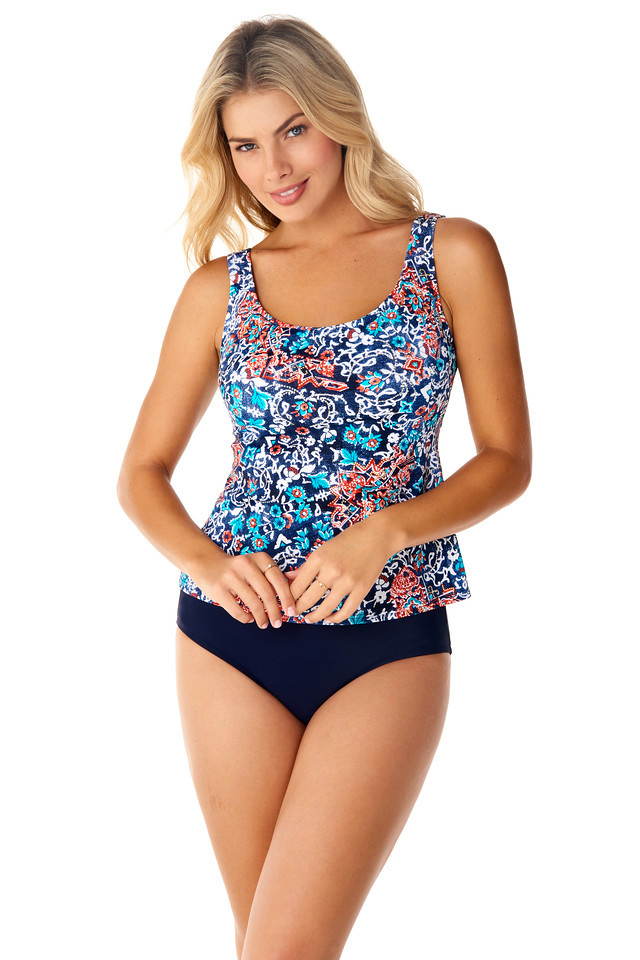 Penbrooke Missy Basic Mastectomy Tankini Swim Top: For those looking for a more traditional cut, the Missy Basic swim top is picture-perfect. With a gentle scoop neck and modest back, this tankini will have you feeling confident and comfortable in your own skin.
Penbrooke Indigo Cloud Single Tier Mastectomy Tankini Top: Designed specifically for post-mastectomy women, the Indigo Cloud Single Tier suit's built-in prostheses pockets eliminate the need to worry about misplacement. It is fitted with a shelf bra and built-in soft cups for enhanced shaping and support and has a single tier detail.
Tankinis offer versatility and can be matched with a range of swim bottoms or worn as a lightweight and comfortable top in warmer temperatures. With vibrant colors and stylish cuts, Penbrooke's tankini swim top line is bound to turn heads.
Swim Bottoms
While a mastectomy does not necessarily directly affect your bottom-half, finding a comfortable and complimentary swim bottom is essential. With a range of styles, Penbrooke offers women a choice between swim shorts, swim skirts, and swim briefs varying from low to high rise that all complement the womanly figure. With tummy control and wide waistbands, these swim bottoms are designed for practicality and comfort, as well as grace.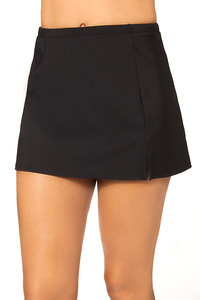 Penbrooke Side Slit Skirted Brief with Tummy Control: The side slit skirt features an elastic waistband that lands just below the belly button and a skirted length that hits just at the thigh. This skirted brief works wonders to shape and accentuate your natural curves and the comfortable control fabric smooths the waist, hips, and thighs for a flawless look.
Penbrooke Swim Short with Tummy Control: Paired with any Penbrooke swim top, these shorts will make for the perfect beach look. Featuring a tummy control waistband and a built-in panty, they provide all the comfort and modesty you need to enjoy a day at the pool or the beach.
Penbrooke Basic Swim Brief with Tummy Control: A simple swim bottom choice is the basic brief. Complement this classic brief with any Penbrooke swim top and head to the beach in style and comfort.
Penbrooke Girl Leg Swim Brief with Tummy Control: Featuring a retro girl leg, this medium to high-rise swim brief provides a little extra tummy control and shaping while remaining fashionable. Simple and convenient, these briefs can be mixed and matched with any Penbrooke top.
Penbrooke Ultra High Waist Swim Brief with Tummy Control: Providing extra firm tummy control, the ultra-high-waist swim brief smooths, and tones all over. The waistband lies delicately below the bust to help trim the entire torso. The no-flaws bottom holds everything in place, and the girl-leg cut elongates the legs.
Whether you want to show off a bit more skin or you prefer to take a more modest approach, the Penbrooke swim bottom line has a multitude of styles that agreeably hold everything in, cut a flattering shape, and pair perfectly with all of their swim tops.
Cover-Ups
While finding the perfect mastectomy swimsuit is the first order of business, to finish off your summer wardrobe, Penbrooke has a line of classy, sophisticated, and fun cover-ups that will match perfectly with your Penbrooke swimsuit.
Penbrooke V-Neck Lace Swim Suit Cover-Up: This lace v-neck cover-up is stylish and flirty with its ruffle hem design. It is semi-fitted and easily pulls over the head. This black see-through cover-up is a teasing poolside temptation.
Penbrooke Adjustable Shoulder Pin Tuck Swim Suit Cover-Up: Available in both slimming black and vibrant white, the pintuck cover-up has adjustable shoulders and features a button-up front and shoulder tie accents. It is loosely fitted and lightweight for those warmer days.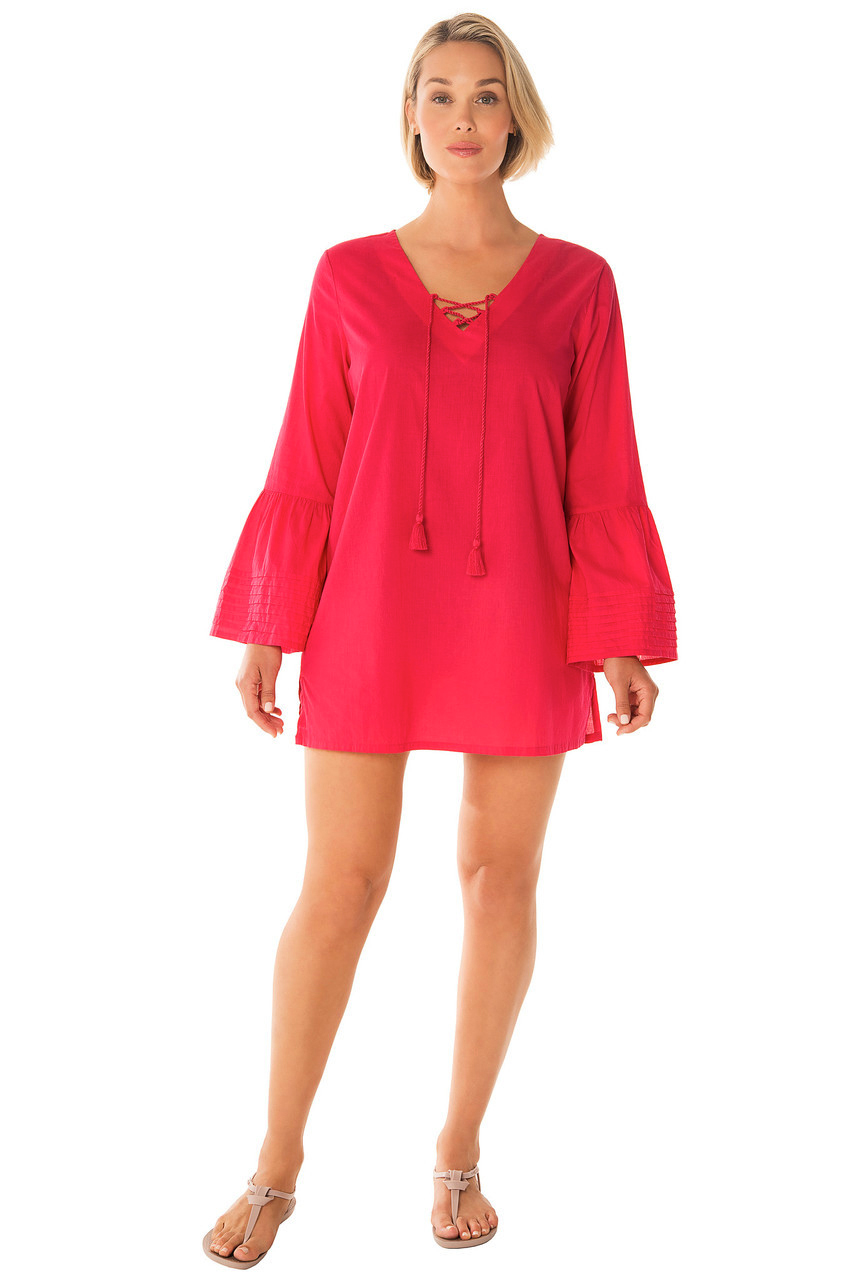 Penbrooke V-Neck with Bell Sleeves Swim Suit Cover-Up: Turn heads at the beach this summer when you strut in in your fuchsia pink cover-up. Made from 100% cotton, this breezy bell sleeve cover-up has a tie closure featuring tassel accents and a v-neckline.
Penbrooke V-Neck with Shirred Back Swim Suit Cover-Up: Perfect as an after-swim dress, this relaxed cover-up pulls quickly over the head, has a v-neckline, and pockets, which always add a little more fun to a dress.
Penbrooke Ruffle Sleeve and Ruffle Bottom with Front Tie Swim Suit Cover-Up: Made from 100% cotton, this casual cover-up has a round neckline featuring a front tie. The elbow-length sleeves are styled with ruffles, as is the bottom hem, making it a perfect flirty pool-side style.
Penbrooke Scoop Neck Tie Dye Swim Suit Cover-Up: Sashay onto the beach in this lightweight and semi-sheer caftan. With a black and white tie-dye print, ruffled sleeves, and a simple scoop neckline, this cover-up is fun and perfect for a hot summer's day.
Cover-ups should be comfortable and practical as well as stylish and snazzy, and Penbrooke's line of post-mastectomy cover-ups offers women a range of dresses and caftans to spice up their Summer 2019 beach wardrobe.
What to Look for in a Post-Mastectomy Swimsuit
Before going shopping for your post-mastectomy swimsuit, make sure you have the proper breast forms for swimming. Water-compatible breast forms or swim forms are a must for when you want to go in the water this summer because they are engineered specifically for swimming. Whether you prefer silicone swim forms or fabric microbead breast forms, finding the perfect breast form fit is your first step.
When you are starting your bathing suit shopping, finding a bathing suit with prostheses pockets is an excellent way to narrow down your search. The bilateral pockets hold the breast forms in place and make sure they stay snuggly against your chest and do not hang loosely in your top.
Having adjustable straps, when concerned with the symmetry of your body, can also play a factor in choosing your post-mastectomy swimsuit. The shoulder straps hold your breast forms in line and help you control the amount of support.
Just like shopping for a regular swimsuit, make sure you love it. Don't settle for a swimsuit you only sort of like, because finding a suit you enjoy wearing can help you to feel your most confident.
The Penbrooke Difference
With such a range of options, the Penbrooke Summer 2019 swimsuit line has something for everyone. The active swimmer will find the entirely supportive one-piece made from a chlorine-proof material, the lounger can find a comfortable and flattering tankini with matching briefs, and everyone will find a beautifully designed and form-pleasing cover-up.
Penbrooke uses high-quality materials on all their products and designs its swimsuits and cover-ups specifically for the post-mastectomy woman, making your bathing suit shopping that much easier. No more fussing with misshapen breast prosthesis cups and no more struggling with ill-fitting and uncomfortable post-surgery swimsuits.
Offering sizes for all body types, no one is left out by Penbrooke. So, pack away your bulky winter sweaters and jeans, and get ready for the warmer and sunnier temperatures, because with a Penbrooke swimsuit, everyone will feel confident and ready to flaunt their beautiful and feminine figures.
Where to Find the Penbrooke Swim Suit Line
Offering a vast selection of Penbrooke one-piece suits, tankinis, swim bottoms, and cover-ups, mastectomyshop.com is the best place to find your Summer 2019 post-mastectomy beachwear. Mastectomyshop.com has been in operation since 1989 in Margate, Florida. Catering to women after any breast surgery, the professional and ABC or BOC accredited staff members at Mastectomy.com are readily and happily available to help you with your selections and fittings. For quality post-mastectomy breast forms, bras, mastectomy swimsuits, and more call us today.