Swimsuit shopping is a daunting experience for any woman, but it can be even more challenging for women to find the perfect mastectomy swimsuit after surgery. Mastectomies do not make women's' bodies any less feminine or beautiful, and taking a step towards feeling comfortable in a swimsuit again should not be hindered by a lack of swimsuit options or not knowing what to look for. Paying attention to a few features can help you find that perfect mastectomy swimsuit and get you back into the water and lounging in the sun.
1. Pocketed Swimwear
For women who choose to use breast prostheses, there are several swimsuit style options to optimize your natural figure and your breast forms. Find a swimsuit with built-in pockets where your breast forms will fit snuggly inside and hold them in place. These pockets should be made from light and breathable material that is soft against your skin.
2. High Necklines and Arm Hole Openings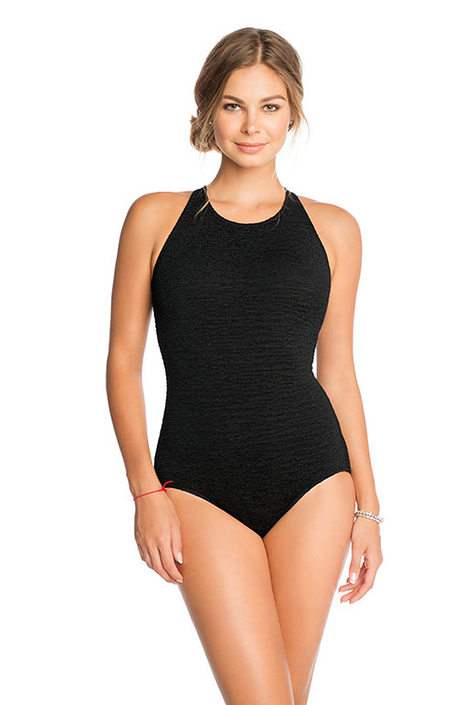 Swimsuits that are cut with higher necklines and armhole openings offer a more natural look with prostheses, and they can help to hide any post-surgical scars. The high neckline will hold the suit flat to the skin and prevent any gaping.
Swimsuits with a higher neckline and hole openings are also ideal for women who will be swimming laps, as it gives you a more streamlined silhouette. Penbrooke's High Neck Maillot Krinkle Mastectomy Swimsuit is perfect for the avid swimmer, and its crinkle material is a great way to take advantage of this summer's trends.
3. Easy to Adjust
Look for a swimsuit that has adjustable straps. Being able to customize the fit of your swimsuit will ensure that your breast forms stay secure and they will also maximize your comfort. Halter tops are a great option, which makes it easy to raise the neckline, adjust the strap length, and tie everything in tight.
4. Patterns and Prints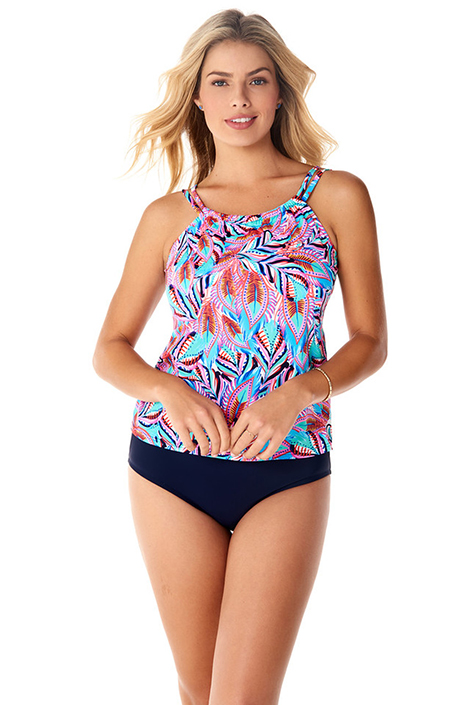 Don't mistake mastectomy swimsuits for boring and dull. These swimsuits come in a variety of patterns and prints that will have you feeling bold and beautiful as you strut onto the beach this summer.
5. Molded Cups Add Extra Support
Along with finding a suit with pockets, it is also a good idea to look for a mastectomy swimsuit that has molded cups. They will add extra support, offer a smooth shape, and can even out any asymmetrical breast, making them an excellent option for women who have undergone a partial mastectomy.
6. Go for the Two-Piece
Mastectomy swimsuits are not all one-pieces, and you can add some versatility to your wardrobe by selecting swim separates and mixing-and-matching them with different tops and bottoms. Buying separates can also help you find a swimsuit that fits perfectly to your body shape. Don't shy away from buying separate pieces just because you think you shouldn't wear a bikini or tankini anymore. Mastectomies do not limit your femininity and should not dictate how you feel about yourself.
7. Don't Forget About the Bottom Half
While finding the perfect top piece of your mastectomy swimsuit is the most important, finding a comfortable and flattering bottom will complete your look. Mastectomy swimsuit bottoms come in a range of styles, from high to low leg holes, low-rise bikini bottoms, boy shorts, and swim skirts, all of which provide the right amount coverage without sacrificing style.
8. Choosing the Right Swim Form
Picking out a swimsuit is, of course, important, but you also need to make sure you have the right breast forms for swimming. Not all breast forms can be in the water, and you don't want to find that out too late. Specific swim breast forms can be worn in chlorinated water and salt water without being damaged. Look for swim breast forms that are lightweight and will dry quickly.
9. Going Flat
Breast prostheses and breast reconstruction are not the only options after a mastectomy. Just because society has sexualized women's breasts, breasts are not the only things that make a woman sexy and feminine. Going flat post-mastectomy is one of the most courageous things a woman can do, and that confidence is what makes a woman sexy and attractive, not whether she has breasts or not.
10. Shopping Online
Once you know what style and shape of a mastectomy swimsuit you are looking for, shopping online at a breast form store can make your experience even more accessible. Mastectomyshop.com stocks only the highest quality brands and carries an incredibly large selection of post-mastectomy swimsuits, camisoles, turbans, bras and much more. Use our online store today and let us help you find the perfect post-surgical bra, swimsuit, or other post-operative wear.