Regaining your confidence and learning to love your body again can be a challenge after mastectomy surgery, but there are plenty of ways that you can look good and feel great this summer by adding a few key pieces to your wardrobe including the perfect mastectomy bathing suit.
Mastectomy Bathing Suit
No summer wardrobe should be without the perfect mastectomy bathing suit. Unlike traditional bathing suits, mastectomy suits offer a wide variety of features to help you look and feel great in the water.
When buying a mastectomy bathing suit, look for bilateral interior pockets to hold swim forms, adjustable straps for a comfortable fit and high necklines and arm holes to cover up surgical scars.
Mastectomy bathing suits like the Jodee collection, come in a range of gorgeous styles from sleek and sexy one-piece suits, flattering tankini separates and flirty bikinis so you can find a style at Mastectomyshop.com to suit your taste.
Swim Breast Forms
While standard silicone breast forms offer the weight and feel of natural breasts, they are not always the best choice for exercising during the summer, especially in the water. Swim forms offer the benefits of silicone breast forms with the addition of other features that make them ideal for use in the water.
Water-resistant silicone swim forms are typically designed with a concave shape to make them lightweight and buoyant, but feature ribbing on the back to prevent suction to the chest wall and allow air and water to circulate better preventing skin irritation and speeding up the drying process. The high-grade silicone is water, UV, salt, and in some cases heat resistant making them perfect for use at the pool, in the sea or even in the hot tub.
Swim forms come in a range of shapes and sizes to suit your needs and are designed to fit perfectly inside pocketed mastectomy bathing suits to prevent shifting and slipping while swimming. For guidance, contact a member of our team at A Fitting Experience Mastectomy Shoppe by calling (954-978-8287) or MastectomyShop.com.
Cover Up
Protect your skin this summer with a cover up that is just as stylish as your mastectomy bathing suit. Loose, flowing cotton or sexy sheer mesh cover ups keep you cool and looking gorgeous all summer long. Many options feature fashionable details including on-trend bell sleeves and boho tassels, elegant monochrome prints and chic lace embellishments.
Swim Shorts and Skirts
For added coverage for your behind, add a swim skirt or swim shorts to your wardrobe this summer.
Swim shorts and skirts are constructed from quick-drying materials. Skirts feature full briefs underneath flirty panels and often feature tummy control panels for a slim silhouette. Shorts feature short side slits for optimal movement and flexibility in the water. Try a pair in neutral monochrome colors to easily style with your mastectomy bathing suit.
Swim Caps
During and after chemotherapy, it is important to care for your hair and scalp, but that doesn't mean you need to give up your favorite summer activities. A swim cap can help to protect the delicate skin of your scalp from damage and irritation from chlorine or sea water.
The Amoena swim cap comes in navy and black to easily coordinate with the rest of your summer wardrobe and features a wide comfortable rim to prevent pinching or excess pressure while swimming.
Chemo Beanies and Headscarves
One of the biggest challenges that many women face is hair loss during cancer treatment. Adding a stylish headscarf or beanie to your summer wardrobe not only protects your scalp from the harsh UV rays but also makes a sexy summer accessory.
Chemo beanies come in a range of gorgeous feminine colors and patterns and are made from soft, breathable material that fits snuggly and can be put on and removed easily. Best of all, there is no need to tie and re-tie your beanie and as the unique pleated designed gives the impression of a headscarves and turbans combined with the easy use of a beanie.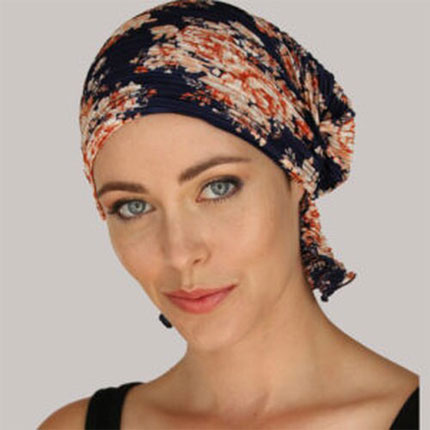 Final Thoughts
Adding some new and stylish pieces to your wardrobe this summer can help you feel sexy and confident after mastectomy surgery as well as offering some important functional features that all mastectomy patients need. Try some of these essential summer items to find your complete summer look.