After a mastectomy, you may feel hesitant to put on your swimsuit again, especially if you do not know where to find high-quality mastectomy swimsuits. Your body has changed and getting used to your new figure may take some time. While swimming offers many benefits to your body (strength and heart health, among others) and can be relaxing, getting back in the water after a mastectomy can be scary.
At mastectomyshop.com, we have a wide range of post mastectomy swimwear in many colors, sizes, and designs. Our swimsuits feature built-in pockets for breast forms and symmetry shapers, adjustable straps, and comfortable designs that look amazing on anyone. So, here are our top three trendy mastectomy swimsuits to help you feel sexy and confident in the water and by the pool.
1. Amoena 71113 Ayon Sarong Mastectomy Swimsuit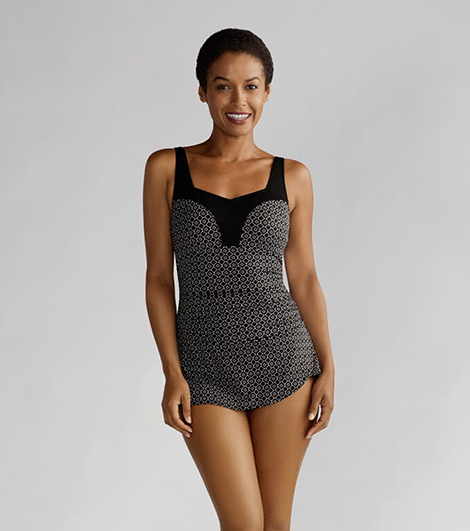 First up is the Amoena Ayon Sarong. This beautiful swimsuit ranges in size from 10 to 26w. With a short and layered skirt, it can provide the coverage you may need to feel more comfortable. The Ayon Sarong offers gentle gathers along the front to enhance the look of your waist, so it appears slimmer. If you are feeling uncomfortable with your post-operative chest, the medium height neckline will provide the coverage from soft cups you desire.
Complete with an elegant black and white print, attached briefs, and long-lasting Lycra, the Ayon Sarong is the perfect choice for your swimming soirees.
2. 2019 T.H.E. Collection Misses Mastectomy Swimsuits Adjustable Straps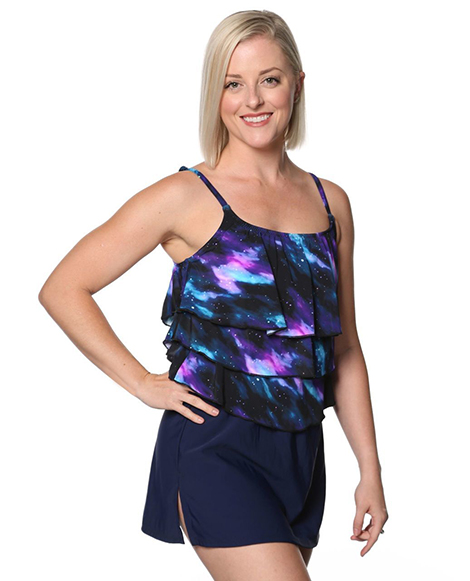 Second, the Misses Collection. Boasting a chandelier-like top, T.H.E's Misses Collection offers two prints: Galaxy Gazing, a wondrous pastel romp into space, and Plumeria Paradise, a vibrant floral sprint through the jungle.
Pair these magnificent tops with a flip skirt for a glamorous look. These products range in size from 8 to 20 and offer adjustable straps to give you a perfect fit for your most daring poses.
3. Amoena 71116 Ayon Tankini Mastectomy Swim Top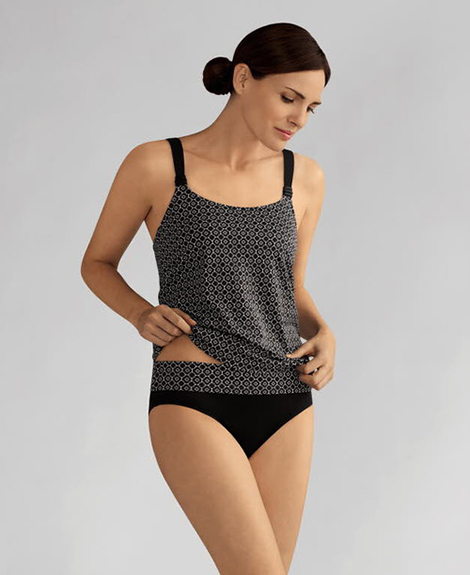 Third, the Amoena Tankini. The tankini comes in sizes 8 through 26 and provides amazing comfort, regardless of your shape. With an A-line design, this mastectomy swimsuit is excellent if your middle section is thicker, your hips have some volume, and your shoulders are slim. Also, the hemline offers a gentle flare, and this mastectomy swimsuit enhances all body types.
To set your admirers' affections ablaze, pair your Ayon Tankini with Ayon High Waist Briefs. With both pieces sporting the black and white design, they complement one another magnificently for a seamless look that will turn heads.
Discovering the swimsuit that will fit your body is no longer an issue, no matter if you have undergone a lumpectomy, single mastectomy or double mastectomy. There are many designs to choose from, with excellent support and style, and each can help you look and feel your best. Whether you enjoy softer tones or vibrant landscapes, there is an on-trend mastectomy bathing suit that can accommodate your unique needs and style while looking absolutely fabulous! These styles are so trendy no one will ever know you are wearing a mastectomy swimsuit.
Should you need other kinds of mastectomy swimsuits that can be worn with or without your post-surgical bra, you can find many in mastectomyshop.com's swimwear department. We also carry a range of swim forms and cover-ups to pair with your favorite swimsuit. We have a large inventory with lots of options, and with our assistance, you can find the perfect mastectomy swimsuit, swim forms and accessories for your summer vacation and favorite summer water pursuits.
For quality post breast cancer silicone breast forms, bras, swimsuits, and more call us today.