Jodee mastectomy swimsuits offer a wonderful blend of comfort, style, and affordability. MastectomyShop.com provides an effortless way for you to have one of these chic and comfortable mastectomy swimsuits for yourself. We provide these high-quality swimsuits, which feature a slimming tummy control panel, a mix of nylon and spandex for extra shaping, higher necklines, and smaller armholes as well as pockets designed to hold swim forms, so you can gain and boost confidence in your post-mastectomy figure.
1. Jodee 1469 Fun in the Sun Mastectomy Tank Swimsuit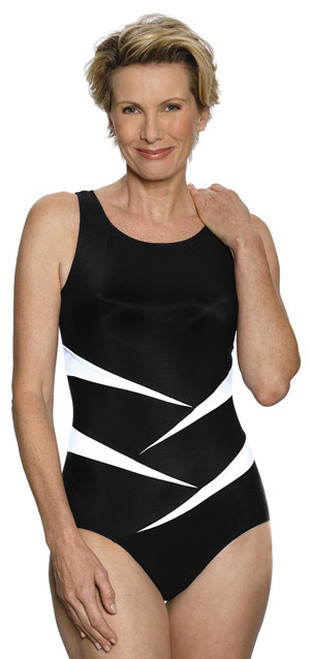 Featuring an elegant black and white tiger-striped design, the Jodee Fun in the Sun mastectomy swimsuit will highlight the aggressive side of your femininity. To boost your tiger spirit, this swimsuit, and all of our mastectomy bathing suits, come with a high neckline and smaller armholes to cover any post-operative scarring. Sizes range from 8 to 20.
2. Jodee 4038/4039 Midnight Forest Sarong Mastectomy Swimsuit
Equipped with three-button adjustable straps, the Jodee Midnight Forest Sarong is ready for all your most exciting beach, pool and lake activities. Designed without a wire, you will receive maximum support and comfort without the digging and pinching.
The design on the Jodee Midnight Forest Sarong is exquisite. A mixture of black with navy blue sunbursts, this mastectomy swimsuit will showcase your sense of style and your figure.
If you are looking for a bit of tummy slimming, the wrap-around control panel can provide extra support. This beautiful and flattering swimsuit is available in sizes 8 to 26.
3. Jodee 4040/4041 Floral Sunrise Sarong Mastectomy Swimsuit
If you'd like to show your playful side, the Jodee Floral Sunrise Sarong is an excellent choice. With a bubbly, blooming pattern supported by a graceful string tied at the side, this mastectomy swimsuit offers the perfect design to show your smile and charming personality. A gentle upturn of the hemline lets others know you are excited for the day and all of the good things that will happen.
The Jodee Floral Sunrise Sarong is made in sizes 8 through 26. The design hugs all of your curves. To enhance your confidence, this swimsuit comes with thicker three- button adjustable straps in case scarring is a concern.
4. Jodee 1453 Melody Mastectomy Tank Swim Suit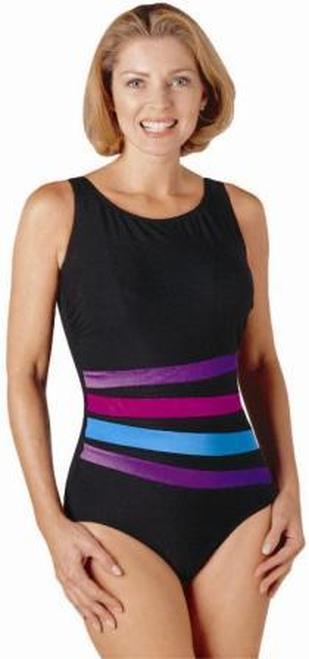 Designed in slimming black with four multicolored stripes, the Melody Mastectomy Tank Swimsuit provides a subdued style if you want to stand out, but not too much. The thick straps offer excellent support for your back, especially if your breast forms are larger. With spandex that nestles against your body, this mastectomy bathing suit was created to show off your figure. The Melody Mastectomy Tank Swimsuit, available at MastectomyShop.com, comes in sizes 8 to 20.
5. Jodee 4044/4045 Sunset Reflections Sarong Mastectomy Swimsuit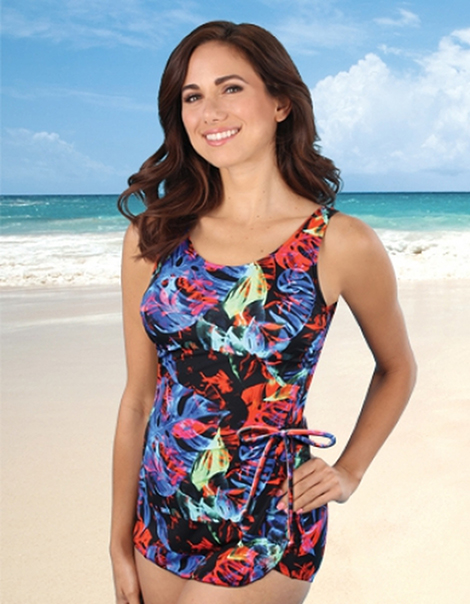 The Sunset Reflections Sarong is available in sizes 8 to 26W because style and comfort are for every woman. Boasting a wild and vibrant graffiti-esque design, this swimsuit will dazzle those around you as they try to follow the patterns. Equipped with a slightly teasing hemline, and splashes of red, your confidence will be personified when wearing this mastectomy swimsuit.
Final Thoughts
It does not matter where you are in your post-mastectomy journey—the first few weeks or years later— stylish, daring, swimsuits are an essential part of your wardrobe. At mastectomyShop.com we have made it our mission to provide dozens of fashionable, comfortable, secure and affordable mastectomy bathing suits to meet the needs of our customers because your well-being and confidence are important to us.
You have almost endless choices of post-mastectomy lines of breast forms, bras, clothing, and accessories at MastectomyShop.com, contact us today.