Breast cancer treatments such as chemotherapy, radiotherapy, or hormone therapy may cause your hair to thin and fall out. Loss of hair can significantly impact your self-confidence and mental health during your cancer recovery.
People with hair loss often experience physical effects like scalp dryness, itching, wind rash, and sunburn. There are many options of head covers for patients going through cancer treatment, including chemo hats, head scarves, bamboo hats, sleeping caps, pre-tied hats, and turbans.
Cancer patients often use wigs or hairpieces, but it can be challenging to replicate the realistic look of natural or curly hair with an artificial wig.
One of the most comfortable options available is a Chemo Beanie. A Chemo Beanie can help protect your scalp without the hassle of tying and adjusting your head covering throughout the day.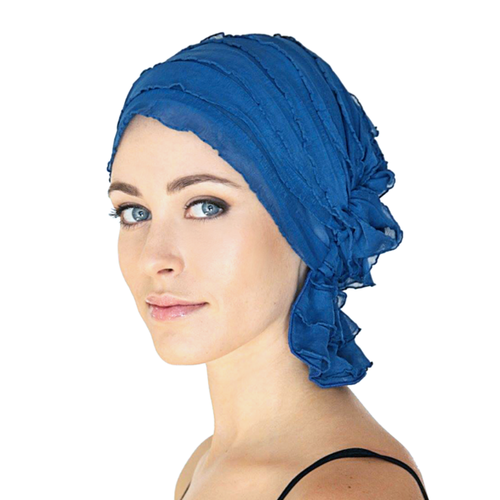 What are Chemo Beanies?
Chemo Beanies is a woman-owned and operated chemotherapy headwear brand that designs fashionable and comfortable products for modern women.
Chemo Beanies developed a line of easy-to-choose and easy-to-wear chemo headwear that features all the design elements you need to stay comfortable and confident during chemotherapy treatment.
How to Choose a Chemo Beanie
At Mastectomyshop.com, we've put together the following guide to help you choose the right Chemo Beanie for you. These tips simplify shopping for chemo headwear, from finding a suitable color to understanding which features to look for.
Shop at a specialized store
Most women don't consider the difference between standard hats and hats for hair loss when they begin looking for chemotherapy headwear.
Caps and hats you typically wear will fit your head more loosely after hair loss, and they shift on your head throughout the day. This can cause irritation and won't provide you with the protection you need. Many of them are not designed to completely cover the hairline, leaving the neckline uncovered.
Shopping for headgear and hats for cancer patients at a standard store often means you can't find an item that matches your needs. It's essential to purchase headwear specifically designed to conceal hair loss.
A Chemo Beanie offers full coverage from below your hairline to the nape of your neck. The durable stretch knit fabric allows you to customize the fit to the contours of your head for the most comfortable wearing experience.
Play with colors and prints
When choosing stylish beanies for chemo patients, basic neutral colors can be easily mixed and matched with various outfits. However, black and gray headpieces can emphasize the look of dark circles under your eyes and make your complexion appear dull.
When shopping for a Chemo Beanie, look for colors that flatter your skin tone. For example, fair-skinned women look their best in pastel and jewel tones, while earth tones, blues, and burgundy are ideal for olive-toned skin. Consider rich oranges or yellows, dark plum, or magenta for darker skin tones.
Prints and patterns are also an excellent way to express your personality through your chemo headwear. Chemo Beanies come in a vast range of stunning patterns to suit your style.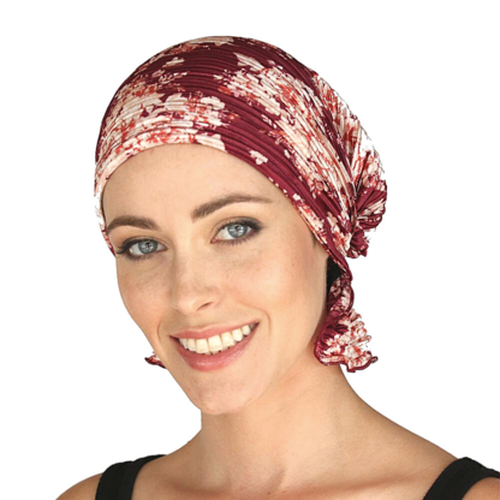 Try the flirty, floral Gayle Chemo Beanie. The crinkle fabric emphasizes the beautiful pink cherry blossom flowers on the burgundy background for a chemo head covering that pairs perfectly with denim jeans or a flowy linen dress.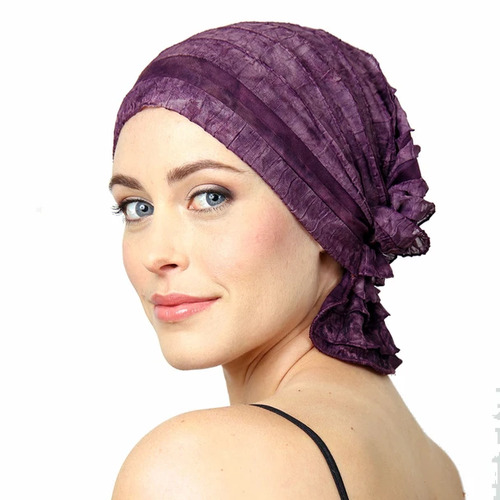 If you are looking for a statement piece to wear out on a date night, the Danielle Chemo Beanie is a gorgeous choice. The rich plum color, batik-style pattern, and delicate pleating coordinate beautifully with a little black dress and strappy heels.
Consider which special features you need
The makers of Chemo Beanies produce various styles and design elements so you can choose the best fit for you. Some special features to consider include:
Comfort/softness of the fabric

Hairline coverage

Wardrobe compatibility

Flexible sizing

Optional accessories, such as overlay ties
When choosing a fabric that offers comfortable all-day wear, natural fibers are the best choice because they are gentle on your skin. Some good options include cotton, linen, wool, and silk products.
However, if you live an active lifestyle and enjoy a regular exercise routine, opt for practical Chemo Beanies made from a polyester blend which is a breathable fabric that helps wick away moisture for optimal temperature control.
Select a design that suits your lifestyle
Consider your lifestyle and the different activities you will be using your Chemo Beanie for, such as shopping, going to work, and going out to dinner.
Many women find they require multiple styles for different functions, and it is best to have a selection of Chemo Beanies for various occasions. Keep a selection of practical Chemo Beanies for wearing at home or running errands, and have one or two chic Chemo Beanies to wear to work or for special events.
Having several Chemo Beanies to choose from not only expands your accessorizing options but can also help your Chemo Beanies last longer and retain their shape.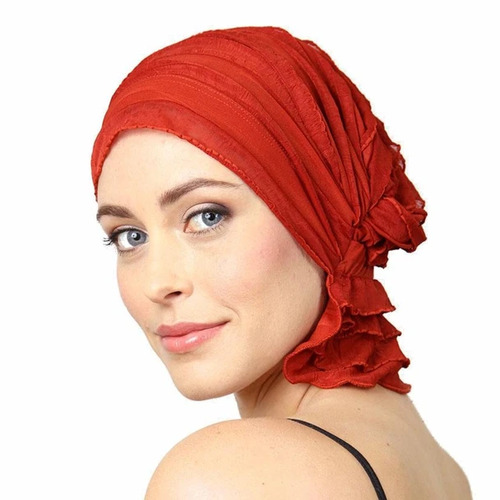 Feel Comfortable and Supported With Chemo Beanies from Mastectomyshop.com
At Mastectomyshop.com, we understand that breast cancer is complex, and every case is different, which is why we are dedicated to providing more than just a fantastic selection of post-surgical bras, breast prostheses, and mastectomy swimsuits. We also understand that chemotherapy can come with side effects like hair loss.
We cater to all women taking on their breast cancer prognosis, no matter what that entails, and provide products that promote your physical and emotional wellbeing.
Browse our full selection of stylish beanies for chemo patients, hats with wigs, and sleep caps to ensure your head is protected as you recover from your breast cancer diagnosis.