After mastectomy surgery, women have the choice of whether or not to have a breast reconstruction. Women who choose not to have reconstructive surgery may do so for a variety of reasons from low immunity to potential health risks. However, if you do choose to live without breasts, you can achieve balance and symmetry by wearing a prosthesis.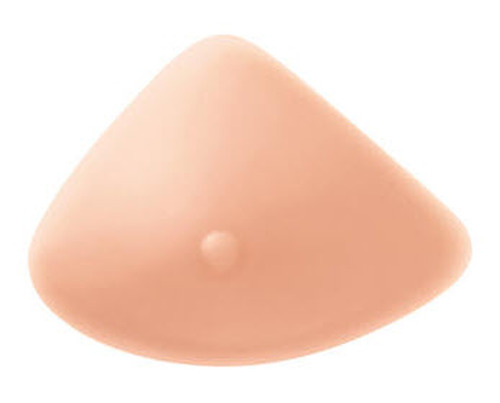 Types of Breast Prostheses
All women have different shaped bodies so there is a wide range of different artificial breast forms available to help you find the best fit for you. Some of the different types of breast forms include:
Silicone Breast Forms
Silicone breast forms are the most popular style of prosthesis as they mimic the look and weight of natural breasts. Most silicone breast forms are designed to be worn inside a pocketed mastectomy bra, however, some lightweight styles can be worn with a special adhesive.
Silicone breast forms are crafted from a medical-grade silicone shell and filled with either silicone gel or fiberfill. Ultra-lightweight options such as American Breast Care Classic Triangle Air use specially aerated silicone gel to reduce the weight of the form without sacrificing the appearance or texture.
Foam or Fiberfill Breast Forms
The most lightweight style of breast forms is foam or fiberfill prostheses. They are made from a foam or fiberfill core that is covered in breathable fabric. Foam breast forms are suitable to wear immediately after surgery if permitted by your doctor as they do not place excess weight on the chest wall or aggravate sensitive skin.
Foam breast prostheses are the ideal option to have as part of your mastectomy wardrobe for lounging at home or while sleeping. Foam forms are also an excellent option for use while exercising and can be easily washed after use.
Swim Forms
Swimming and water aerobics are excellent forms of exercise to help with your recuperation after surgery. The water supports your body to give you a low-impact workout that strengthens the core and upper body muscles and stretches and lengthens joints. But to get the most out of your water workouts you need the right type of breast form.
Swim forms are specially designed for use in the water. They are constructed from lightweight waterproof silicone and feature a concave, ribbed backing that allows water to flow away from the body while boosting air circulation to prevent suction and irritation.
Partial Breast Forms and Shapers
Partial breast forms and shapers are specifically created to add volume and shape for women who have had breast-conserving surgery or a lumpectomy. Partial breast forms can be made from either fabric-covered foam or silicone and work by gently shaping your remaining breast tissue to help give you a full breast shape.
Custom Breast Forms
Custom breast forms are designed to give you the most comfortable fit and natural look available by forming to the contour of your body. Custom breast forms are created using 3D scanning technology that gathers data about the shape, tissue density and skin texture of your chest wall after breast cancer surgery. The data is then sent to an off-site lab where your prosthesis is constructed from medical-grade silicone.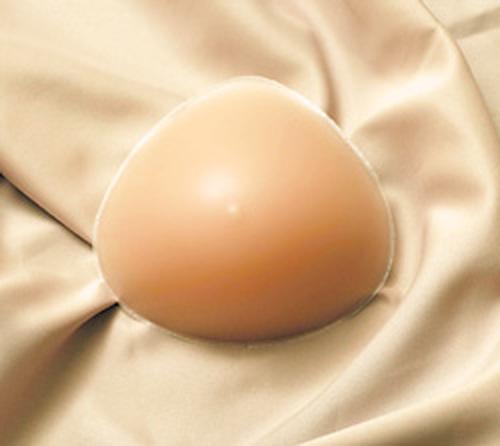 Different Shapes of Breast Prosthesis
The best way to achieve realistic-looking, symmetrical breasts is by choosing a shape that mimics the slope and drape of your natural breast tissue. There is a wide range of different shapes to choose from including:
Symmetrical Breast Forms
Symmetrical breast forms can be worn on either side of your body and come in shapes such as triangular which is ideal for women with a wide chest wall and average breast projection, oval for fuller breasts, and teardrop shapes for women with more volume below the nipple.
Asymmetrical Breast Forms
Women who have had lymph node removal in addition to a full mastectomy may need added volume under the arm. Asymmetrical breast forms are worn either on the left or right side and typically feature an extended wing that fits under the arm to add volume and secure the breast form.
How to Wear Breast Forms
No matter which style you choose, to get the most out of your breast forms there are a few tips and tricks to help you find the right breast forms for your body.
Schedule a Fitting
A certified fitter is trained and qualified to help you find the perfect breast form. You can schedule a professional fitting about 4-6 weeks after your surgery, or as permitted by your doctor, once the swelling has subsided. This will allow the fitter to get more accurate measurements to find a breast form that will help you find balance and symmetry.
Wear a Mastectomy Bra
The best and simplest way to wear your breast forms is with a mastectomy bra. Mastectomy bras feature cups with a cotton or mesh pocket to hold the prosthesis securely and prevent slippage while you go about your day. In addition to bilateral pockets inside the cups, look for bras that have adjustable straps and wide underbust and back bands to create a more comfortable fit.
Learn to Position Your Form
If you choose to use a self-adhesive to attach your breast forms to your body, it is important that you find the correct position to ensure your breasts appear symmetrical. The bottom of the breast form fits on your chest about halfway between your shoulder and elbow and each form should have approximately 1-inch space between them.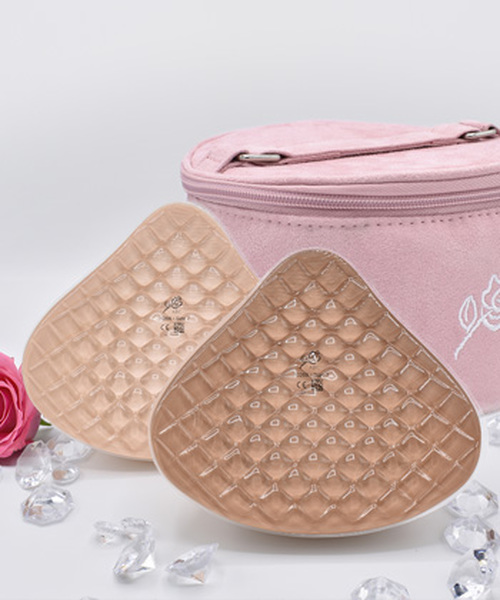 The Wrap Up
If you are interested in being fitted for a prosthesis, book a professional fitting with a certified fitter. Remember to check your health insurance policy as some insurance companies will cover the cost of purchasing a breast prosthesis and mastectomy bras as part of your breast cancer treatment.
At Mastectomyshop.com, we have a huge selection of breast forms in a wide variety of sizes and shapes to suit every woman. Call our friendly customer support staff at (877)-912-0775 to find out how our range of breast forms and mastectomy bras can help you regain your confidence after breast surgery.