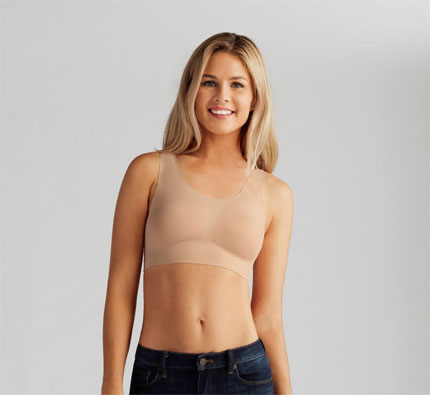 Seamless mastectomy bras offer a perfect combination of support and comfort and are designed to be worn discretely under close fitting clothes. They are also amazingly versatile, especially wire-free seamless bras, and can be worn almost immediately after the initial recovery period without any irritation or discomfort to surgical sites. Here are six of the best seamless bras that suit every body type, including the best from trusted brands, like Jodee bras, Amoena, and Classique.
1. Amoena Amy Seamless Mastectomy Bra
The Amoena Amy bra is the perfect basic full coverage bra to add to your wardrobe. It is soft thanks to the special Lycra® blend and fits so snuggly that it feels like a second skin, even when worn with breast forms. With extra wide underbust and back bands, and ultra-soft straps to give superior support and comfort, there is no need for wires or closures. Pocketed cups help to provide a secure place for breast forms or shapers, or simply wear without, and it becomes the perfect leisure or sleep bra.
2. Classique Seamless Molded Cup Mastectomy Bra
For women who want added shape and definition to their silhouette, the Classique Seamless Molded Cup bra features soft padded cups with built-in bilateral interior pockets constructed from a flexible nylon/spandex knit blend for holding breast forms and shapers. It also features a wide back band with three hook-and-eye closures with a discreet flap that lays smooth under clothes.
This bra gives you maximum shape and definition without turning to wearing a push up bra. Push up bras should not be worn post-mastectomy as this can harm any scars or sensitive breast tissue.
3. Coobie Fusion Racerback Yoga Bra
The ultimate sports and leisure bra ideal for all body types is the Coobie Fusion Racerback Yoga bra. This seamless sports bra offers light support for gentle activity combined with features that offer superior comfort while you work out. A wide underbust band allows the bra to fit snuggly against the skin, while adjustable straps and an ergonomically contoured back panel create a custom fit that evenly distributes the weight of your breast forms across the shoulders. The bra also features removable internal pads for added shape.
4. Jodee "Soft and Smooth" Molded Seamless Bra
Jodee bras are renowned for their delicate feminine touches to create bras that are not only comfortable and functional shirt bras but also beautiful. The "Soft and Smooth" Molded Seamless Bra is constructed from lightweight, soft microfiber and features wide padded straps for soft comfort across the shoulders, seamless pocketed cups to hold breast forms which are virtually invisible under close fitting garments, and a touch of stretch lace across the center to provide additional coverage.
5. ABC Front Closure Seamless Leisure Bra
After the initial recovery period, it can be a challenge to find the perfect bra that offers a comfortable fit and easy dressing. The ABC Front Closure bra is the perfect item to transition easily from post-surgery recovery to resuming everyday activities.
Constructed from a soft, breathable cotton/spandex blend, the bra features soft molded cups for added definition and volume as well as cotton pockets for holding breast forms. With wide adjustable straps, a soft, smooth back panel, and simple front hook-and-eye closure for quick and easy dressing, this is the perfect bra for everyday wear.
6. Trulife Lily Microfiber Seamless Underwire Bra
For women who require a little additional support and shape, underwire bras are the ideal solution. The Trulife Lily Seamless Underwire bra's simple and elegant design uses microfiber all over to create a smooth silhouette even disguising the underwires. The straps are padded and adjustable for a comfortable fit, and the cups feature mesh pockets to secure breast forms. The bra comes in a range of neutral and monochrome colors to suit your style.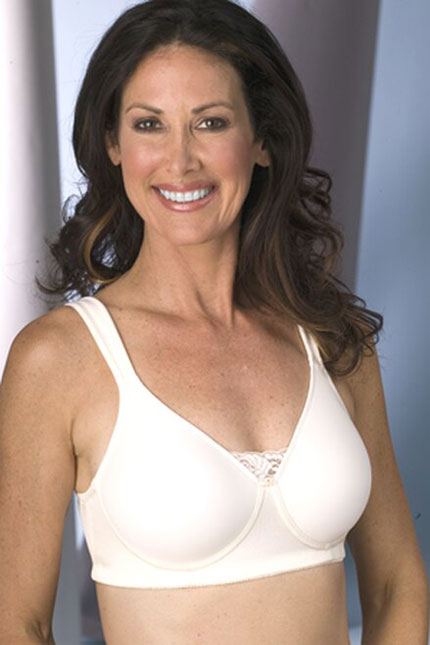 Final Thoughts
Seamless bras are the perfect piece to add to your wardrobe with many types of bras that can be worn almost immediately after surgery due to their smooth and comfortable design. Try out a seamless mastectomy bra today from MastectomyShop.com. To place your order or for more information about any of our mastectomy products and accessories, please call us toll free at (877)-912-0775.