Swimming is a great way to get gentle, yet effective exercise. For women who have undergone breast cancer surgery, it may be the first activity your doctor recommends after you have allowed adequate time for healing. Many women feel overwhelmed and frustrated by the process of finding the perfect bathing suit, and breast cancer survivors face a unique set of challenges.
Shopping for post-mastectomy swimwear should be a rewarding experience and our goal is to help make that happen. Out of the best and latest mastectomy swimsuits available for women in our online inventory, there are a few that are our favorites.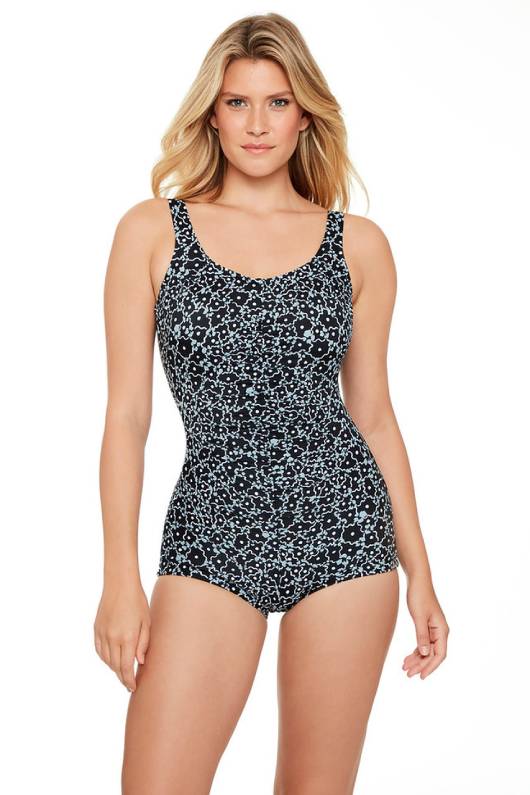 1. Penbrooke Girl Leg One-Piece Mastectomy Swimsuit - A classic and comfortable one-piece bathing suit for women who want something a bit modest. The tummy control panels and shirred fabric provide an elegant slimming effect. This suit comes in a simple and pretty floral pattern. It's soft cups prevent irritation.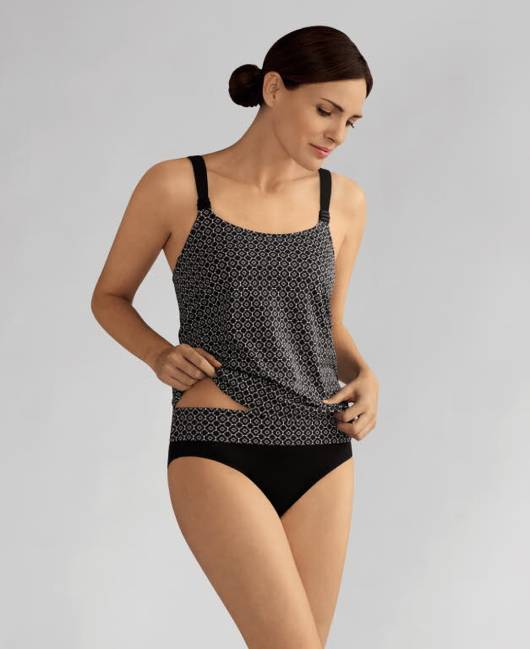 2. Amoena Ayon Mastectomy Tankini Swim Top - The Amoena tankini swim top is a versatile piece for women who prefer to mix and match. The tankini top features wide adjustable shoulder straps for comfort and pocketed cups to hold your breast form in place with confidence. Lycra and spandex materials maintain the shape of the suit along with chlorine resistant fabric. Geometric black and white print in sizes 8-20 with B and C cups.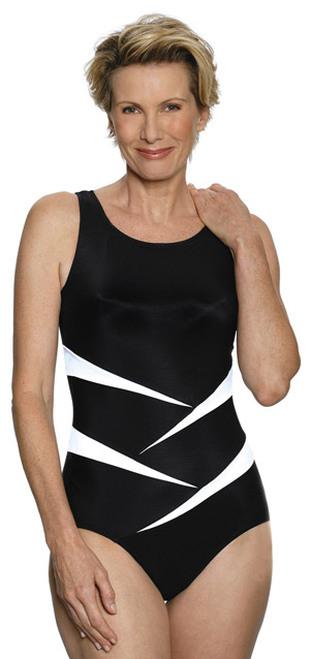 3. Jodee Fun in the Sun Mastectomy Tank Swimsuit - Jodee swimsuits feature higher necklines and armholes for maximum coverage and protection. Breast cups feature pockets to hold breast forms securely in place. Swimsuits feature nylon tummy control panel for slimming and support. Material is a blend of nylon and spandex for comfort and shape. This suit has a black and white design that offers sleek simplicity.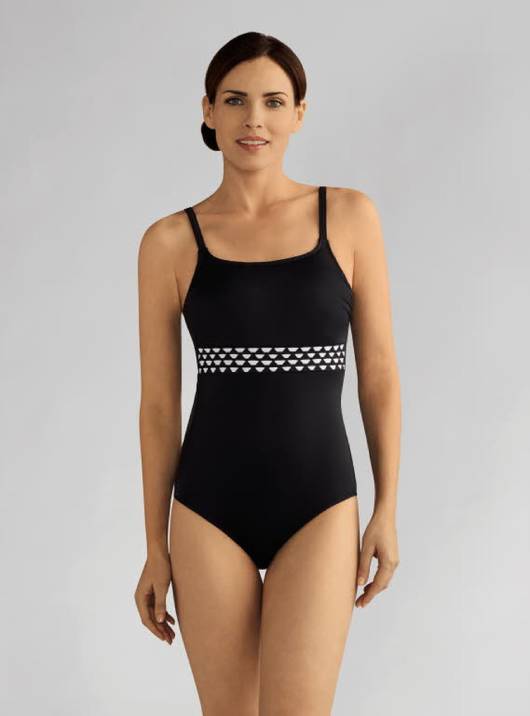 4. Amoena Cocos One-Piece Mastectomy Swimsuit - A stylish take on classic one-piece swimsuits, the Amoena Cocos is perfect for women who want a flattering yet comfortable suit. Lycra material provides excellent shape retention while chlorine resistant fabric preserves the longevity of the suit. This suit comes in sizes 6-18 with B, C, and D cups.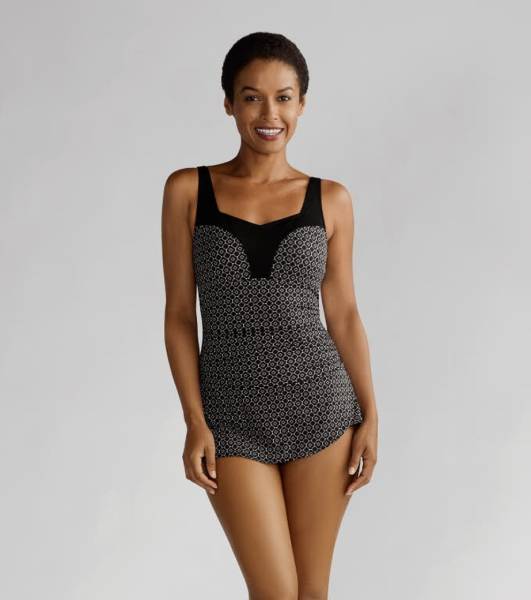 5. Amoena Ayon Sarong Mastectomy Swimsuit- A sarong suit like this one from Ameona provides extra coverage to the tummy and thighs for ultra-flattering waist definition. Black briefs underneath the skirt provide extra coverage and protection. This suit features elastic straps for the utmost comfort. It comes in sizes 10-26 with B and C cups.
Features to Look For
Mastectomy swimsuits are designed specifically for women who have endured breast cancer surgery. Whether you choose one from our list of favorites or still have some shopping to do on your own, there are a few key features to look for when shopping for post-mastectomy swimwear.
First and foremost, your suit should be comfortable and supportive. Adjustable straps ensure that you can accommodate your body's necessary level of support throughout recovery. Tummy control panels are great for women who want a slimming effect and a high neck can help disguise surgical scars and well as provide additional security.
Mastectomy swimwear should offer pocketed cups to securely hold swim breast forms in place, should you choose to wear them. Considering your level of comfort can help you to determine whether you want to wear a one-piece, a bikini, a tankini, a swim dress, or a sarong.
Swim Forms
If you have chosen not to undergo breast reconstruction surgery, you are not alone. Many women prefer a less invasive method to restore shape and symmetry to their post-surgery body.
Breast forms are designed to emulate the shape and feel of the natural breast without the need for another invasive surgery. Swim forms are designed the same way but with a lightweight silicone material that can withstand chlorine and saltwater. If you are interested in swim forms, but unsure where to begin, check out our blog on swim forms for beginners.
Final Thoughts
Whether helping a loved one navigate the process of finding the perfect mastectomy swimsuit, or shopping for yourself, we hope to make your experience enjoyable and rewarding. Should you have any questions about our products or services, please don't hesitate to contact us!