Swimming is a great form of exercise to enjoy after having a mastectomy. But you need the right swimwear that is comfortable, supportive, and stylish to give you the confidence to get back in the water. Here are our top 10 tips for finding the right swimsuit after breast cancer surgery.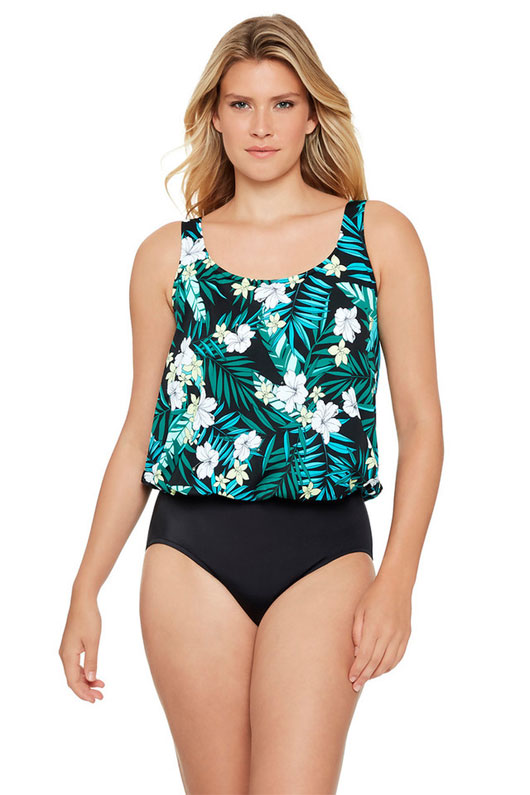 1. Mix and Match
Having a mastectomy doesn't mean your days of wearing a bikini are at an end. Mixing and matching tops and bottoms is a fun way to express your style and find the perfect swimwear separates to suit your body.
Tankinis are the perfect option if you are feeling self-conscious after surgery and want a little extra coverage. The T.H.E Collection Triple Tier Tankini Swim Top comes in three vibrant prints and features on-trend ruffles that gently drape across your mid-section for a flattering fit. The top coordinates well with solid black or navy bikini briefs of swim shorts.
2. Don't Be Afraid of Color
While black is universally flattering, don't limit yourself to dark shades when buying mastectomy swimwear. Choosing a bold color swimsuit can help you to regain your self-confidence.
Bright colors are a wonderful way to highlight your best features. If you have had reconstructive surgery, show off your new curves with a stunning fuchsia pink one-piece suit such as the Amoena Rhodes Swimsuit which has a sporty style and features a panel for tummy control.
3. Prioritize Comfort
Swimwear should not only make you look gorgeous but feel comfortable as well. When shopping for mastectomy swimwear, choose pieces that offer features for a more comfortable fit including a high neckline, small armholes, wide straps, and quick-drying stretch fabric.
4. Find the Right Fit
A swimsuit that fits right can flatter your shape, offer better comfort, and hold breast forms more securely. Choose a swimsuit that features adjustable straps so you can create a custom fit by changing the length of your straps to suit your shoulder height and the size of your breasts.
5. Look for Interior Pockets
You need swimwear that features built-in pockets to hold your forms in place to prevent them from shifting while you swim.
Look for pocketed swimwear that offers pockets made from lightweight mesh or microfiber that feel soft against your skin and dries quickly to prevent irritation to surgical scars.
6. Opt for Interesting Details
Sleek one-piece swimsuits are ideal for swimming laps and water aerobics, but for spending time at the beach choose bathing suits that have interesting details such as ruffles, woven straps, color blocking, or cut-outs.
7. Choose Long-lasting Fabrics
Once you have found a swimsuit design you love, you want it to last as long as possible. Look for mastectomy swimsuits made from fabric that is resistant to UV damage, saltwater, chlorine, and heat, so your swimsuit fits perfectly and looks gorgeous whether you are swimming laps in the pool or soaking in the hot tub.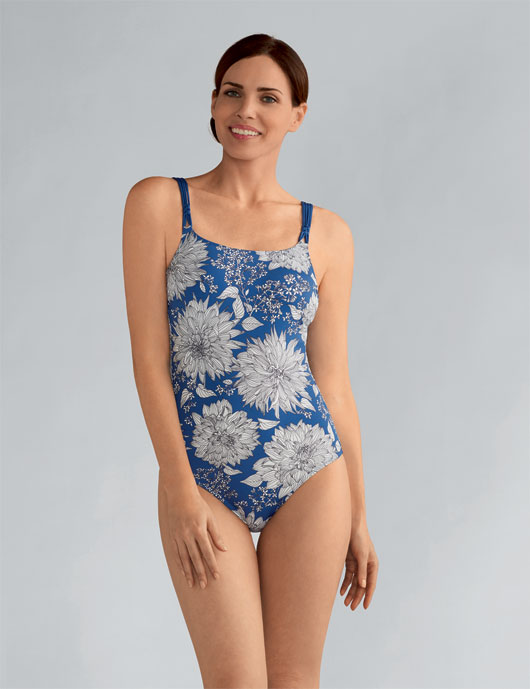 8. Find the Level of Coverage to Suit Your Body
Many women who have had a mastectomy prefer a swimsuit that offers extra coverage up top and along the sides to disguise surgical scars and hide breast forms. Look for suits that have a high neckline that sits just below the collar bone to cover high lying scars.
For women who want more coverage on the bottom, swim shorts, skirts, and dresses are a fun and flirty way to dress modestly for the beach.
9. Choose the Right Breast Forms
While standard silicone or foam breast forms can be worn while swimming, they can become water-logged and uncomfortable.
Swim forms are specifically designed for use in the water and are constructed with a concave, ribbed backing that allows water to slide off easily and prevent suction against the chest wall.
10. Go for a Fitting
If possible, go for a professional fitting at a certified bra fitter. They can take accurate measurements to ensure you get the best fitting swimsuit possible.
Final Thoughts
Whether you want to look stunning lounging by the pool, or you need a bathing suit for your post-mastectomy workout, choosing the right mastectomy swimwear can help you feel great post-surgery.
For all your post-mastectomy swimwear needs, browse our online inventory at Mastectomyshop.com, or call us at (877)-413-2272 to learn more about the range of mastectomy products we have available.