When it comes to producing mastectomy bras that are the perfect combination of stylish details and functional design element, Jodee post mastectomy fashions are a great option. Here are 20 of our favorite beautiful Jodee bras for your new figure after mastectomy surgery.
Add a fiery pop of color to your wardrobe with the Scarlet Molded Seamless bra. The soft microfiber fabric and seamless construction make it perfect for wearing under your favorite tight-fitting garments or t-shirt. With molded cups that add volume and definition to your silhouette that feature built-it pocketed cups for holding breast forms, this Jodee bra is ideal for everyday wear.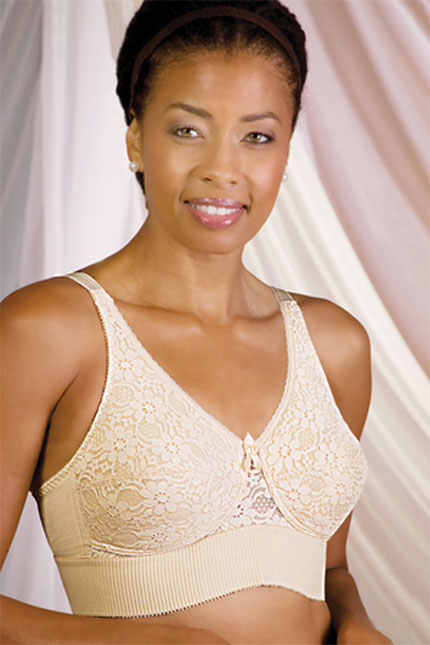 Who said nude bras are boring? The "Embrace" proves that a functional bra can still be amazingly beautiful with delicate lace covered cups that are lightly fiber-filled to give extra volume and shape. The cups also feature a side pocket under the arm for holding a Balanced Fit cushion for women who have had a partial mastectomy.
The extra wide under bust band provides optimal support and help to secure your breast forms inside their pocketed cups. The "Embrace" bra is also available as a perma-form bra with foam forms sewn directly into the bra cups ideal for women with mobility issues or simply want a post surgical bra that makes it easier to dress in the morning.
For a soft, feminine style, the "Radiance" bra has a satiny finish on the cups and beaded embellishment at the breastbone. The bra comes in brilliant white or rosy beige and offers firm shaping and full coverage without sacrificing comfort.
The cups are lightly padded with fiberfill, and each contains a pocket constructed from a cotton/spandex blend for holding your breast forms safely, and adjustable straps to help you find the best fit.
Scalloped lace that begins on the upper panel of the shaping cups continues up to reach high on the chest for superior coverage ideal for disguising radiation burns or surgical scars.
Each cup contains built-in bilateral pockets for your breast forms as well as side pockets for Balanced Fit cushions to add volume after a lumpectomy.
Ideal for wearing under low cut tops and dress, the Jodee Camisole bra comes in white, black and nude colors to match with any outfit.
This bra looks just as sweet as its name with floral embossing over the cups and straps and simple lace edging. The cups are padded with fiberfill for an enhanced shape and feature interior cotton/spandex pockets for breast forms. Wide side and back panels that finish in a 4 hook-and-eye closure provide a snug fit for better support.
The "Lovely" bra is also available as a perma-form which is a perfect lightweight option for keeping you cool on hot humid days.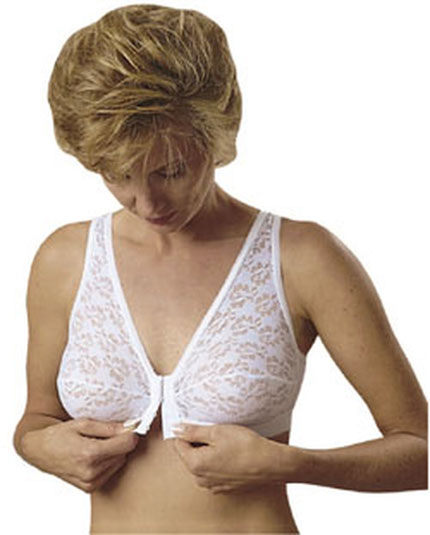 You can still feel gorgeous even while relaxing at home in the Jodee Soft and Lacy Lounge bra. The bra is created from soft stretch lace that hugs your body for a comfortable fit.
The smooth cups contain cotton/spandex pockets, which not only hold your breast forms but also allow the bra to sit smoothly on your skin without irritation.
Front hook-and-eye closures allow for easy dressing making it the perfect bra to wear post-surgery to help you feel beautiful.
The Jodee "Alluring" bra is a feat of engineering with the support of an underwire bra without uncomfortable underwires. Using sculpted cups that are lightly padded to provide support for remaining breast tissue and breast forms, the "Alluring" bra offers a fit like no other.
The tops of the cups are covered in European lace while the lower cups are made from embossed tricot polyester with a sweet bow detail at the center to add a finishing feminine touch. The "Alluring" bra comes in nude, black and ivory and is so lovely you will want one in each color.
Your wardrobe staples don't need to be bland and boring; the Jodee Soft and Smooth Molded bra is ideal for adding a bold touch of color to your closet and wearing under tight fitting and sheer garments.
Wide cushioned straps offer a more comfortable fit and reduce neck and back pain while wide under bust and back bands help the bra to contour to your body smoothing out the back and providing firm support for breast forms.
Each cup has a cotton/spandex pockets for holding breast forms and for added coverage, the bra features a touch of beautiful stretch lace between the cups ideal for disguising radiation burns and surgical scars.
The bra comes in sizes 32 - 48 in cup AA - DD. It is available in colors ranging from muted nudes and whites to delicate blush pinks and elegant midnight blue.
Designed to fit smoothly under any garment while still offering optimal support and comfort, the "Snow White" Seamless Camisole bra is a must have for your mastectomy wardrobe.
The seamless design fits your new body for a snug, firm fit that still lets you move freely. The molded cups feature bilateral pockets for your breast forms, and the wide straps and bands hold you tight without digging in. Between the cups is an extended panel of stretch lace to give you added coverage making it the ideal bra for wearing under low cut tops.
Start your day off right with this simple but elegant mastectomy bra by Jodee. The "Elegant" bra features satiny smooth fabric cups which are padded to give your new body shape. The cups are separated by a fabric panel for defining the breasts and allowing for a better fit. Each cup contains a pocket for any breast form and is edged in delicate scalloped lace.
The "Elegant" bra comes in a range of cup and band sizes to fit all women and is available in 5 colors including nude, pink, white, blue and black.
You no longer need to choose between comfort and style when buying a bra with the Jodee Comfort Plus bra. The upper cups are decorated in whimsical floral lace while the lower cups and side panels are constructed from polyester tricot for superior comfort and support.
The cushioned Super Strap created by the engineers at Jodee help to evenly distribute the weight of remaining breast tissue and breast forms across your shoulders to minimize neck and back pain. Wide under bust bands and side panels fit snugly to your body for extra support without irritating the skin.
The "Choices" bra gives you plenty of opportunity for selection coming in a wide range of colors and sizes to suit your style. The bra is constructed lace and polyester tricot with nylon/spandex elastic components to help give you the best fit possible.
The "Choices" bra fastens at the front with simple hook-and-eye closures, but you can also adjust the comfort and support level with back hook adjustments.
The "Celebrations" Plus bra features a unique snuggle band which is wider than standard bra bands and constructed from high-tensile elastic for superior support and comfort and prevents the bra from riding up.
The top of the cups is constructed from soft polyester lace while the bottom cups are made from durable polyester tricot with a satin finish.
A full coverage bra never looked so lovely. The lace trimmed cups are lightly padded for definition and support and feature cotton/spandex pockets for breast forms and a charming diamond shaped embroidered panel on the upper cup.
With Jodee's patented cushioned straps to better distribute weight and create a custom fit, the "Contemporary" bra is a must-have for your everyday wardrobe.
Designed to be as light as a feather and to keep you cool all day long, the "Serafina" bra is as practical as it is gorgeous. The specialized CoolMax® fabric pockets wick away moisture and help to regulate your body temperature while holding your breast forms securely.
The cups have no fiberfill for a lighter weight but are constructed of beautiful stretch lace that hugs and contours to your body for a more comfortable fit. A front hook-and-eye closure allows you to slip the bra on and off easily, however, the "Serafina" is also available with a back hook only for a more traditional look.
For the best support and comfort, you can't beat a longline bra. The extra wide bands that extend down towards the navel helps to smooth the stomach to give you a sleek silhouette under your clothes, and also reduce pressure on the bra straps to minimize neck and back pain.
The bra fastens from both the front and back with hook and eye closure allowing the versatility to choose how you dress and comes in two neutral shades to complement your wardrobe.
If you are tired of looking for supportive bras for full figured women, look no further. The Jodee "No Stress" bra offers a range of features to keep you comfortable and supported even in larger cup sizes.
The Ultra Comfort Plus straps are padded and extra wide to distribute your weight evenly and are lace covered with scalloped edging for a bra that is both supportive and feminine.
Fiber-filled lace and polyester cups add shape without adding to your cup size. It comes in sizes AA - II and feature bilateral cotton/spandex pockets for breast forms.
The embossed nylon lace cups feature bilateral interior pockets that are constructed from CoolMax® fabric to wick away moisture to keep you cool and dry. The scalloped lace extends up over the cups for fantastic coverage and onto the adjustable straps.
The lace center panel helps to define and shape the breast without the need for fiber filled or padded cups, while the stretch lace construction hugs firmly to your body.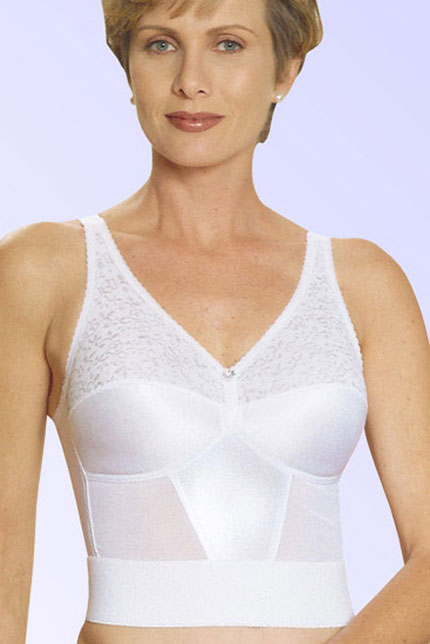 Longline control bras are perfect for wearing under close fitting clothes for added tummy control. The Jodee Unique bra features lace covered cups with polyester tricot lower cups and center panel.
Each cup has a pocket for breast forms as well as side pockets for holding Jodee's Balanced Fit cushion for women who have undergone a lumpectomy.
If you want a bra that not only looks great but is also good for your back, try the Jodee posture bra. With lace embossed cups and straps that contain bilateral cotton pockets and are lined in fiber fill for shaping and support.
The front hook-and-eye fastener allow for easy dressing and also cause the back adjuster and bands to pull your shoulders gently backwards to improve your posture.
Caring for Your Jodee Bra
We know you will love your new Jodee bras, but you need to take care of them properly, so they last. So, here are a few tips on how to clean and care for your Jodee bras.
Wash your bras every 2 - 3 wears to keep them fresh and avoid overstretching the fabric. Keeping a rotation of 4 - 5 Jodee bras in your intimate apparel wardrobe will ensure you always have a beautiful Jodee bra to wear.
Hand wash your bras in mild detergent to avoid degrading the fabric. Simply soak the bra in warm and detergent then gently scrub the fabric together.
If you must machine wash, use a cool temperature and a slow spin cycle.
Wash your bras inside a lingerie bag or pillowcase with the bra hooks closed to avoid tangling and snagging.
Never put your bras in the dryer. Always air dry on the clothesline after removing excess water with a towel.
Don't forget to reshape molded or padded cups before drying.
Final Thoughts
Jodee bras perfectly combine feminine style with functional design to offer you comfort and support when you need it most. To learn about which Jodee bra would best suit you, please contact MastectomyShop.com at (877)-912-0775 or order your Jodee bra online.