Our Jodee bras prove that post-mastectomy bras can be adorable. Not only do these bras support you, but they are incredibly flattering and feature some gorgeous styles. Today, we're sharing with you six of our favorites at MastectomyShop.com.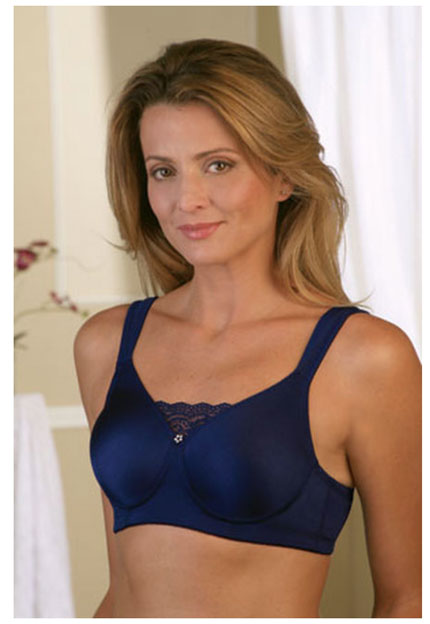 This Jodee bra lives up to its name: its molded cups and seamless, microfiber design are optimized for comfort. Not only does it come in a stunning midnight blue shade, but its lace detailing at the top and center of the front of the bra makes it perfect for wearing underneath lower-cut shirts. Whether you want to conceal scarring, or simply want to show off a bit of beautiful lace, this bra is tops our list of prettiest Jodee bras for a reason.
Pair it with a white blouse for a laid-back but classy look. Available in sizes 32-48 AA-DD with cushioned shoulder straps. Each cup has a cotton and spandex pocket for a breast form.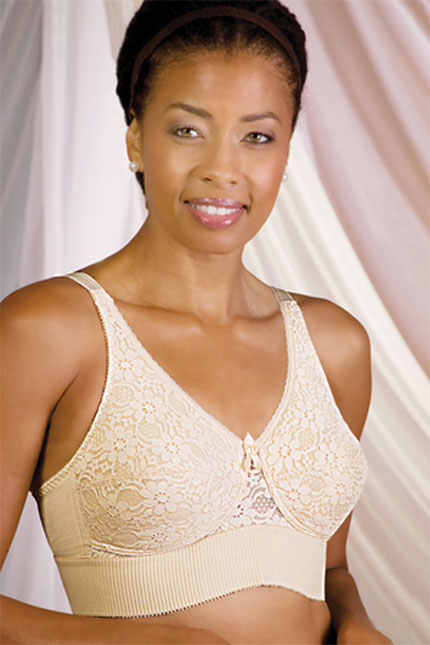 This lovely Jodee bra comes in a sexy red. It features molded cups, a seamless design, and ultra-soft microfiber. Its smooth look makes it perfect for wearing underneath practically anything, from a fitted t-shirt to a figure-hugging dress. A touch of lace provides a bit of extra coverage at the breastbone, while its wide, comfortable, padded straps and sleek design mean that you won't have to spend time constantly adjusting for comfort. It's available in sizes 32-48 AA-DD. Each cup features a cotton and spandex pocket for a breast form.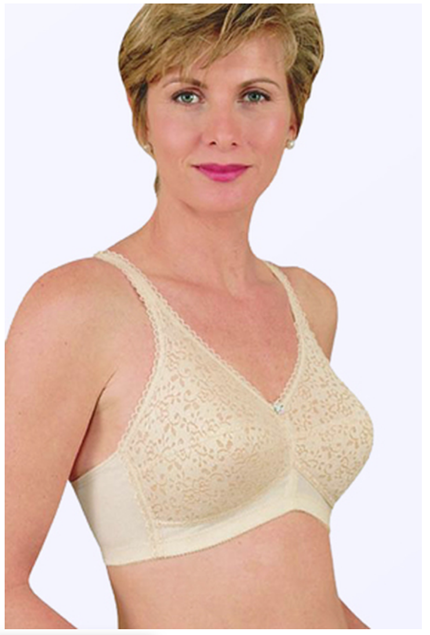 Perfect for double mastectomy patients, this beautiful bra features lightweight, polyurethane fiber-filled foam permanently sewn into the design. This means you can just get up, put on your bra, and go—no fitting breasts forms into pockets required making it ideal for women who have arthritis.
Its floral lace design comes in two colors, beige and white, and its straps are incredibly supportive and well-padded. With four back-hook adjustments and its ultralight design, it can be perfectly adjusted to your body as well as being ideally comfortable for hot days. This flattering bra is available in sizes 32-48 AA-DD.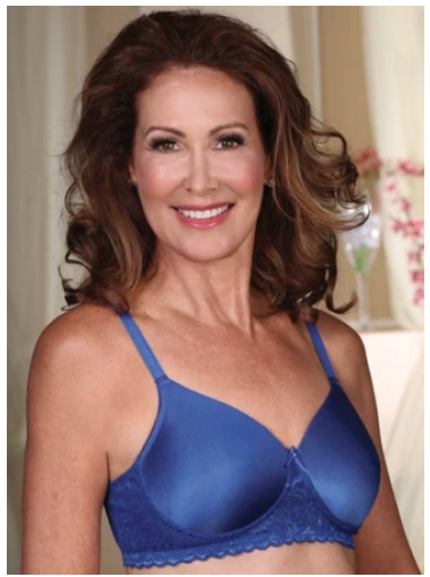 This gorgeous bra comes in a variety of color options—sexy scarlet, adorable pale pink, and vivid blue—while also offering different perma-form options. Choose if you want an ultra-lightweight form permanently sewn into your bra on your left side, right side, or both sides. The lightweight foam is half the weight of silicone, meaning less strain for your back and shoulders and less sweat on a hot day.
The seamless, molded cup design is perfect for wearing underneath form-fitting shirts and dresses while being optimally comfortable. As with all Jodee bras, the wide straps are padded for extra comfort and support. This stunning bra is available in sizes 34-44 A-D.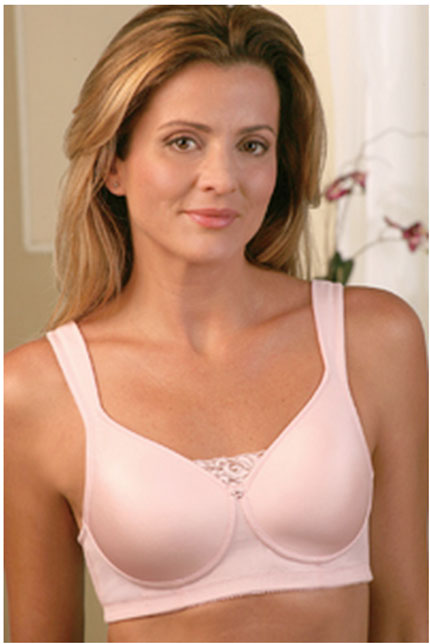 This bra lives up to its name: its soft pink color and ultra-smooth and sleek fit make it nothing short of heavenly. It's even ideal for wearing underneath sheer or semi-transparent clothing. A small splash of pale pink lace detailing at the breastbone adds extra coverage, be that for scarring or lower-cut tops. Pair with an off-white blouse for a romantic, vintage look. Perfect for Valentine's Day or anniversaries! This pretty bra is available in sizes 32-48 AA-DD. Each cup features a cotton and spandex pocket for a breast prosthesis.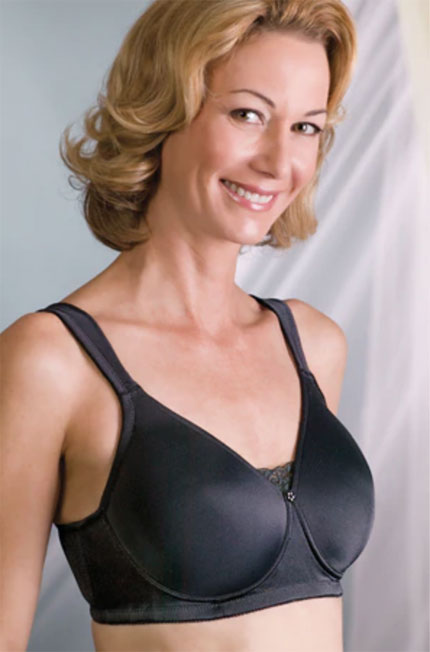 Though it comes both in black and lovely ivory, the black is our favorite on this list. The black lace design is sophistication and class, and the bra's design is equally sophisticated. With permanent foam breast form options for the left side, right side, or both sides, this bra is perfect for warmer days and maximizes on its lightweight design. If you want a comfortable bra that doesn't compromise on sleek looks, this might just be the one for you.
Conclusion
These were just a few of the gems of the Jodee bra collection. If you have any questions or would like to order a bra, reach out to us at MastectomyShop.com. Call us at 1-877-443-2172 or complete our online contact form.