Although breast reconstruction surgeries after a mastectomy are becoming more popular, there are numerous reasons why you may choose to forgo this invasive procedure. Whether you aren't a candidate for reconstructive surgery, or you want to give your body time to rest and heal, breast forms offer an excellent alternative to regain your breast shape.
However, not all breast forms are created equal. Ready-to-wear breast forms can be an excellent temporary option, especially if you have one fitted by a professional mastectomy fitter.
But they can be problematic for some women, depending on their skin sensitivity, type of breast cancer surgery, and general health. In these cases, many mastectomy patients turn to custom breast forms.
Learn more about some of the reasons why you should try custom breast forms.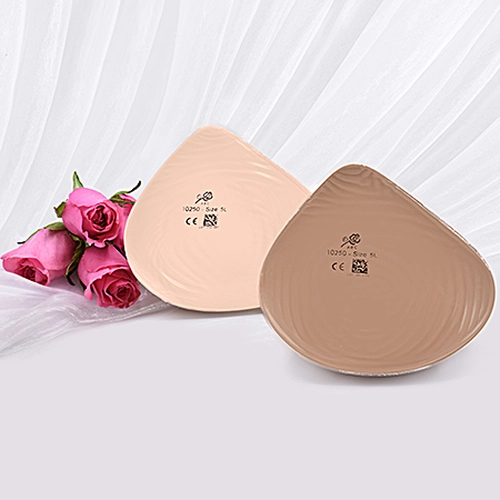 Patients May Have Uneven Skin After Surgery
For women who had breast conserving surgery or a lumpectomy, your chest wall may have an uneven appearance. Conventional breast forms don't contour to your body, which means they can make your chest appear asymmetrical under your clothes.
Although you can wear shapers and partial breast forms inside mastectomy bras, they may not provide you with the exact shape you want.
Custom-made breast forms are designed to fit your exact body shape. The fitter uses 3D scanning technology to take precise digital images of your chest and underarms at your consultation. This data is sent to an off-site lab, where they use the information to craft a breast form with a backing that matches the contours of your body.
Custom Forms Weigh Less
Silicone breast forms offer the same weight and feel as your natural breast, which can help correct posture issues and prevent neck and back pain after your surgery. However, for many women, the additional weight on their chest wall can be uncomfortable. This is especially true of women who have undergone a radical double mastectomy and want a smaller cup size.
American Breast Care Custom breast forms are up to 40% lighter than standard silicone prostheses. These forms are made from ultra-soft silicone and place less strain on your neck and shoulders. The light weight makes them ideal for wearing when working out or around the house inside your leisure bra.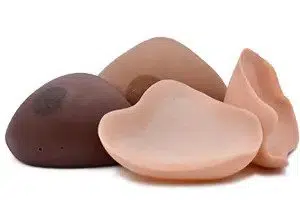 Custom Breast Forms Match Your Skin Tone
Most ready-to-wear breast forms come in nude skin colors, designed to appear discreet on Caucasian skin. However, these breast forms don't cater to women with pale or more melanated skin tones.
If you are wearing your breast prosthesis inside a pocketed mastectomy bra, you are unlikely to see it when you are wearing your clothes. But for lower cut tops, swimwear, and lingerie, wearing a breast form with the correct skin tone can help you feel more confident.
During the scanning session for your custom breast prosthesis, the certified mastectomy fitter will use a color-matching system to find the right skin tone for your body.
Custom Forms Help Regulate Body Temperature
American Breast Care custom breast forms are made from a special proprietary blend of materials that make them cooler to wear than standard off-the-shelf prostheses. The backing absorbs your body heat and transfers it away from your body, creating a cooling sensation.
This cooling technology makes it an excellent choice for mastectomy patients who may be experiencing hot flashes or night sweats due to chemotherapy treatments or menopause.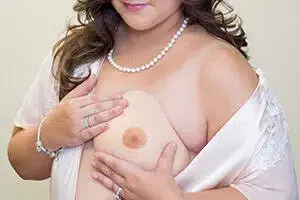 Precise Fit Minimizes Skin Irritation
The skin around your surgical site may feel tender or itchy for several weeks after your mastectomy as scar tissue develops. Foam or fiberfill breast forms covered with fabric may irritate your skin or trap heat against your body, causing a sweat rash.
Ill-fitting off-the-shelf breast forms can also move around throughout the day if you don't wear them with the correct post-mastectomy bra. This can lead to friction and damage to the skin on your chest wall.
A custom breast form is designed to perfectly fit your body's natural shape to minimize rubbing between the backing and your skin.
Custom Breast Forms are Covered By Most Insurance
Most insurance companies offer coverage for one custom breast prosthesis every one to two years. According to the Women's Health and Cancer Rights Act, insurance providers must include breast prostheses and mastectomy bras as part of their policy if it also covers mastectomy surgery. Check your policy to find out whether American Breast Care custom forms are covered.
Visit Mastectomyshop.com for Custom Breast Forms
At Mastectomyshop.com, we carry high-quality American Breast Care custom breast forms. For a private fitting with one of our certified professional fitters, visit our Margate, FL, store and find out if a custom breast form is the right choice for you.