While many women understand the importance of having an arsenal of breast prosthesis and perfectly fitted post-surgical bras on hand following breast cancer surgery, dressing for the time between surgery and full recovery can be confusing and a bit intimidating.
At MastectomyShop.com, we aim to be more than just your top choice of mastectomy wear and breast form store: through our wide selection of affordable and fashionable mastectomy products, we work to personally support and empower women who are facing their breast care surgeries head on.
That personal attention to detail and commitment to each client is why we understand that, as a post-mastectomy patient, dressing for the post-surgery recovery period can be one of the most challenging parts of life after breast surgery.
What can and should you wear, and when can you wear it? Although doctors may send their patients home with cursory suggestions, many women are left to their own devices when it comes to their at-home comfort. With the lack of resources available to women online, the question of what to have and wear at-home post-mastectomy can be daunting.
Which is why we've put together this go-to guide for recovery-wear essentials, including tip and tricks to help women make the post-surgery period as comfortable, effortless, and stylish as possible.
1. The perfect post-surgical bra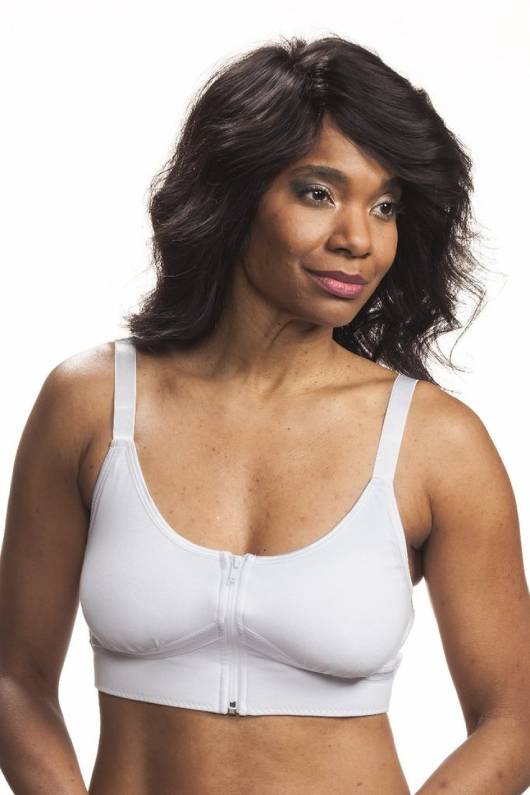 Coming in at number one on our list of post-surgery essentials are post-surgical bras.
Finding the perfect post-surgical bra is critical to maintaining comfort throughout the recovery period directly following a mastectomy, lumpectomy, or breast reconstruction surgery.
After all, ensuring you are comfortable is not only about your quality of life during recovery, but it's also an important aspect of speeding up the recovery process. Maintaining that healing sense of optimism throughout your recovery is simply much easier when you are comfortable and at ease. Finding a well-fitting post-surgical bra with all the features you need for your unique situation is the best way to achieve that comfort.
But what goes into a post-surgical bra, and how is it any different from your standard sports bra? In short, a lot goes into mastectomy-wear design and trying to use a standard sports bra as recovery wear simply won't cut it for a variety of reasons.
First, unlike standard sports bras, post-surgical bras feature front-fastening closures, as well as straps that can be adjusted at the front rather than the back. This is because many women experience limited mobility and stiffness of the arms and shoulders after breast surgery, which can make fastening, unfastening, and adjusting standard bra straps even more impossible and inconvenient than it already seems.
The fit of a post-surgery bra should be highly adjustable in both the straps and the underband. This is because as post-surgery swelling goes down over time, you will find that your bra loosens and doesn't maintain the fit that it should. Finding bras with multiple hook-and-eye closure settings at the front that allow you to adjust the band size and adjustable front shoulder bands ensures your bra can adjust just as quickly as your body does.
Post-surgical mastectomy bras should also feature no wires, tags, or seams that can irritate or harm sensitive surgery sites. Take a close look at your bra's material as well, as it should be one that is both antibacterial and compressive, as you will likely be required to wear it for longer than you would normally wear your bra in order to maintain comfort and benefit from the healing effects of compression during recovery.
Finally, and perhaps most importantly, unlike standard bras, post-surgery bras are designed to be compatible and not interfere with drainage tubes. After surgery, many women utilize drainage tubes to help drain seroma fluid from surgical sites, and it is critical that the underband of the bra does not pinch or cut off the flow of the drainage tubes.
To achieve this, post-surgery bras, though compressive, feature a softer and wider underband that is designed not to be overly tight or roll up and dig into sensitive skin.
Our top picks for post-surgery bras
At MastectomyShop.com, we offer a wide variety of post-surgical bras from some of the most popular mastectomy-wear brands, including Jodee bras and Amoena bras. Two of our most popular and highly recommended models are the Amoena Theraport Post-Surgery bra and the Amoena Ester Front-Fastening Soft Bra.
Available in a range of sizes, the Theraport model features soft cups to hold breast forms for symmetry, as well as a wide, relaxed underband that securely holds drainage pouches in place. The design also allows for ease of access to treatment areas without requiring complete bra removal in the days directly following surgery when constant observation is necessary.
Amoena designed the Ester Soft Bra after their line of trendy and chic sports bras for post-surgical support without the frumpy post-surgical look. The bra features a soft synthetic material, breathable cotton pockets, and strategic mesh detailing to keep you cool and comfortable all day long.
2. A comfortable robe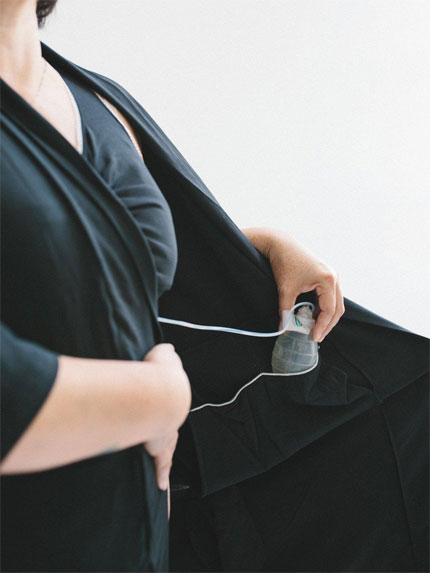 When it comes to the recovery period, a comfortable and lightweight robe is essential.
While on the surface it may seem like an unnecessary luxury to some, there is a lot more to a post-mastectomy robe than meets the eye: in fact, the popular Brobe (bra = robe) design that so many women living post-mastectomy have come to rely on was designed to cater specifically to your needs during the recovery period.
Designer Allison Schickel developed the Brobe after seeing the lack of comfortable, yet functional pieces her friend had to choose from when looking for post-mastectomy wear. She then set out to design a comfortable garment that would put standard post-surgery gowns to shame.
The result was the Brobe, a luxuriously comfortable recovery robe with a built-in, detachable recovery bra. The robe features hidden pockets that discreetly hold drainage bags in place, as well as three-quarter length sleeves for easy IV access during treatment.
Constructed of an incredibly soft blend of fabrics in your choice of colors, the Brobe is stylish yet lightweight and the perfect match to your most comfortable set of leggings.
3. Mastectomy camisoles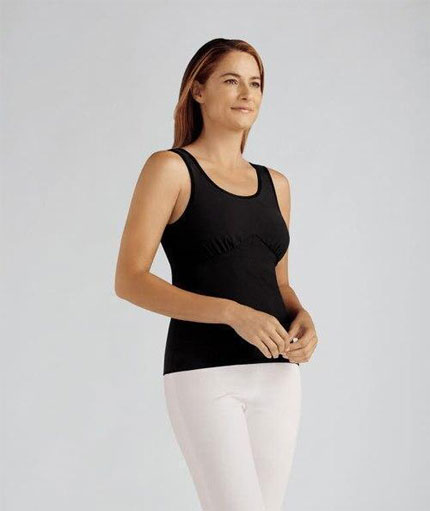 For any woman living post-mastectomy, a mastectomy camisole is the ultimate all-in-one garment. Whether you are looking for the perfect camisole to wear with your post-surgical bra or one that includes its own built-in bra for ease of use and better coverage, there is a mastectomy camisole for your needs.
What makes a mastectomy camisole different than a standard camisole that you can find at your department store? Simple: Post-surgical mastectomy camisoles incorporate all the features you are looking for in a post-surgical bra into the camisole design.
Take the Amoena Michelle Mastectomy Camisole as an example. A simple and flattering cami to the untrained eye, this garment offers wearers an entire arsenal of design features that were developed with recovery-wear comfort in mind.
The design's patented VELCRO® brand hook-and-loop fasteners sit inside the waist panel and securely hold drain pouches in place for easy drain management. Rather than a frontal, it features a stretch neckline that allows for simple step-in entry to minimize the number of buttons you need to fasten while maintaining the ease of front closures.
Composed of an ultra-soft cotton-blend material for a snug yet non-restrictive fit, the Michelle also features cotton pockets for sleep and lounge breast forms as well as smooth interior seems that won't irritate sensitive skin.
Each Michelle camisole also comes equipped with two of the brand's Fiberfill Post-Surgical Forms and two Amoena Drain Pouches that are designed to blend seamlessly with your selected camisole.
Other tips and tricks for after-surgery care
Remember, being recovery-ready is about more than just having a perfectly suited selection of mastectomy wear garments: You also need to make sure your home is in full relaxation mode!
The following tips and tricks can be used as a checklist for ensuring your recovery period is as care-free and comfortable as possible.
Grocery shop in advance
Grocery shopping is typically a dreaded chore even on good days. During your recovery, it's likely to be one of the very last things you want to do, but it is also important that you have access to healthy and satisfying meals to aid in your healing process.
Make sure that your post-mastectomy retreat is stocked with at least two weeks' worth of snacks and food before your surgery. Try organizing freeze-able meals to make getting a square meal easy and efficient post-mastectomy.
Ask for help with house chores
Before surgery, put together a list of the house chores, you may need an extra hand with following your surgery based on your doctor's suggestions. This will typically include anything that requires heavy lifting or a larger range of motion, such as doing the laundry or the dishes, taking care of animals, and general tidying up such as dusting or sweeping. It can also include carpooling or rides while you are still unable to drive.
If you live alone, don't be afraid to communicate your needs and mobilize your friends and family members to commit to helping you out just once or twice a week for a few hours at a time.
Keep baby wipes and dry shampoo on hand
Generally, after most surgeries and treatments, your doctor will recommend that you abstain from showering and bathing for a certain period to mitigate your chances of irritating the treatment area. Showering during the recovery period before you retain your full range of motion can be a challenge.
To keep in line with the doctor's orders without sacrificing that fresh out of the shower feeling, stock up on baby wipes to have at home, in the car, in your hospital bag, and always on hand. Look for wipes that are paraben and phthalate-free in your scent of choice.
Make sure you have plenty of dry shampoo to keep your hair hygiene in top shape. Because of the limitations on your arm movement, washing your hair can be a challenge that is best done as seldom as possible. Dry shampoos help to absorb any excess oil in your tresses and leave your looking (and smelling) fresh.
If you've lost your tresses due to chemotherapy, consider wearing a hat with hair. At MastectomyShop.com we carry a range of hair lengths and hair colors so you can even change up your look for a whole new you!
Use a pillow in the car
Of course, wearing your seatbelt in the car is a must, but a cross-body seat belt can be painful to wear post-breast surgery and even irritate surgical sites.
To make your commutes a little bit more comfortable, place a pillow in the car you'll be riding home and doing the majority of your traveling in. While buckled in, this can be worn between you and the seat belt to take the pressure off of sensitive treatment areas and keep your drainage pouches from being impaired.
For a comfort pillow with a little something extra, check out the Brobe Comfort Pillow, a surgical pillow that is specifically designed for women who have recently undergone breast surgery.
Each handmade pillow is constructed of an extra soft cotton blend and features a pocket for the Brobe gel ice pack to help women cope with soreness and inflammation. The multi-function pack can also be heated in water for complete underarm and breast support.
Most importantly, dress like your true self post-surgery
For many women, one of the biggest challenges following breast surgery is the psychological one. So much of female identity is attached to the body and, after surgery, it can be challenging to continue to identify with what makes you feel most like a woman.
Remember, with the various mastectomy-wear lines available online from top-tier designers today, post-mastectomy life does not mean that you have to choose between functionality and wearing what makes you feel unique, sexy, and the most like the empowered woman that you've always been.