Many women who have had breast reconstructive surgery following a mastectomy find that their old bras no longer fit or suit the needs of their body. But finding a bra after reconstructive surgery can present a number of challenges. To help you find the right selection of bras for your post-surgery wardrobe, here is our list of the best bras to buy after a breast reconstruction.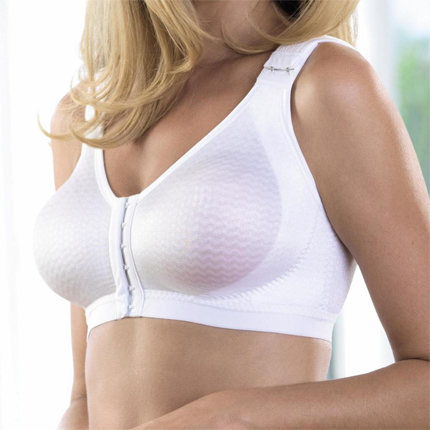 Post-Surgical Bra
For use immediately after your surgery, your plastic surgeon may suggest that you purchase a post-surgical bra. Post-surgical bras use compression technology to gently massage the wound site. This will prevent a condition called lymphedema which can cause excessive swelling due to fluid build up in the tissue leading to infection.
In addition to drawing away lymph fluid, compression bras help to keep your implants in place after surgery to prevent dislocation and ensures that your breast will be symmetrical. The added blood flow from the compression also floods the wound site with nutrients to aid healing.
Front Closure Bra
You may experience some tenderness and stiffness in your arms post surgery. This is a normal sensation but can make dressing a challenge. A soft, wire-free front closure bra enables you to take your bra on and off without overextending your arms and potentially popping stitches in the process.
Front closure bras come with various styles of closure including zippers, hook-and-eye and Velcro. For fast and easy access when changing wound dressings, Velcro and zippers are your best choice. But for the most flexibility and support, choose an adjustable hook-and-eye closure.
Leisure Bra
Rest and relaxation is the key to a speedy recovery after breast reconstruction surgery. A leisure bra is made from ultra-soft materials that won't rub or irritate sensitive skin but still provide the right amount of support for relaxing at home.
Look for a leisure bra that can be easily slipped or features a front closure. Leisure bras should have wide, non-adjustable straps that flow into an extra wide back band for added support and comfort.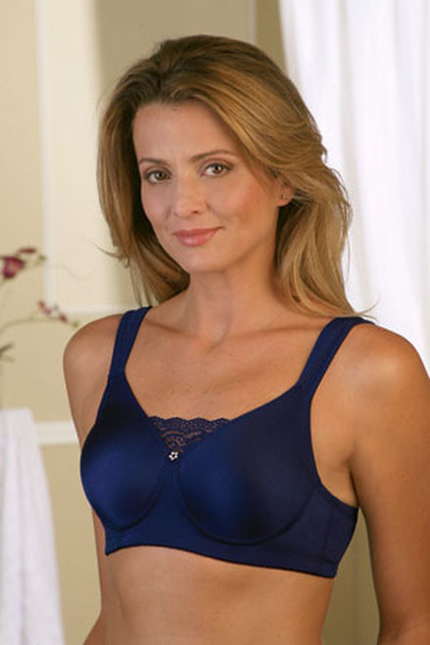 Seamless Mastectomy Bra
Many women mistakenly believe that they won't need to wear a bra after surgery. However, implants are designed to mimic the weight and feel of natural breasts which can cause neck and back pain if they are not supported. Seamless bras offer the perfect blend of comfort and support after a breast reconstruction.
Seamless bras won't rub on sensitive skin and can be worn discreetly under tight fitting garments. Choose a style of seamless bra that features adjustable straps so that you can find a custom fit. Seamless bras should also have wide side panels and back bands for added support.
Many seamless bras feature molded cups which can help create a smooth, balanced silhouette. However, if you have not had a nipple reconstruction, you may find that you experience bubbling or indentation at the apex of the bra cup. You can prevent this by wearing a silicone adhesive nipple.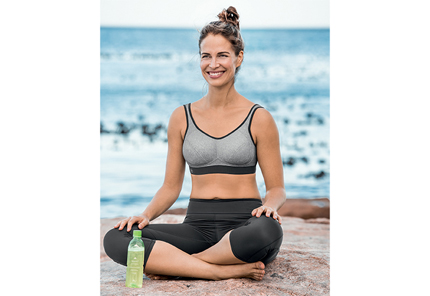 Mastectomy Sports Bra
Exercise is a great way to boost your recovery and your self-confidence. But just as your natural breast requires support during exercise, so do your implants. Excessive bounce from high impact exercise can cause skin to stretch and could potentially dislocate your breast implants. A sports bra is the ideal solution to keep you supported and comfortable during your workout.
Look for sports bras that are constructed from materials that feature moisture-wicking technology. Bra straps should be wide and slightly padded for added comfort. Ergonomic racerback styles offer extra support for both for your implants and your posture and will not slip down your shoulder during your workout.
Final Thoughts
When shopping for bras after breast reconstruction surgery, avoid underwire bras or push up bras. These styles can dig into your skin and irritate and inflame wound sites. If you are struggling to find symmetry or support after your reconstruction, try using shapers or partial breast forms to add volume and definition where you want it.
To find out more about the range of bras and breast forms available at MastectomyShop.com, call us at (877)-912-0775 to speak with our friendly and experienced staff.