For many women, swimsuit shopping can be a long and daunting process. For those women who are due to undergo or are recovering from mastectomy surgery, searching for the perfect swimsuit can prove to be even more challenging.
Swimming and water activities are great whole-body exercises, especially after major breast cancer surgery. With this in mind, you need to find a swimsuit that's comfortable and allows for freedom of movement, as well as one that makes you feel attractive and accentuates you in all the right places.
So, whether you're looking to lounge by a lake, swim in the ocean, or pass the time by the pool, you'll be able to find the perfect mastectomy bathing suit that caters to all your summer fun and swimming needs.
Questions to Ask Yourself Before Purchasing a Swimsuit
Before you purchase mastectomy swimwear, it's essential to consider several factors to help you choose the most comfortable, flattering swimsuit for your post-mastectomy body.
Do You Want to Wear Breast Prosthesis?
Whether you need one breast form to create symmetry with your remaining breast or you've had a double mastectomy, there are a variety of choices available that help creates a natural look.
For example, you can wear a regular silicone prosthesis or choose breast swim forms. Whichever you choose, both can be worn in water and retain their shape.
You can explore Mastectomyshop.com's extensive range of breast forms online to help you find the perfect fit and right size for your body.
What Features Do You Need?
Mastectomy swimwear is designed to give women who have been through surgery optimum comfort and support while still looking feminine. When purchasing mastectomy swimwear, the designs must have certain essential features, including:
Pocketed cups: These sewn-in mesh pockets hold swim forms in place securely.

Higher cut armholes and necklines: These higher cuts increase coverage and offer protection for incision sites and visible scarring.

Wide and adjustable straps: These features allow you to customize the fit of your swimsuit and give you the exact level of support you need.
What Style Should You Choose?
Mastectomy swimwear comes in a massive variety of styles and cuts to suit all women. Whether you want a flirty swimdress for the beach or a sleek one-piece for laps at the pool, there is a swimsuit to suit your needs.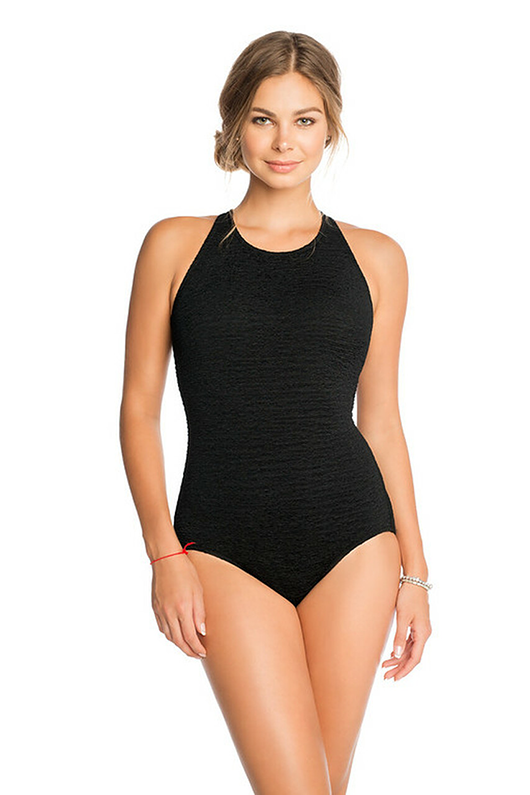 High Cut
High cut bottoms are perfect for accentuating long legs and slender hips and are one of the trendiest swimwear shapes for 2021.
The Penbrooke High Neck Maillot Krinkle Swimsuit has a high neck to lift and support your bust and create a longer-looking torso. The black color accentuates your height and gives your figure a slinky, streamlined appearance.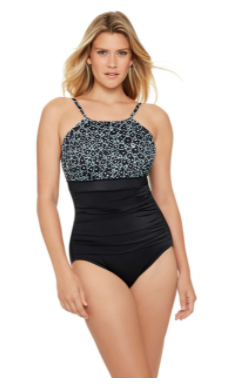 Halter Cut
Halter cut tops are perfect for drawing the eyes upward and giving the illusion of a slimmer waist. These designs work perfectly for your figure for those who have slender hips and shoulders with fuller midriffs.
If this sounds like what you see when you look in the mirror, then the Penbrooke Hi-Neck Mio Swimsuit is designed to flatter your figure. The dainty floral pattern on the bust area provides a feminine finish, with the open scoop back leaving room for a sensual touch.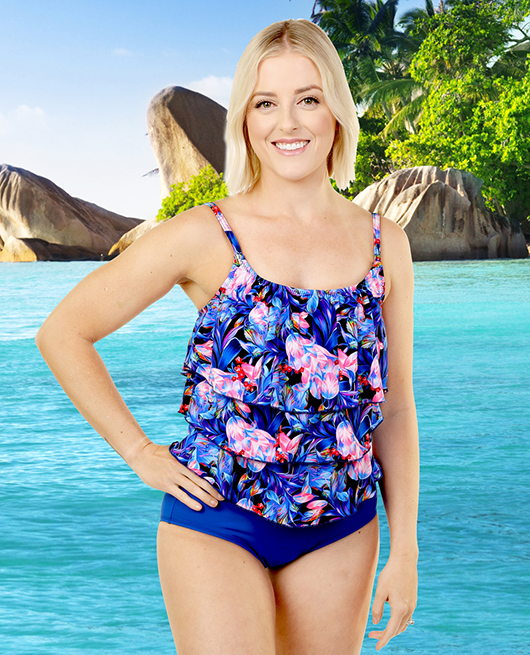 Ruffle Cut
Ruffle cuts are perfect for women who have small breasts and want to accentuate their curves. They provide a fuller cleavage and enhance the upper body, adding a little extra volume to your figure.
The 2020 T.H.E Collection Triple Tier One Piece Swimsuit is perfect for these body types; the bright floral colors and design making for a fun and vibrant statement piece.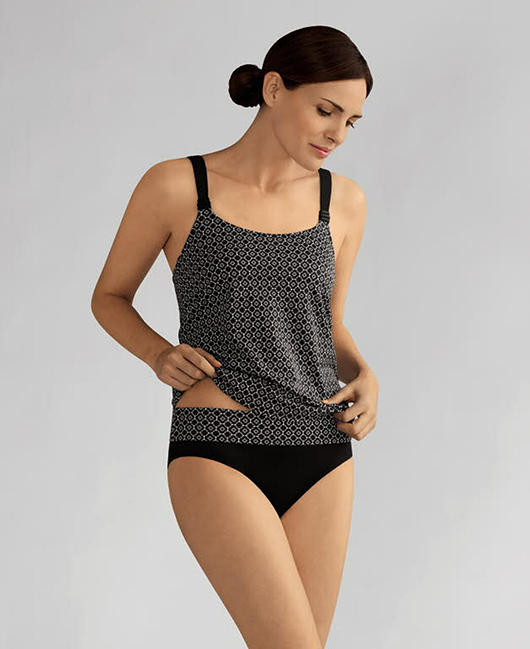 Two Piece
For those who feel happier in a two piece swimsuit, tankinis are the perfect option. Not only are they comfortable, but they're also sophisticated. Check out the Amoena Ayon Tankini Swim Top and High Waist Swim Brief.
This swimsuit offers style and elegance and compliments all body types and shapes. With the top fitting loosely and falling gracefully over your midriff, the design gives you the coverage you need for comfort and confidence in the water, with the geometric print adding a splash of refinement.
The swim top also has pocketed bra cups, allowing your swim form to stay securely in place while not putting too much pressure on sensitive parts of your body. The swim brief can be adapted to the coverage that suits you - roll up for a high-waisted look, or roll down for normal, low-cut briefs.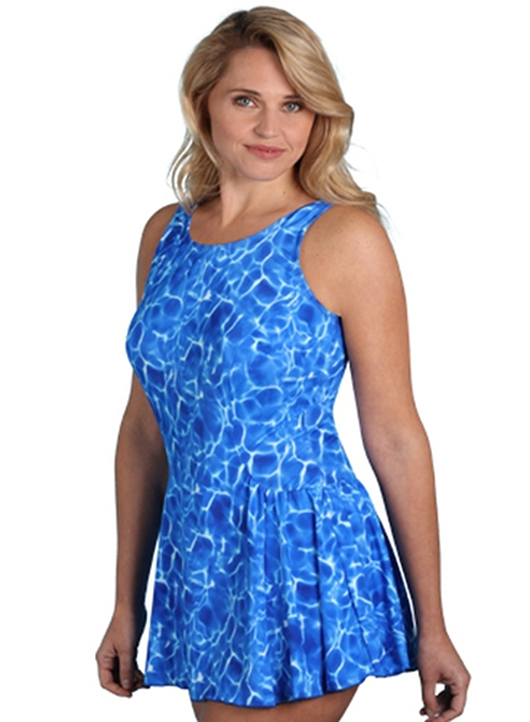 Swim Dress
If you want to add a preppy edge to your swim attire, but want some extra coverage at the same time, then the swim dress is the perfect choice for you. With 3-button adjustable straps, as well as a higher neckline, armholes, and pockets for your breast forms, these swim dresses provide you with the ultimate comfort, convenience, and style.
They are also made from nylon with spandex for extra shaping and have tummy control that will leave you feeling confident and classy.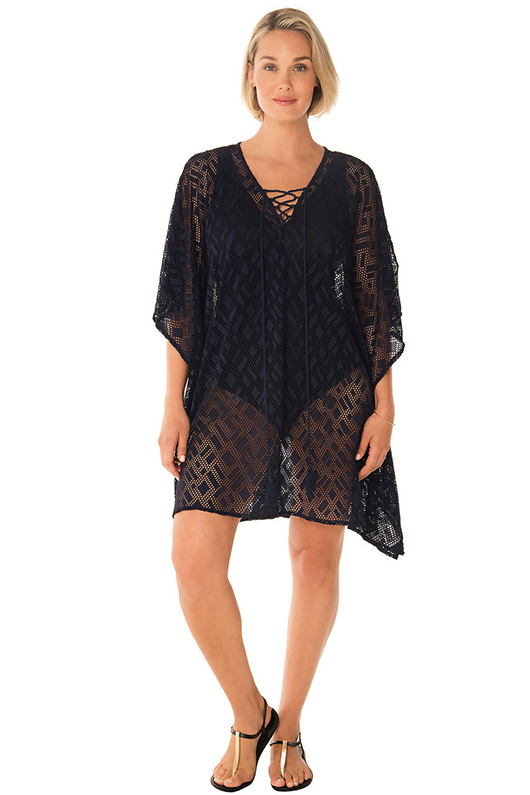 Soak Up the Sun in Style
For the secret to swimwear shopping success, it's not just about what you wear in the water, but when you emerge, too. Sarongs and cover ups make women feel feminine and elegant and are the perfect addition to your summer swimwear collection.
The Penbrooke V Neck Cover With Open Shoulder Swimsuit Cover Up is a chic and stylish cut that is universally flattering. The thigh-skimming hem, kimono-style sleeves, and lacy black design provide ample coverage while still keeping you cool and comfortable as you relax on the sand.
Feel Fabulous This Summer
When shopping for swimwear this summer, remember that you are fabulous and beautiful inside and out. Exude your inner confidence even more with these swimwear shopping tips.
Mastectomyshop.com offers a huge range of stunning swimwear products, as well as breast forms, bras, and other mastectomy products to help you feel confident n and out of the water.