Sticking to a regular exercise routine is difficult, and most of us have a whole list of reasons we're not doing it as often as we should. But good nutrition and regular exercise are vital components for everyone's health, particularly for those being treated for breast cancer. A healthy lifestyle has even been shown to reduce the likelihood of a cancer recurrence, so it's worth making it a priority.
Whether you're just starting a new exercise routine or you've been hitting the gym for years, an appropriate sports bra is essential for healing and comfort when you're recovering from surgery or treatment.
Ultimately, you want a bra that works, that feels good to wear, and provides the confidence you need to head into the gym, empowered and motivated to stay fit. But you also need your sports bra to cater to your unique needs as a mastectomy patient.
Here, we explore some common issues women typically face when choosing a sports bra following mastectomy surgery. There are many problem-solving sports bras available for your workout. Let MastectomyShop.com help you to determine what bra works best for you.
Common Complaints About Sports Bras
A bra's job is to support your breasts. A common complaint about sports bras is that they don't provide the same fit and support as a regular bra.
Patients recovering from breast cancer have additional considerations when choosing the exercise bra. You may be dealing with skin sensitivity, surgical scars, or changes to your chest wall that should inform your choice for a sports bra.
Many women also choose to wear a breast prosthesis following surgery to regain their shape. A sports bra should offer features to accommodate breast forms and hold them securely no matter the activity level.
Sports Bras Lack Support
Sports bras are built differently for different sized chests and levels of activity. It can be a struggle to find a bra that supports your chest and gives you the confidence you need to work out effectively while remaining comfortable.
The amount of support needed varies from woman to woman and depends on whether you enjoy low- or high-impact activities. If you participate in a variety of exercise options, you may need a selection of bras with different levels of support.
Whether you choose a cami, tank top style with a soft shelf bra, or a high compression racerback with wide straps and underwire, the most important thing is that you feel supported by the bra you choose.
Look for sports bras that feature wide underbust and side bands, as the bands are responsible for providing the primary support in a bra. Your bra should also have wide, padded straps to evenly distribute weight across your shoulders and prevent them from digging in.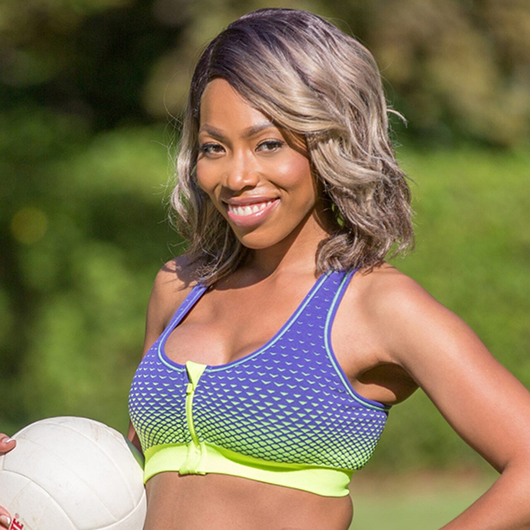 The ABC Active Bra features breast pockets with removable pads. The pads add some gentle cushioning around the surgery site when inserted and can be easily removed and replaced with a prosthesis if you prefer. The ABC Active Bra also features a racerback for comfortable support and a rounded neckline for maximum coverage.
Sports Bras Don't Fit as Well as Conventional Bras
A well-fitted bra is not only functional, but it's also flattering. Unfortunately, compared with a traditional bra, sports bras have a reputation for having a less precise fit. A bra that doesn't fit properly can't offer adequate support, and it may rub or pinch in sensitive areas.
Choosing a sports bra isn't as simple as deciding on a small, medium, or large, you must know your specific bra size. Just as you would for a traditional bra, measure your chest and underbust to determine your band size and cup size.
Following surgery, breasts change in size and shape. So the sports bra that fits you before surgery is now a size too small, a size too big, or just doesn't fit the way it used to.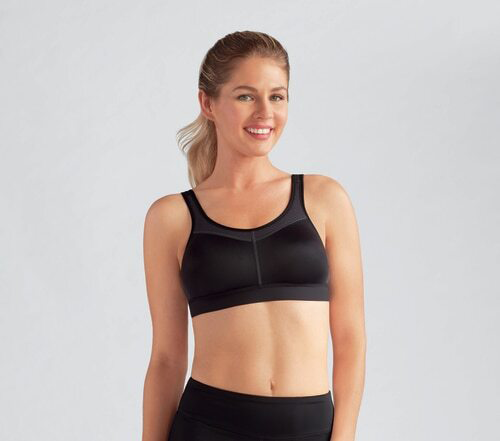 When it comes to finding the perfect fit, don't ignore the bra straps. You may benefit from a bra with adjustable straps or padded straps that you can customize for your body and to adjust further as you heal. We like this Amoena Power Wire-Free Medium Support Bra with adjustable elastic straps as well as a wide bottom band that keeps the bra snug against your body.
Sports Bras are Uncomfortable
You probably have a drawer full of bras you never wear simply because they aren't comfortable. Mastectomy bras are specially designed to be gentle on your body to provide you with the best comfort during your recovery. Here are some features to look for when searching for a comfortable sports bra.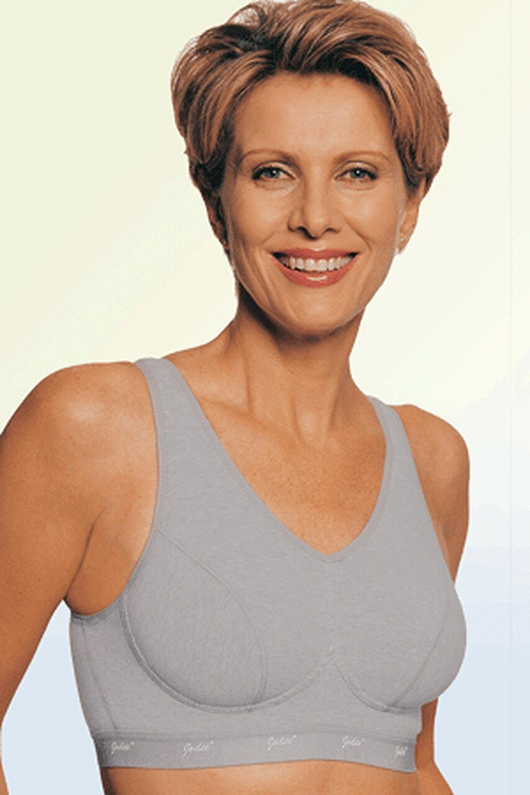 Fabric
Some women find their breast tissue sensitive to the types of fabric used in constructing a bra. Natural fibers, like cotton, or soft, stretchy fabrics that glide smoothly over the skin, tend to be less irritating to sensitive surgical sites or scar tissue. The Jodee Active Cool Cotton Sports Bra features 85% cotton construction combined with spandex to provide a snug fit.
While sweat is a natural byproduct of exercising, no one wants to be soaked through for an entire workout. And if you're undergoing treatment, temperature regulation may be of particular concern.
Moisture-wicking fabric works to move sweat to the bra's outer surface and helps your sweat to dry more quickly to ultimately keep you cooler.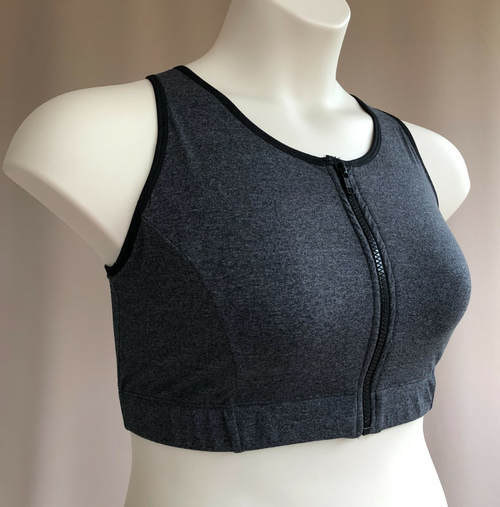 The Luisa Princess-Line Zipper Sports Bra made with Moisture Wick Away DriTex can be worn under your clothing or on its own and is specifically constructed to keep you cooler and drier while you're working out.
Construction
Sometimes something as seemingly innocuous as a poorly placed tag or seam can make an otherwise effective bra uncomfortable. Particularly if you're still healing or have sensitive scar tissue, you should look for bras with flat seams to avoid irritating your skin.
It is also recommended that you avoid wearing underwire sports bras after mastectomy surgery, as the wires can dig into your chest wall, causing discomfort. For added support without underwires, look for sports bras with molded cups or three-part cups that encapsulate the breasts.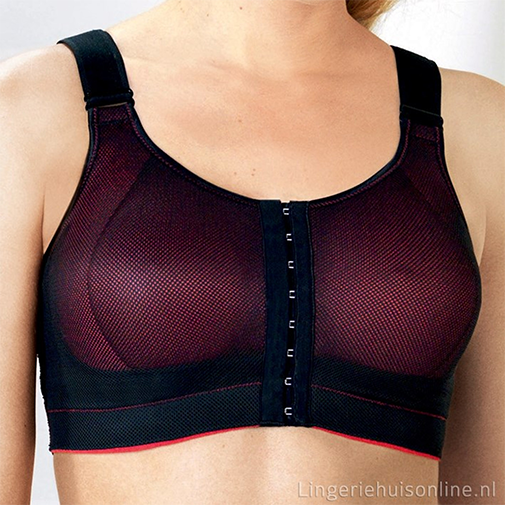 Bra Closures
If you find yourself with a limited range of motion post-procedure, you may find traditional sports bras more challenging to take on and off.
A front closure sports bra like the Anita Firm Support-Front Closure Sports Bra is easier to put on and remove than a traditional sports bra that clasps in the back or pulls over your head.
Wrapping Up
It can be hard to find time for regular exercise, but it shouldn't be hard to find a good sports style bra that works for you. You need a bra that makes you feel empowered and supported.
There is a bra for every woman for every activity. At MastectomyShop.com, we have an extensive inventory of bras specifically designed for breast cancer survivors' unique needs.
Don't let the fear of an ill-fitting or uncomfortable bra keep you from enjoying the many benefits of a healthy lifestyle. Taking care of yourself should be your top priority. MastectomyShop.com can help you find the perfect bra for you.