Healing from a mastectomy can be a long and vulnerable process. There are so many things to consider as you restart your life, taking into account your new present-day needs and priorities. Before surgery, you may have had an active life, enjoyed working out, taking long hikes, or going on a daily jog around the block.
That doesn't have to change after a mastectomy; you may simply need to bear some extra things in mind and continue to give yourself time to adjust and to heal.
As you recover, you'll find your range of motion and endurance increases over time. Although it may be a while before you engage in your favorite high impact workouts, mastectomy sports bras are beneficial for a variety of exercise types and are an essential addition to your post-surgical bra wardrobe.
If you're adjusting to life after a mastectomy, you'll likely have many questions about how to resume your life safely and sensibly, with your health and well-being in mind. Your experienced team of medical professionals, including oncologists, surgeons, nurses, should be able to guide you about how to restart an active life post-mastectomy.
When you are ready to resume an active lifestyle, here are our recommendations on finding the best sports bra based on your physical capabilities after surgery.
Exercise After a Mastectomy
It's essential to listen to your body and the guidance of medical professionals after surgery. Exercise is a fundamental part of a healthy lifestyle and can enhance wellbeing, but there are special considerations after a mastectomy.
Directly after surgery, you need to rest and allow your body to heal, but as time passes, some light movement may help you regain body confidence, facilitate faster healing, and improve your range of motion. Undertake exercise slowly and incrementally, listening to your body's feedback as you go. Discomfort can be a sign that you're taking on too much, too quickly.
Sports Bras for Post-Operative Wear
Sports bras are great for those recovering from a mastectomy; they include a number of features that make them naturally-suited for post-mastectomy wear. Typically, sports bras have a softer construction than a standard bra. They don't feature molded cups; they have soft cups and eliminate any need for an underwire.
Yet, this doesn't make every sports bra ideal for women who have endured a mastectomy. Many sports bras on the market aren't constructed with this purpose in mind and are geared toward a generic female form.
You'll find that standard sports bras tend to excessively compress the breast tissue, something which can be uncomfortable for those who have undergone surgery, wear prosthetics, or have implants.
As someone who's had a mastectomy, you'll want to look for a sports bra that offers support without constriction and can comfortably accommodate any prosthetics you may want to use.
Finding the Best Sports Bra
The best sports bra will be one that takes into account your particular workout intensity level and where you are on your recovery journey. You may be cleared for intense workouts and would benefit from a super supportive sports bra, or you may just want something that offers gentle support while you go about your day.
Mastectomy sports bras come in various styles, from racerback style bras to slip-on crop tops to standard over-the-shoulder-straps. Here are six of the best sports bras for your post-mastectomy needs.
The Ultimate Post-Mastectomy Sports Bra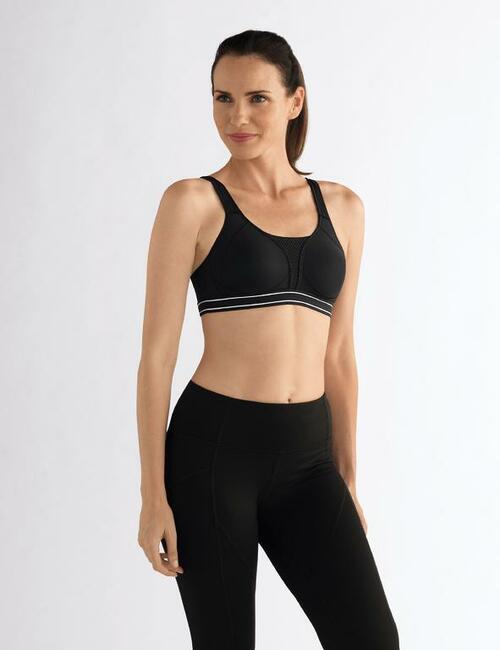 The Amoena Performance Sports Mastectomy Bra offers ultimate in support and comfort.
Coming in a wide range of sizes, from 32 to 42, and with full coverage cups in sizes ranging from AA to DD, this is a sports bra that caters to all women. Removable cups allow you to create a smooth silhouette under your workout gear and provide symmetry and balance.
This high impact sports bra features molded cups made from gentle microfiber fabric that wicks away moisture for optimal sweat management. Microfiber is a beautiful, lightweight material that still allows the skin to breathe. This bra also offers temperature regulation features with mesh panels on the back, sides, and front.
The 3-way adjustable hook and eye closure combined with the wide bottom elastic band helps create the strong support you'd expect from a high impact sports bra. Add to this the machine-washable nature of this product, and you have a highly functional bra that provides flexibility and outstanding support.
The Practical Post-mastectomy Sports Bra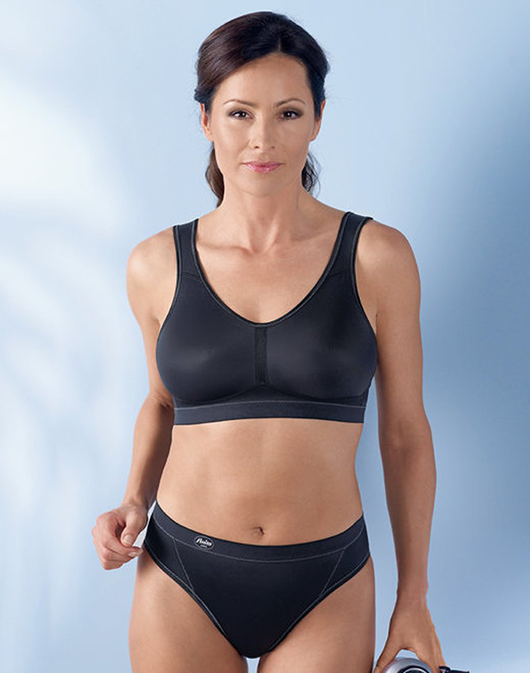 The Anita Vivana Active Bra provides all the support you need for an active lifestyle.
The high-function design of this bra impacts every detail. You can choose from Skin or Black colors to suit your style, and the bilateral pocket construction offers space to securely hold breast forms.
The high-cut neckline disguises surgical scars, and high support preformed cups help to minimize bust movement. The thick yet smooth shoulder straps enhance the support of the bra without introducing bulk. The snug-fitting edging and flat seams won't irritate sensitive skin for improved comfort.
Coming in sizes 32 to 42, cup sizes A to E, you can choose the right bra size for you.
The Gentle Post-mastectomy Sports Bra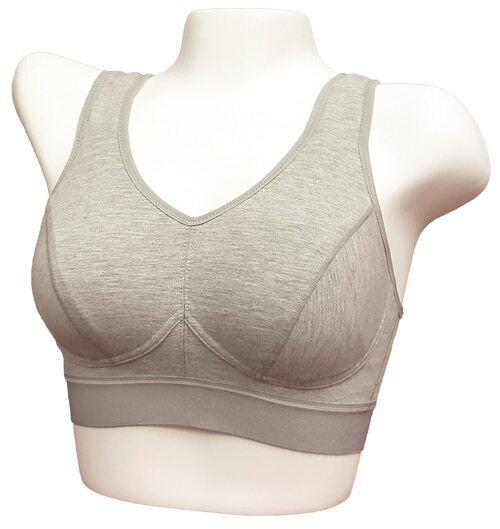 The Nearly Me Sports Bra feels like a second skin, designed to offer a relaxed fit and medium support. The thick, adjustable straps seamlessly transform into soft jersey-like material from the back to the front. From the front, this bra resembles the simple construction of a crop top, but the back highlights the true inbuilt functionality of this piece.
With a secure adjustable hook and eye clasp, and a wide band around the base of this bra, you'll get the extra support you need while enjoying the soft material backing. This bra doesn't sacrifice comfort with an elasticized underbust band and extra-wide, padded straps to evenly distribute weight and minimize neck discomfort.
The Firm Post-mastectomy Sports Bra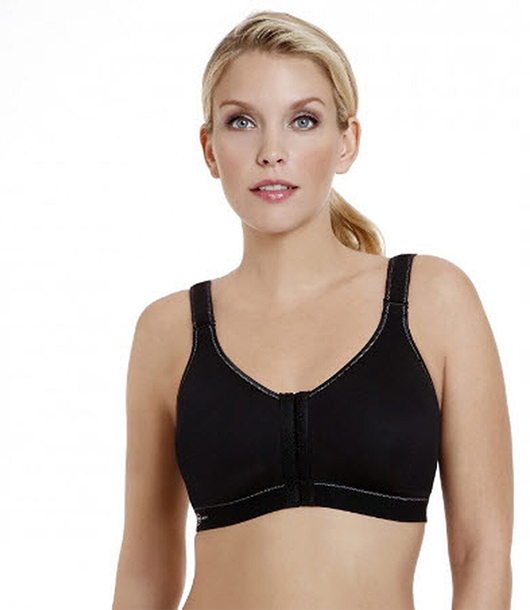 If you want support, combined with practicality, additional features, and comfort—The Anita Firm Support Front Closure Sports Bra is the bra for you.
This style features a Velcro front-fastening closure, making it easy to get dressed or undressed. If you have a limited range of motion, this feature will be especially helpful for you. This front closure frees up the back to allow for a smooth design and extra comfort.
Thanks to the seamless pre-shaped cups and breathable microfiber construction, you can feel comfortable and supported while wearing the Anita Firm Support.
The Cool Post-mastectomy Sports Bra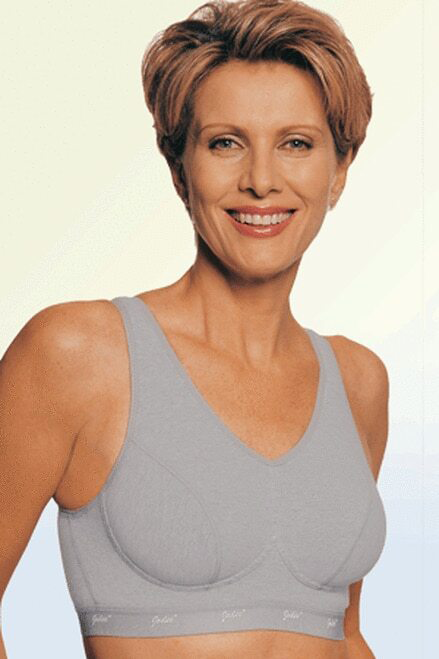 The Jodee Active Cool Cotton Sports Bra is made from a cooling mixture of cotton, spandex, and polyester. Constructed from 85% cotton, the Cool Max® fabric naturally draws moisture away from the skin.
The polyester pockets help maintain breast form, while the wide fabric straps help keep you comfortable and unconstricted. This style is available in three color choices: black, gray, and white.
The Perfect Racerback Bra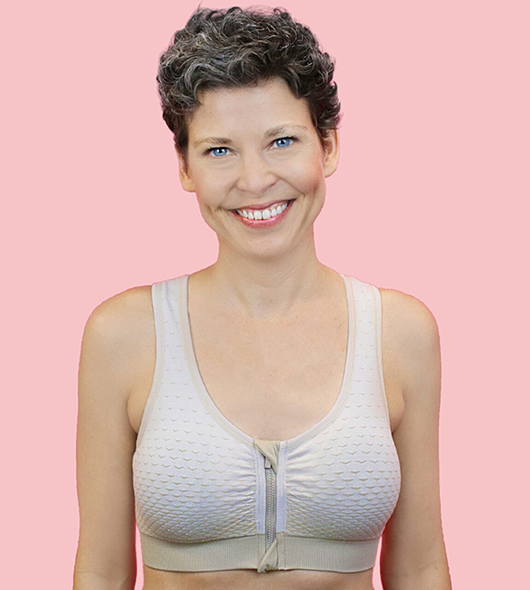 Racerback bra can be notoriously tricky to put on for women with limited mobility. The ABC Active Bra facilitates easy dressing and movement due to the front zippered closure. The closure features top and bottom covers to prevent irritation and snagging.
The wire-free cups feature convenient pockets for your breast forms, and the ultra-soft polyester/ elastane blend fabric is breathable for excellent temperature and moisture control.
In Conclusion
To regain an active lifestyle after a mastectomy, you'll benefit from the extra support and soft construction of sports bras. Enjoy freedom of movement in one of the specially-designed sports bras offered by MastectomyShop.com.
To find the right sports bra for your activity level, call (877) 413-2272 to speak to one of our experienced members of staff who can advise you on the best options for your lifestyle and recovery stage.
Visit our website to explore our mastectomy supplies range and sign up for our newsletter to keep up-to-date with our new arrivals and sales.