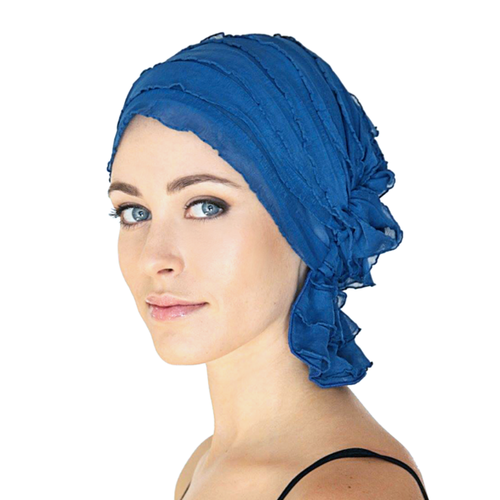 Choosing the perfect compression bra for your recovery period is critical to the healing process. These post-surgical bras are more than just front fastening pieces of clothing that fit snugly. They should be supportive and comfortable and designed to accommodate frequent dressing changes while your body recovers from mastectomy, partial mastectomy, or lumpectomy.
Post-mastectomy bras don't stop at compression and recovery bras though. They come in patterns and colors like any other bra but typically feature specialized pockets to hold breast prosthetics and higher necklines.
You may consider a post-op bra as a minor detail to worry about after your surgery, but, in truth, a post-surgery bra offers ways to assist the healing process while quickening your recovery time. Wearing the bra is often recommended by surgeons immediately following surgery, and these bras are designed to be comfortable enough to sleep in.
When to Get Fitted
Unfortunately, there is no one-size-fits-all approach to getting your post-surgical bra sized and fitted. Typically, most women make this purchase before their scheduled surgery. The fitting itself takes about an hour, and it's a good idea to dress comfortably with a separate top and bottoms. It's okay to bring a favorite blouse with you to understand how a new bra may affect your favorite aspects of your wardrobe.
Things to Consider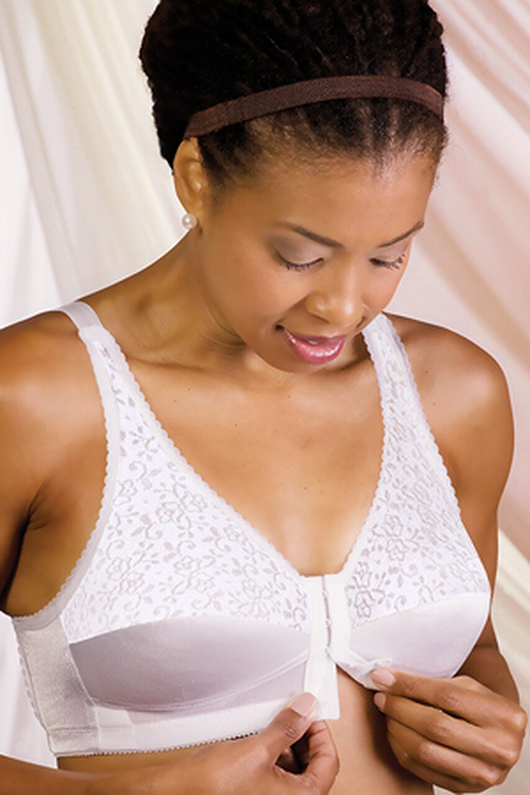 Comfort should be your primary priority after your surgery. You will most likely experience some pain and discomfort and can expect lingering soreness while your wounds heal. You may have some swelling, too. For these reasons, doctors like to recommend seamless and tagless bras to prevent any unnecessary irritation to sensitive skin. Seams and tags can be annoying and itchy and while you're healing, these features should be eliminated.
Pressure helps encourage all wounds to heal so doctors usually tell their patients to sleep in their undergarments to help facilitate this process. The compression and support these bras offer is a perfect match for their recommendations.
These bras should be constructed with breathable fabrics, contain no seams in the cups, and feature adjustable straps and wide bands. Front closures are necessary due to limited shoulder and arm mobility. Often compression bras feature pockets to accommodate drainage if it's essential.
Types of Bras to Wear After Surgery
Post-surgical options don't just stop at compression bras. Specialty swimwear, activewear, pocketed bras, and camisoles are all available to you to get back to feeling terrific while you move through the world with confidence. There are several different styles and sizes available for you to choose from. This specialty mastectomy wear is very similar to their standard counterparts but they make special accommodations like sewn-in pockets for breast forms and higher necklines to conceal scar tissue.
Help with Health Insurance
Navigating the world of health insurance is no easy matter and when you're not feeling well, it can make things even harder. Fortunately, some of your post-surgical support needs will be covered by your health insurance. Speak with your doctors and other health care providers to get written prescriptions. Copies of your insurance card help, too.
Most insurance companies allow for replacement breast forms every one to two years and a three-month supply of bras. It's important to remember to frequently replace your bras because as your body continues to heal, it will change. Other factors contributing to needing a new bra include normal wear and tear, washing, and lifestyle. These aspects will all count toward the continued comfort and fit of both your bra and breast forms.
The Takeaway
From your first compression bra to your favorite lacy post-surgical racerback bra, there are many options from which to choose. While most times, women don't put a lot of thought into their bra, it's an essential clothing piece that offers support and confidence. You'll love the colors, patterns, materials, and sizes that are available to you.
If you need guidance on choosing the right post-mastectomy bra for your recovery stage, contact Mastectomyshop.com at (877)413-2272 or arrange a confidential fitting call A Fitting Experience Mastectomy Shoppe at (954) 978-8287.