After breast surgery, women need the comfort, reinforcement, and protection of a supportive mastectomy bra. Fortunately, many bra styles are available, from fashion bras to sports bras, each boasting uniquely beneficial features.
Learn about the types and features of mastectomy bras offered by Mastectomyshop.com to find the right undergarment for your post-mastectomy needs.
What Is a Mastectomy Bra?
A mastectomy bra is specifically designed to meet a woman's needs after breast surgery. Often made of soft, breathable fabric like cotton, mastectomy bras can keep you comfortable while protecting your surgical site as you recover from the procedure.
Mastectomy bras have unique features that help women feel supported and comfortable with their bodies after breast surgery, like adjustable straps and a wide under-band.
Pocketed mastectomy bras have pockets sewn into the bra cups that can support a breast prosthesis. There are also mastectomy sports bras and mastectomy bathing suits available to protect your surgical site when you return to exercise.
Who Needs a Mastectomy Bra?
Mastectomy bras are designed for women to wear after undergoing breast cancer surgery. However, any woman who has had breast surgery can benefit from the comfort and security of a post-surgical bra.
A post-mastectomy bra may be beneficial if you have undergone any of the following medical or cosmetic procedures:
Total mastectomy: removes your entire breast (excepting your chest muscle)
Double mastectomy: removes both breasts
Lumpectomy: removes a cancerous tumor from your breast, leaving some breast tissue
Preventative breast surgery: removes breasts as a preventative measure against breast cancer
Removal of non-cancerous breast lumps: removes non-cancerous breast lumps
Breast reconstruction: your breasts are surgically reconstructed, typically following a breast cancer surgery
Breast reduction: surgery to decrease your breast size
Breast augmentation: surgery to increase your breast size
After breast cancer surgery, some women choose to wear a breast form (or forms) instead of undergoing reconstructive surgery. Breast forms can help you regain balance and a natural silhouette without another exhausting surgery. Sometimes women wear prostheses temporarily while awaiting reconstruction.
Typically made of silicone or lightweight foam, breast prostheses come in several styles and customizations:
Traditional silicone: mimic the appearance and drape of natural breasts
Lightweight foam: a lighter-weight alternative to silicone breast forms
Partials and shapers (bra inserts): can help women with uneven or asymmetrical breasts create a flawless silhouette
Swim forms: protect your surgical site when you swim
Leisure forms: cool, comfortable, and contoured
Permaforms: breast forms permanently sewed into smooth bra cups
Types of Mastectomy Bras and Features
Mastectomy bras are often put into categories, such as compression mastectomy bras and fashion mastectomy bras, based on their features, such as wide straps or cotton fabric. When shopping for a mastectomy bra, look for the following features: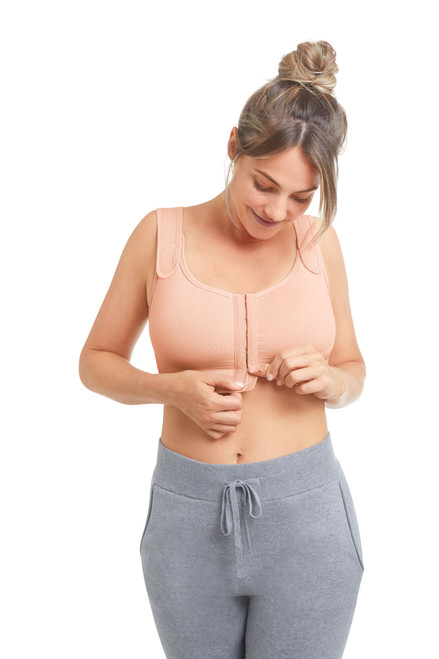 Gentle Compression
Often worn immediately after surgery, compression bras ensure optimal stabilization of the surgical site with even, all-over pressure. These bras offer gentle compression that can help reduce your chances of developing lymphedema post-surgery.
The Amoena Sina Seamless Compression Bra offers optimal stabilization of your post-surgical area through even, gentle compression. Wide, adjustable Velcro straps and front-closure snaps make for easy dressing and undressing, and seamless cups provide unmatchable comfort.
The Sina compression bra provides the gentle pressure necessary to support lymphatic drainage and reduce your risk of lymphedema. If lymphedema does occur, you may experience uncomfortable swelling in your arms or legs, a sensation of tightness in your skin, and less mobility of joints like your hands, wrists, or shoulders.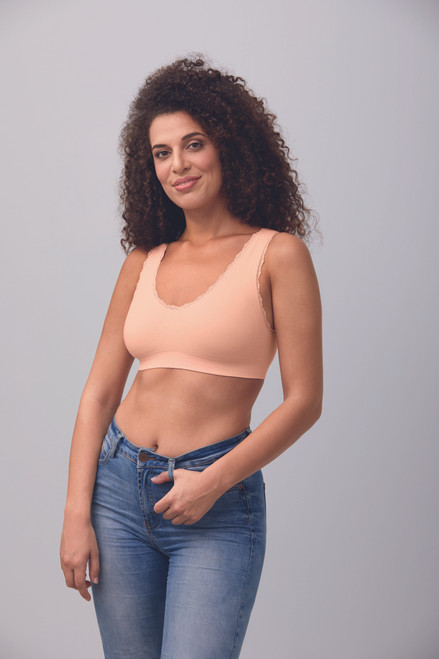 Soft, Breathable Fabric and Seams
After breast surgery, your surgical site may be sensitive. Mastectomy bras with a high cotton content are ultra-soft and comfortable against the skin, perfect for everyday wear. Cotton mastectomy bras are also very breathable and can help keep your surgical site cool throughout the day.
You'll want to avoid mastectomy bras with uncomfortable seams and closures. Look for a seamless bra with high cotton content, such as the Amoena Kitty Seamless Cotton Mastectomy Bra. This popular mastectomy bra is made of 69% cotton, with removable, molded padded cups, bilateral pockets for a breast prosthesis, and no irritating closures or seams. The Amoena Kitty bra comes in a tasteful rose or vibrant magenta color.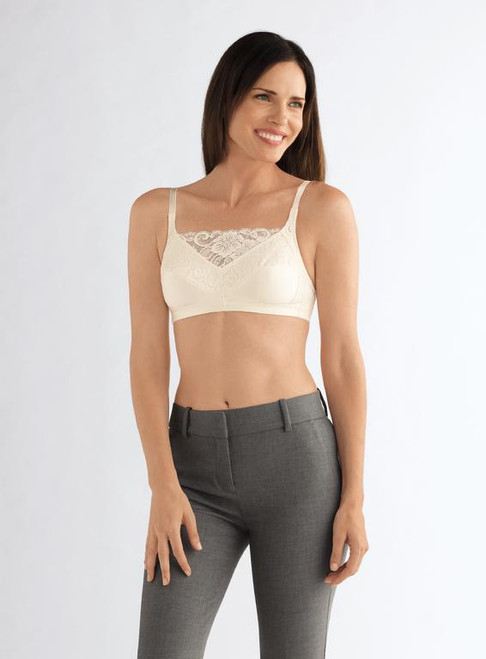 Surgical Site Coverage
Some mastectomy bras, particularly fashion bras, feature a higher neckline that can work double duty to help cover any surgical scars or radiation burns. Many of these bras come with delicate lace above the cups, providing helpful coverage while adding a feminine touch. Soft, full breast cups offer additional protection and support.
The Amoena Isabel mastectomy bra is a camisole bra that tastefully provides maximum coverage. The lace pattern above the bra cups allows you to wear lower-cut and V-shaped tops without exposing your surgical site. This bra also features adjustable straps, a double-hook fastener with three-way adjustment, and bilateral pockets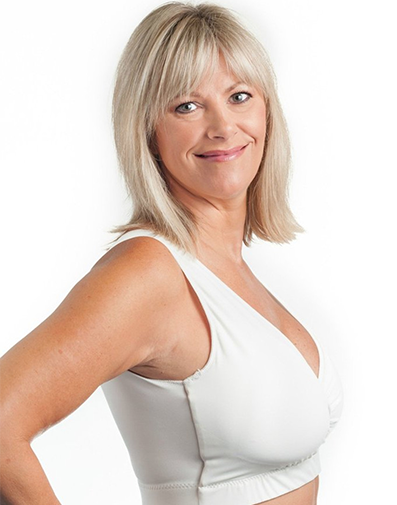 Supportive Underband with No Underwire
After breast surgery, your upper abdominal region may be sensitive. A wide, supportive under-band beneath the breast cups can help comfort this sensitive region while keeping your bra from riding up. A thick band around the bust can also help keep your breast prostheses from shifting out of place.
Avoid bras with an underwire after breast surgery, particularly after the procedure when you still have stitches and drains. The sharp underwire in many traditional bras can poke and prod at your surgical site causing discomfort and possible damage.
The Wear Ease Sydney Bra features a 1½'' soft band that provides excellent support for your surgical site and breast prostheses and no underwire. Made of 80% Nylon, this bra is durable and lightweight and can be worn as a sports bra. The Sydney also offers soothing, gentle compression for your underarms and upper back.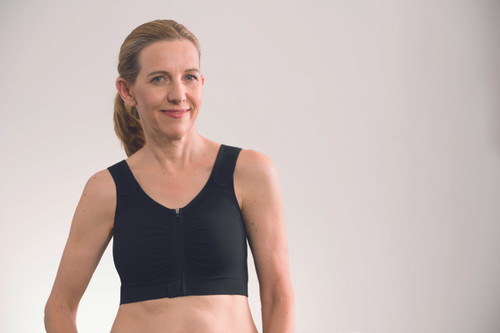 Adjustable and Accessible
Mastectomy bra straps are typically wider than standard bra straps and thus are generally much more comfortable. Look for a mastectomy bra with adjustable straps you can tighten and loosen to your comfort level. Some mastectomy bra straps are made with Velcro to make dressing and undressing easier.
Front closures (snaps, velcro, or zipper) make mastectomy bras easier to put on and take off. Front-closure bras are easier to take on and off than traditional bras and grant you easier access to your surgical site so that you can make any necessary adjustments more comfortably.
Some women wear a front closure bra directly after surgery, when the surgical site is most sore, and then switch to a fashion bra once the discomfort has dissipated.
The Amoena Leyla Seamless Bra has wide, adjustable straps and zips up in the front, so you can easily adjust your bra or breast forms throughout the day. A hook & eye placket underneath the zip closure provides added security. The Leyla is made of a combination of stretchable Nylon and soft cotton and offers gentle compression and seamless pockets.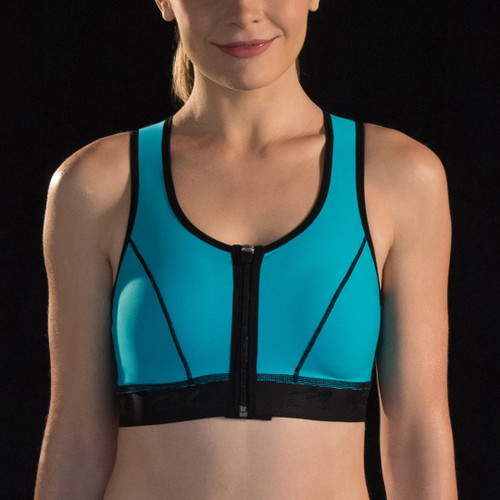 Sports Bra
Mastectomy sports bras allow you to return to the high-impact activities you love without worrying about breast form slippage or irritation to your surgical site.
The Marena Sports Bra features a front zipper for easy surgical site access and dressing, a 1-inch smooth elastic under-band, and wide, supportive shoulder straps. Its seamless cups come with come pockets for prostheses.
There are also mastectomy bathing suits available to reap the many health benefits of swimming during your recovery process.
Shop Mastectomy Bras Today at Mastectomyshop.com
Mastectomyshop.com caters to the needs of women after any type of breast surgery, from radical mastectomy to reconstruction.
We offer an impressive array of post-surgical products, including mastectomy bras, breast forms, compression garments, and leisurewear, to women at all stages of recovery. Shop by category, brand, size, or price to find your perfect fit.
For more information about our mission and services, contact us today at (877) 413-2272.