Pain and discomfort are common symptoms following breast cancer surgery, but there are many ways to alleviate your pain including wearing post-mastectomy bras and camisoles.
Types of Mastectomy Bras and Camis
Different post-surgical bras and camis offer a variety of features to aid your recovery, so it is suggested that you have a wide selection of mastectomy bras and recovery camisoles in your post-mastectomy wardrobe. Some of the different types of bras and camis available include: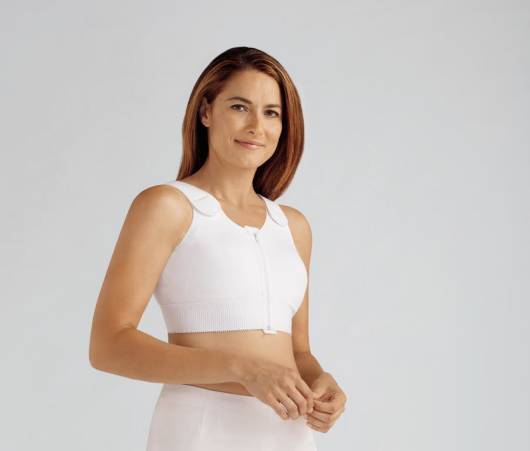 Compression Bras and Vests
After a mastectomy, lumpectomy or breast reconstruction, your doctor will likely recommend that you wear a compression bra or vest for at least four weeks after surgery to reduce the risk of lymphedema, and other post-surgical complications.
Compression bras use high-performance stretch fabric to create gentle pressure in key strategic areas around the chest wall and under the arms to improve the flow of blood and lymph fluid around the surgical site. This prevents infection and speeds up the healing process.
The Jobst Surgical Vest uses latex-free stretch cotton fabric that is kind to your skin to apply firm compression. A break-resistant zippered front closure and Velcro over-the-shoulder straps allow for easy wound examination and minimize discomfort while dressing. The longline design and soft molded cups hold breast tissue or implants in place, and a scalloped edge prevents the vest from riding up uncomfortably.
The Marena Caress High Coverage Bra offers a suitable alternative to a compression vest after surgery. The full-coverage design is engineered with FlexFit pocketed cups which can easily accommodate two different cup sizes in a single bra for a garment that continues to support your body as swelling subsides.
High-performance TriFlex fabric compresses the chest and underarms while wicking away moisture to help regulate your temperature. The bra also features antimicrobial technology to keep incisions clean and reduce odors.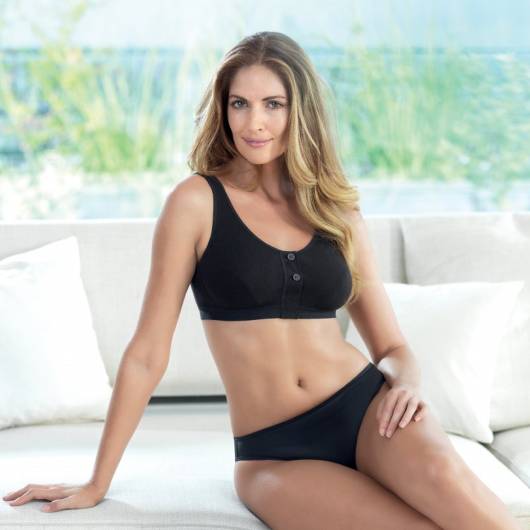 Leisure Recovery Bras
Leisure bras are designed to optimize our comfort after mastectomy surgery. They are typically constructed from ultra-soft stretch fabrics that offer mild compression but still allow for flexible movements.
Many leisure bras feature a build-it in shelf bra to support remaining breast tissue and lightweight breast forms if you are permitted to wear them by your doctor. Some models also provide drain management features such as removable drain tube pouches and side zippers so you can easily change the surgical drains yourself without the assistance of medical staff.
The Anita Isra Mastectomy Bra is the ideal post-surgical bra that can transition you smoothly from the hospital to your home and be worn even while sleeping. It is constructed from soft stretch cotton that molds to the shape of your body for a comfortable and flattering fit.
Soft bands underneath the arms and bust prevent irritation to sensitive skin, and a Velcro fastener is covered by a button-down closure to easily put on and take off the bra.
Front Closure Bras
Breast surgery can often leave you feeling tender and limit your shoulder rotation which can make it difficult to reach standard bra closures or pull a bra down over your head. A front closure bra allows for easy dressing when you have limited mobility and comes with a variety of fasteners from standard hook-and-eye closures to Velcro or zippers.
The Amoena Ester Front Fastening Soft Bra offers the perfect combination of comfort and support for your post-mastectomy recovery. In addition to a front hook-and-eye closure, the bra features soft molded cups with breathable cotton pockets that apply gentle compression to the chest wall.
Wide padded adjustable straps prevent shoulder pain, while a mesh back panel offers optimal airflow to keep you cool and dry.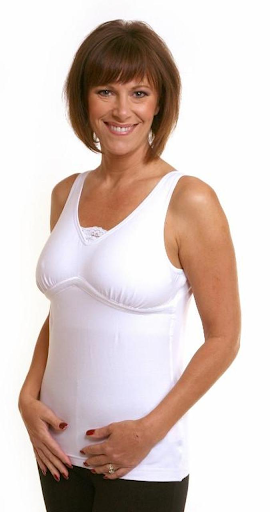 Post Surgical Camisoles
Post-surgical mastectomy camisoles are vital additions to your wardrobe as they provide supportive features to ease you through your recovery. Camis can be worn immediately after surgery as well as during the following weeks making them the perfect transition piece to wear layered under cozy sweaters or on their own during the warmer months.
Look for post-surgical camisoles with functional features such as drainage pouches, wide straps, and gentle compression.
The Wear Ease Dawn Post Surgical Camisole offers an elegant alternative to traditional medical camisoles. With a touch of feminine lace and clean lines, it is a versatile piece that not only aids your recovery but can also give you a boost of confidence after surgery.
Constructed from soft, no-pill stretch cotton, the camisole is easy to step into and features two removable pouches for easier drain management. It offers a built-in shelf bra to support your natural breast or breast forms and has no inside seams to minimize irritation to sensitive skin.
The Wrap Up
Post-surgical bras and camisolesare designed to minimize pain by facilitating easier movements and reducing skin irritation. Compression technology helps to speed up your recovery and prevents potential health complications.
If you want to find out more about the extensive range of mastectomy bras and camis we have to offer at Mastectomyshop.com, call our helpful customer support staff at (877)-912-0775.