If you or a loved one have recently had a mastectomy, you are probably wondering what options are available to you as far as post-mastectomy bras and prosthetics. From proper fitting to wearing breast prostheses, to cup size, we compiled this FAQ to answer most, if not all, of your questions and help you make the right purchase.
Why do I need a breast prosthesis?
When the body becomes out of balance after a surgery such as a mastectomy or a lumpectomy, other issues can develop such as back or neck problems. The prosthesis restores balance and symmetry to the body.
A breast prosthesis fills in the space between the bra and the remaining breast which makes it so the bra doesn't ride up. A prosthesis may also help with the way your clothes fit.
What are the advantages of having a breast prosthesis?
Although wearing a breast prosthesis is not required, a lot of women choose to because it restores their confidence after surgery and allows them to wear their usual clothing. In addition, a breast prosthesis gives the body warmth and protects the chest around the scars. They help to maintain posture and prevent curvature of the spine causing muscle aches and further problems.
What is a mastectomy bra?
A mastectomy bra is specifically designed for women who want to wear a prosthesis after a mastectomy or lumpectomy. They come with special pockets that hold the breast prosthesis in place.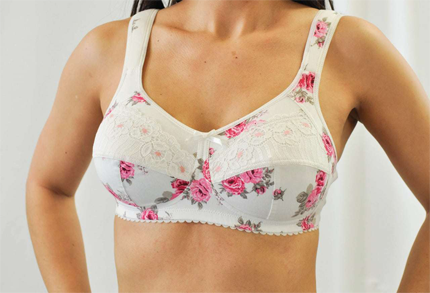 How can I buy these products?
Whether buying your post-mastectomy products online or in a retail store, it is always a good idea to work with a certified mastectomy fitter. Here at MastectomyShop.com, all our fitters are certified to guarantee comfort and quality in your purchase. Your local Cancer Society chapter can provide you with advice well.
How much does a breast form (prosthesis) or mastectomy bra cost?
As with any product, the cost of mastectomy bras and prostheses vary based upon style, brand, material, etc. Our website has a range of products to fit almost any budget. Some insurance companies cover the costs of post-surgery necessities, like breast forms and mastectomy bras, as well. Check with your insurance agent before paying out of pocket.
How soon after surgery can a breast form be worn?
Before making any purchases following your surgery, speak with your doctor about what products might be right for you and when you will be ready to wear them.
Most women can wear a breast form anywhere from two-eight weeks after surgery, depending on the material, and whether or not any open wounds have healed. Certain soft-material camisoles may be worn immediately following surgery.
What is the difference between a "regular" bra and a post-mastectomy bra?
The biggest difference between your old bra and a post-mastectomy bra is the pocket that is designed to hold the prosthesis. In the past, women would have to sew their prostheses into their regular bra.
Post-mastectomy bras come in all types of colors, designs and fit just like your old bras. They may even be more comfortable.
How often should I purchase breast prostheses and post-mastectomy bras?
For breast forms, life expectancy is typically about two years. Most insurances will allow you to replace yours every two years.
It is typically recommended that women replace their bras every six months to a year, depending on how many they own and the frequency they wear them.
How do I care for my silicone breast form(s)?
Although silicone breast forms are desirable because they look and feel the closest to a natural breast, they do require special care. It is important to note that oils from the skin can break down and deteriorate the silicone material.
To clean, use a mild soap and warm water, Rinse with lukewarm water and dry with a soft cloth. If you have a silicone swim form, you will want to wash them after each time you go swimming.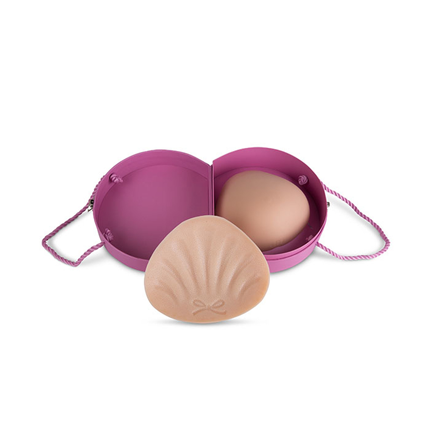 How will I be measured for a breast form?
Although your bra size may change during and after the mastectomy or lumpectomy breast surgery, a certified fitter can get your measurements and help you find the perfect fit. Taking your own measurements after surgery may be difficult and painful, but you would do it just the same as before, by measuring around the torso under the breast line.
Comfort is the most important factor to consider in recovery and a professional fitter will ensure your comfort through the fitting process. You can ask them to help you put your prosthesis in place as well.
What kind of breast form is best for me?
Women's bodies come in all shapes and sizes, and there is almost certainly a breast form for each one. While some women prefer form over function, others may opt for the most comfortable. Certified fitters are well-educated in the areas of breast forms and what is available to you.
There is lots of information available on the internet and certain blog sites as well, including our own. It is important that you know that you are not alone in this process and that there are so many resources available for you. Groups like the American Cancer Society, National Breast Cancer Organization and cancer.org are good resources.
Do I really need a mastectomy bra too?
The mastectomy bra is specifically designed for breast prosthesis. In the past, women would actually sew their prosthesis into their regular bra, which would present a problem when it came time to wash both the bra and the prosthesis.
With a mastectomy bra, the built-in pockets not only hold the prosthesis in place but make it easy to remove for cleaning.
Final Thoughts
Here atMastectomyShop.com, we have been providing an online resource for post-mastectomy products for over 30 years. We are here to help you with the process of finding and purchasing the right products for your body whatever the stage of recovery you are in.
Please feel free to contact us via our online contact form or at (877)-413-2272 with any questions or concerns. Our professional staff of American Board of Certification accredited fitters are ready and willing to assist you with all of your post-mastectomy needs.