Gone are the days when designers focus only on one body type when creating swimwear lines. Today, they acknowledge the different body types women have, and plus-size swim models appear across more mainstream advertising.
Bathing suit shopping can still be challenging for those needing larger sizes, particularly following breast cancer surgery when your body confidence is low. Yet, exploring the best styles and the incredible plus-size swimsuits of 2021 can help inspire and excite you for the warm days ahead.
The swimsuit features and styles to look for in 2021 can help boost your confidence and make you feel ready to enjoy the outdoors. You deserve to feel beautiful so find the suit you like the most and go and have fun.
In addition, you can pair these stylish suits with swim forms for a balanced look and secure fit. The Anita Pure Fresh Silicone Forms are symmetrical and soft against your skin. Built for all water activities, you can wear these ribbed, lightweight forms with ease, from a chlorine pool to a steamy hot tub.
Best 5 Styles for Plus-Size Swimsuits for 2021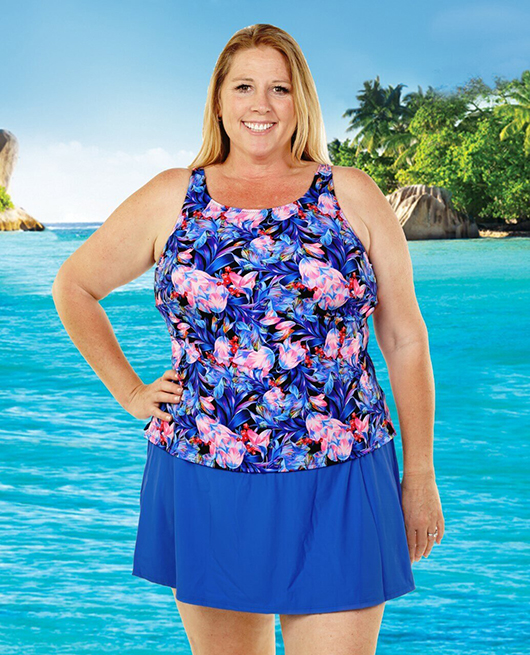 1. Tankini Style for Comfort and Functionality
Tankinis are here to stay, and it's easy to see why. Designed for comfort, the T.H.E Collection High Neck tankini top flows over your body, covering trouble spots or providing added security and peace of mind following your breast cancer surgery.
The coverage this tankini provides, along with amazing colors and designs, from Shimmering Seas to lush Botanical Garden, allows you to pair them up with different bottoms. So, why not pair your favored tankini top pattern with high-waisted bottoms one day and comfortable shorts or skirt the next?
2. Sarong Designs
Go for the tropical isle look in 2021 with a sarong-inspired swimsuit. These exotic, feminine style wears offer fuller coverage for sun protection, beautiful colors, and designs, and many of them will draw the eye away from your breasts if you're feeling self-conscious.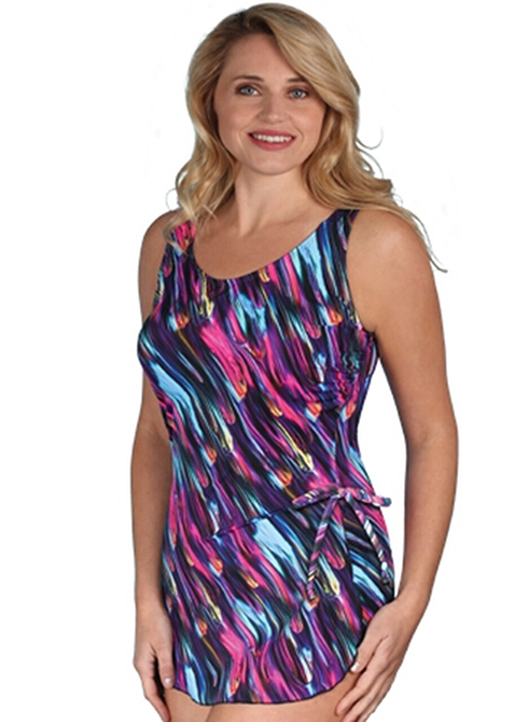 The Jodee Mastectomy Sarong Swim Suit is a beautiful choice, boosting your confidence every time you put it on. Wear it in the pool, while walking down the beach, or enjoying a warm weather meal at an outdoor table. Pockets are built-in to the cups for those choosing to wear breast forms. The suit comes with a special nylon tummy control panel to keep you supported and create a slimming effect. Choose between four different colorful designs in sizes ranging from 8 to 26W.
3. Swim Dress Sophistication
Add a sophisticated look with one of the fashionable swim dresses available in 2021. These stylish designs offer support following your surgery and often come with high necklines to cover scarring and keep you covered in all the right places. The lower skirts can be flouncy or streamlined depending on your body and preferred design.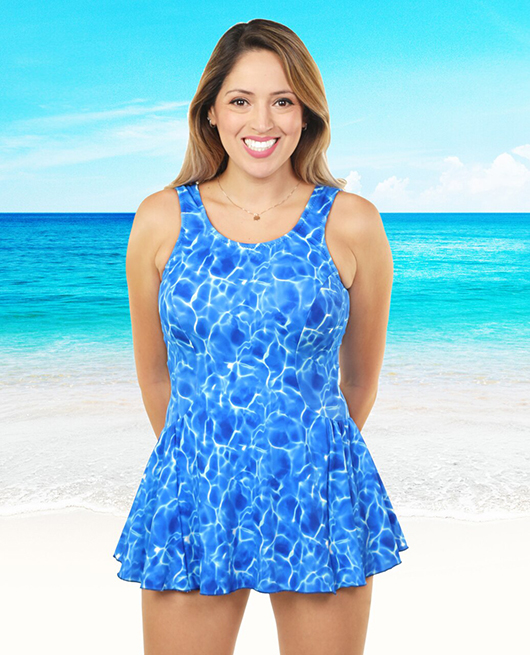 Although initially released in 2020, T.H.E. Collection Swim Dress will take you through 2021 and beyond. The princess cut lines and flared skirt with panty attached underneath provide good looks, comfort, and security from top to bottom. The flared skirt covers the top of your thighs, while the adjustable straps allow a better fit. Look for sizes between 8-32W in beautiful colors and designs.
4. Ruffles for Fun
Add a little fun to your plus-size swimsuit this year. Ruffles are on-trend for 2021, offering style and full coverage where you need it most. Find them on one-piece suits or full coverage tankini tops.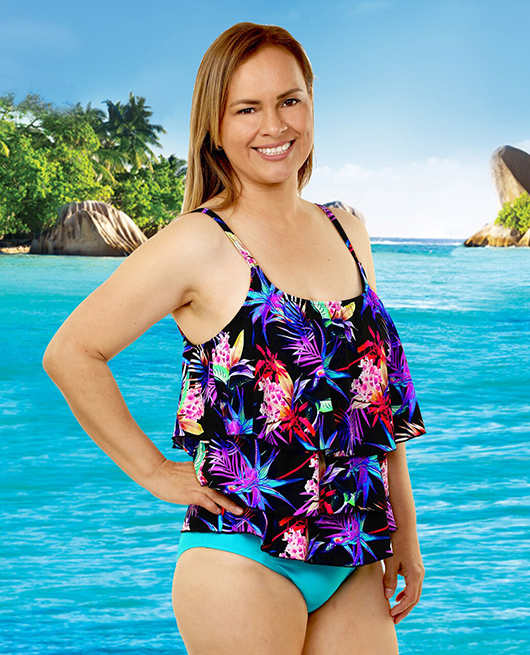 T.H.E. Collection Triple Tier Tankini Swim Top is designed with longer ruffled tiers in a floral print to create a fun look and camouflage effect. It's also a great option for women who choose not to wear swim forms as it gives the illusion of added volume at the chest.
Add mix-and-match bottoms to change up the look occasionally, and you'll be set for the pool or beach. Choose between 12 and 32W size swimsuits in three designs, including tropical Caribbean Cruise and sleek Solid Black.
5. Black and White is Always in Style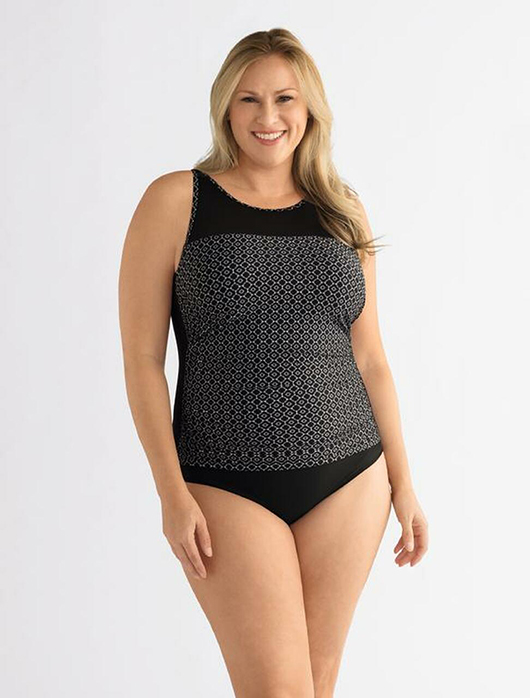 You'll never go wrong with a stylish black and white one-piece swimsuit in 2021 and beyond. These contrasting classic colors go well together and add style along with a slimming effect to all bodies.
The Amoena Ayon Half Bodice swimsuit is a good choice with its black and white geometric design. Slight ruching at the top is flattering, while the solid black of the bottoms provides a slimming look. It sports a high neckline for comfort and hides any scarring. Built-in pockets hold your swim forms securely so you can focus on the water instead of worrying.
Feel beautiful in any one of these stylish designs as you continue to build your confidence following surgery.
Tips to Choosing Flattering Plus-Size Swimwear
Choosing flattering swimwear for your plus-size body doesn't have to be complicated. Consider these tips when you're ready to add new swimwear to your wardrobe.
Choose swimwear to accentuate your favorite body areas and camouflage those you're more uncomfortable with. For example, following a mastectomy, you may want to draw attention away from your breast area and more toward your legs. Or, you may wish to add covering, like a tiered or ruffled top, to your breasts to create a camouflage effect.

Look for swimsuits made with quality fabric that provides adequate stretch and comfort. These also offer longer durability, especially if they are treated to be UV- and chlorine-resistant. Select ones that intermix spandex into the main fabric to help accentuate curves and give the stretch you need.

Seek sturdy, adjustable straps to create a perfect fit while providing the level of support you need.

For those wearing breast forms following a mastectomy, find swimsuit tops with built-in pockets to securely hold the forms in place.

If you're looking to create a more slimming effect, wear darker colors such as black or navy blue. Also, avoid larger patterns in areas you don't wish to draw attention to. Color blocking is a good choice.
Overall, there are no definite hard and fast rules you must follow when choosing your plus-size swimwear. Fortunately, today you have many options when it comes to cuts, designs, and colors, so try on several until you find the most comfortable fit and flattering look for your body.
Explore Mastectomyshop.com
When you're feeling ready to get back in the water, or need special intimate apparel following your breast cancer surgery, explore Mastectomyshop.com. We offer various size and style swimsuits along with all your other needs. If you have questions, call us at (877) 413-2272 and talk to a member of our professional staff today.