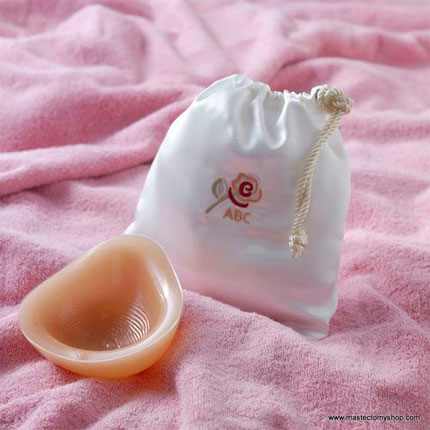 There are many breast care prosthesis types available from American Breast Care. This is one of the best brands available in the breast form market, and there are a variety of special features available in their products.
1. Variety
There are many shapes, sizes and designs offered by ABC. This can help make the search for your perfect breast prosthesis much easier. For example, you can choose between symmetrical and asymmetrical forms, as well as a variety of colors to match your skin tone.
2. Custom options
ABC offers a fully comprehensive custom service to its clients. You can order a made to measure breast form that will fit you perfectly. It is designed based on a scan of your chest and allows even those with unusual chest shapes to find the right fit.
3. Travel case
Transporting a breast prosthesis can be difficult, as you will want it to be held safely, securely and discreetly. Many of ABC's products come with a travel case, allowing you to keep them safe on the move. The travel case is also ideal for storage when you aren't wearing them.
4. Lightweight materials
A common complaint about breast forms is their weight, which can be very uncomfortable. It is a particular issue when you wear the form in the pocket of a post-surgical bra, as the weight rests on your shoulder.
The lightweight prostheses offered by ABC is made from a special silicone material. This is not only very light, but also soft. It has a natural feel and sits comfortably on the chest.
5. Natural look
Achieving a natural look is very important when it comes to finding the right breast form. ABC's custom breast form option allows you to choose from a range of skin tones to find a match.
There are additional options to choose for a natural appearance, such as a nipple and areola added to the breast form. This is important, as many women experience an issue with gaping bras when they wear a smooth fronted breast form. You can also choose the color, shape, and texture of the nipple designs.
6. Soft feel
An issue that many may experience with breast forms is the way they feel. Finding a breast form that replicates the density and drape of a natural breast is difficult, but often a high priority.
As well as feeling comfortable against your chest wall, ABC breast forms can come with a special soft front feature. This is designed to give the form a feel similar to that of a natural breast.
7. Patterned backing
ABC is known for their patented diamond-shaped backing, found on several of their breast form designs. This diamond pattern allows the breast form to stay in place while still allowing air flow between the diamond shapes.
When wearing a breast form in a bra pocket, it can shift around uncomfortably. It can also become overheated and cause perspiration on the chest surface. The diamond-backed breast forms from ABC help prevent these issues.
The massage form is another popular design from ABC. This has special channels that massage the chest wall. It is a particularly useful option for those with lymphedema.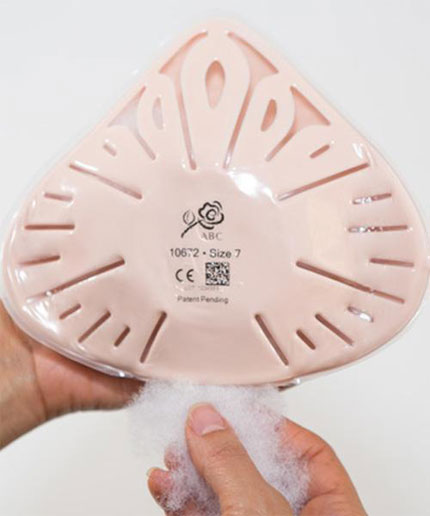 8. Adjustable filling
For women who want to achieve a precise fit, but do not wish to purchase a custom-made form, ABC has an adjustable form available. This has a hollow backing section and comes with a pouch of filling fibers for you to add to your specifications.
9. Wide footprint
The footprint of the breast form is the base, which sits directly on your chest. A smaller base will often cause discomfort, as the weight of the prosthesis is resting on a narrower surface area. The wider footprint offered by ABC's designs means additional comfort.
It is especially beneficial for those with broader frames, who need a wider fit for a natural look. For the attachable ABC breast forms that adhere directly to the chest wall, it also provides additional stability.