After you've healed from a mastectomy, introducing movement and light exercise into your routine is the perfect way to build up your health, strength, and vitality. By starting slowly and being consistent, you'll give your body crucial support as you continue the recovery process.
Swimming is a fabulous post-mastectomy workout. It's a great way to work all the major muscle groups and build up strength. Muscular atrophy can occur in patients who have undergone surgery and remained inactive. If your doctor has suggested swimming or given you permission to exercise, the right swimsuit can help you get started.
Considering the style, cut, and features of your swimwear is even more imperative for women over 40 who've had a mastectomy. Finding the perfect swimsuit for you is about matching the swimsuit to your style and needs. You'll want to look for pieces that are practical, supportive, and make you feel good.
Keep reading to learn more about the trendy styles you can choose from while still feeling like a sophisticated woman.
Swimsuits Styles
Swimsuits come in many different styles. This is great for versatility but not so good if you don't know what to look for. Trying to figure out what will look good and make you feel good after your mastectomy can be challenging.
If this is the first time you've worn a swimsuit after your mastectomy, it's natural to have concerns and feelings of self-consciousness. Women can be hard on their bodies, and after surgery, you may have some anxiety about how you look. If this is the case, it's essential to confront these thoughts and learn how to dress your body to feel the best.
There are many ways to disguise, minimize, or emphasize certain body areas. By making certain choices, you'll find a swimsuit that you can feel confident wearing in and out of the water. There are various styles, including:
One-piece swimsuits
Tankini tops
Swim shorts
Swimming dresses and skirts
Sarong-style suits
High waist briefs
Choosing the Right Cut
Considering your body type can help you make a wise choice that you'll be happy with. If there are certain areas you'd like to cover or expose, keep this in mind while you're looking at swimsuits.
If you'd like more coverage over the chest area and stomach but enjoy showing off your legs, you could choose a high-neck tankini top, matching it with high-cut swimsuit bottoms that feature built-in tummy control.
Creating Shape in Your Swimsuit
If you haven't undergone breast reconstruction, breast forms and other specially-made prostheses can help you create a natural shape in your swimsuit.
These specialized swim forms are placed inside the bilateral interior pockets of your swimsuit like mastectomy bras. They are lighter than standard prosthetics, non-absorbent, and are built to withstand chlorinated or salty water.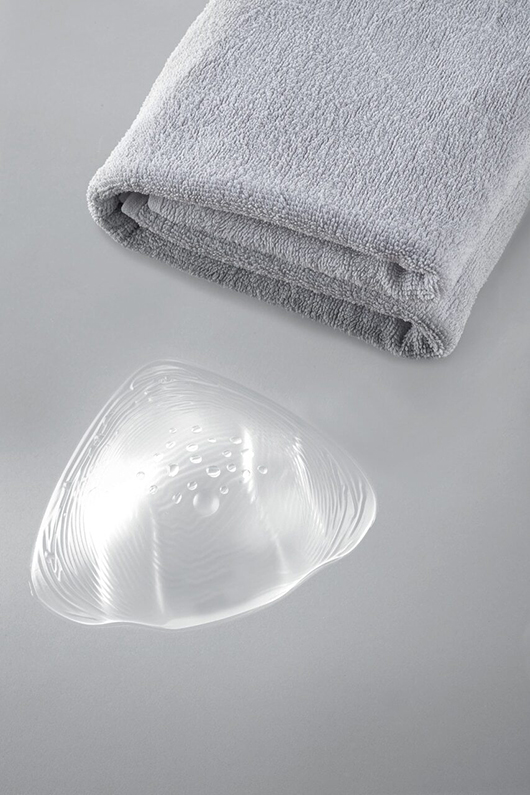 The Amoena Aqua Wave Swimform can help boost your confidence as a woman over 40 who's just been through a mastectomy. You won't feel unnatural or weighed down by this clear silicone breast form. Water-resistant and 30% lighter than the standard silicone piece, this is perfect for adding to your new swimsuit.
Asking The Right Questions
There are two things to consider when you're looking for the right swimsuit: appearance and function. Here are some important questions to ask:
Will you be swimming inside, or swimming in the ocean or a lake?
How cold or hot will the water be?
What kind of cut and material does the swimsuit have? Will that be comfortable?
Does a swimsuit have built-in chest support and at the level you'll need?
Where would you like more coverage? Do you have surgical scars you'd like to cover?
What cuts suit your body shape and highlight your best features?
Do you need built-in breast pockets for a breast prosthesis?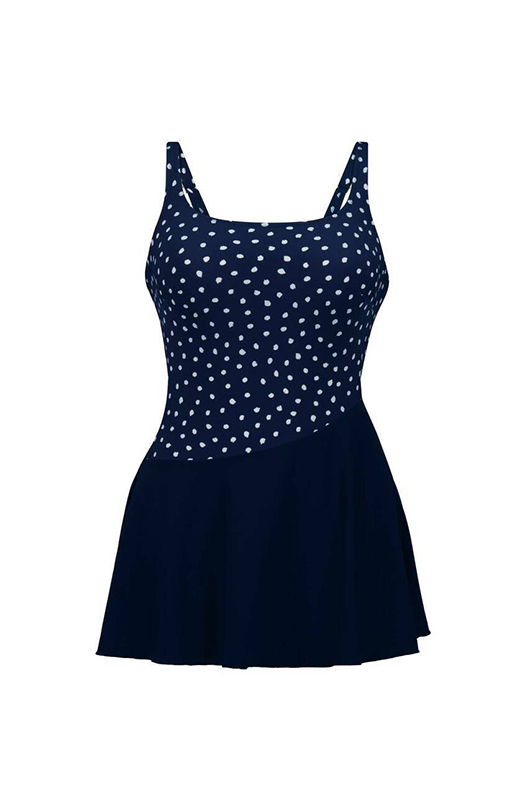 Anita Kista: Best Swimdress
A swimdress is a practical swimming solution, provides more coverage, and is great for women with a pear shape who want to deemphasize their hips.
The ANITA KISTA SwimDress is the perfect piece for women who don't want to expose too much of their lower half. The skirt skims over the hips, reaching the upper thigh and creating a flattering shape, while the patterned top-half features supportive soft cups and adjustable straps.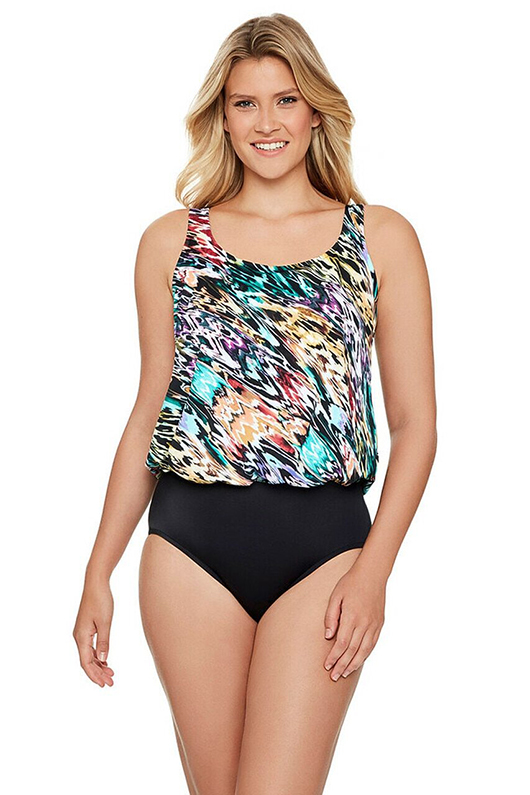 Penbrooke Blouson Bathing Suit: Best One-Piece
Swimsuit tops that provide minimal support and are padded or patterned are ideal for women with a small bust. If you haven't had breast reconstruction or are naturally smaller, you can be more flexible with the type of support level you choose.
This PENBROOKE One Piece Swimsuit will brighten up your swim but gives coverage and the illusion of bust volume with the blouson-style top. You'll still get support from the built-in soft cups and have the option to add prostheses to the mastectomy pockets.
The visual interest and detailing of this swimsuit allows you the freedom to embrace your smaller chest or build a natural shape with the addition of prostheses. Plus, if you feel self-conscious about your stomach, this swimsuit features a tummy control top, helping you create a smooth silhouette.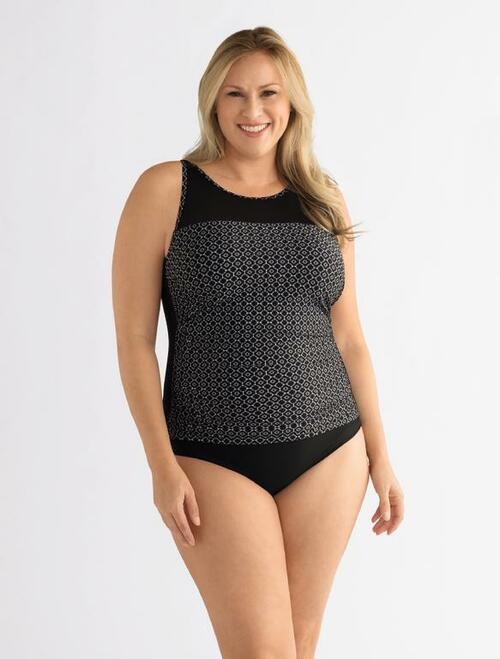 Amoena Ayon Half Bodice: Best Supportive Swimsuit
Larger chests need adequate support to prevent postural issues, discomfort and sagging. If you've had breast reconstruction or are simply dressing for a larger bust, then you'll need to look for molded cups, sturdy straps, and higher cut swimsuit necklines.
Opt for the Amoena Ayon Half Bodice Swimsuit if you want to minimize and support a larger chest. The pocketed bra cups will keep swim forms or shapers in place, and your curves will be hugged in all the right places because of the light shaping effect of the LYCRA® XTRA LIFE fabric.
Anita Swim Briefs: Best Mix and Match Swimsuit
The beauty of mix and match swimsuits is their built-in versatility. These pieces offer endless styling options and allow you to invent the right look for you. Balance a long torso by making your legs look longer with a pair of higher-leg swimsuit bottoms and combine them with any kind of top.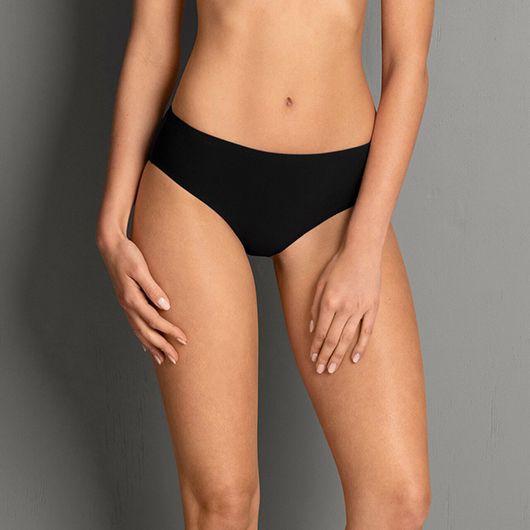 If you want the most versatility, the ANITA Mix and Match Swim Bottoms, available in black or dark blue, are a fabulous choice. These comfortable bottoms with high-cut legs give you a blank canvas to pair with any other color, cut, or style top of your choosing. With this as a start point, you could select a sporty bikini top or a ruffled or blouson tankini top if you need more coverage.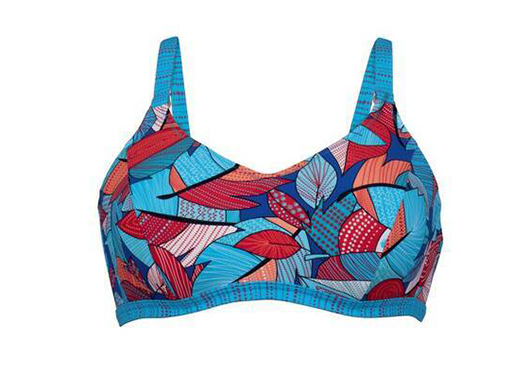 Anita Alba Tropical Punch: Best Bikini Top
Mastectomy surgery after 40 doesn't mean you can't show off your curves. If you dare to bare this swimsuit season, choose a bikini top that comes with the supportive features you need.
The Anita Alba Tropical Punch bikini top is a vibrant blue and red foliage print top that features encapsulating sectioned cups to lift and support your breast prostheses and remaining breast tissue without wires. It features a slightly higher neckline than most standard bikinis to give you added coverage for surgical scars and wide adjustable straps to achieve the perfect fit.
Bringing Your Swimsuit Up-to-Date
If you want to find the right swimsuit, talk to one of our experienced staff members by calling (877) 413-2272.
We have a full range of swimsuit styles at Mastectomyshop.com. Whether you're interested in one-piece suits, tankinis, bikinis, or swim-compatible breast forms, we have pieces to suit everyone's taste and post-mastectomy body.