For women who have breast cancer, one of the primary treatments available is breast surgery. Like many other breast cancer survivors you may be wondering how to regain your shape and confidence after surgery. Mastectomy bras and breast prostheses can help give you the balance, shape and support your need. So, here is our comprehensive guide to mastectomy bras and breast forms after surgery.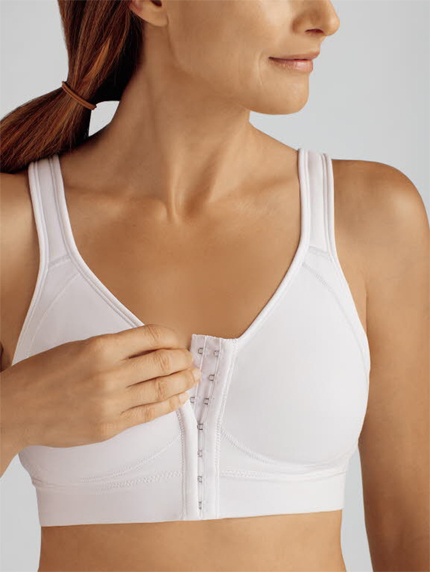 What Are the Types of Breast Surgery?
The types of bras and breast prosthesis you will need will depend primarily on the type of breast surgery you had. Some common types of breast cancer surgery include:
Mastectomy
A mastectomy is most common for women with large or advanced breast cancer. A mastectomy involves the removal of the entire breast and, in some cases, the nearby tissue is also removed. You may need a unilateral mastectomy in which one breast is removed, or a bilateral mastectomy where both breasts are removed.
Breast Conserving Surgery
In cases where the tumor is small or the cancer has been caught at an early stage, your surgeon will perform breast conserving surgery to preserve as much breast tissue as possible. These surgeries can include a lumpectomy, quadrantectomy or partial mastectomy.
Lymph Node Removal
Lymph nodes are part of your immune system and the nodes under your arm are typically the first location that cancer spreads. You may need to have a lymph node removal to perform a biopsy or as a preventative measure to stop the cancer from spreading or returning.
Reconstructive Surgery
Many women elect to have their breasts reconstructed after a mastectomy to help them regain balance and confidence. You can have a breast reconstruction either immediately after the mastectomy surgery or some months after you have healed.
Breast Prostheses
For women who choose not to have a breast reconstruction, breast prostheses can provide a suitable alternative to help you achieve shape and symmetry enable you to wear your clothes more comfortably.
Different Styles of Breast Prosthesis
All women's bodies are different, so you need a breast prosthesis that is proportionate to your body and fits comfortably. There is an extensive range of breast prostheses available to suit your body type.
Silicone Breast Forms
Silicone prosthesis are the most popular as they perfectly mimic the look and feel of your natural breasts. They are constructed from a silicone shell filled with silicone gel or fiberfill.
Foam Breast Forms
Foam breast forms offer the most lightweight option and are best suited for wearing immediately after surgery, or while you sleep. You can also wear them while relaxing at home or even sleeping. Foam forms are made from foam or fiberfill and are covered in soft fabric.
Partial Forms and Shapers
For women who have had a lumpectomy or lymph node removal, a partial shaper can help you to regain some volume and shape where you need it. They come in a wide range of shapes and sizes to suit your body. Shapers can easily fit inside a mastectomy bra or can be worn directly on your skin using skin-friendly adhesive.
Swim Breast Forms
Standard breast forms can quickly become waterlogged or shift while swimming. Swim forms are specifically designed for use in the water and feature a ribbed, concave back to allow water and air to flow freely to prevent skin irritation.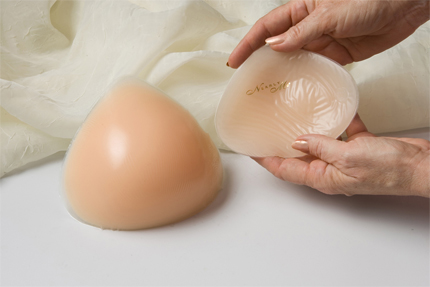 Different Shapes of Breast Prosthesis
Wearing a breast form should be comfortable, so you need to find a prosthesis that contours to the shape of your chest wall. Each type of breast prosthesis comes in a variety of shapes to suit your body. To find the best breast shape, look for breast prostheses that match the shape of your natural breast.
Symmetrical
Symmetrical breast forms are designed to be worn on either side of your body. They are ideal for women who have had a double mastectomy without too much tissue removed from underneath the arms.
Asymmetrical
Asymmetrical breast forms are worn on a single side of the body and feature a tapered wing that is positioned under the arm. These breast forms are the right choice for women who have had extensive tissue removed from their chest and armpit.
Triangular
Triangular breast forms are best suited to women with a wider chest wall as the point of the triangle helps to contour the form to the body and provide volume at the sides of the chest where it is needed most. Triangle shaped forms are ideal for women with an average cup profile.
Teardrop
Teardrop shaped breast forms have more volume below the nipple and are tapered towards the top. This makes them perfect for women with a shallow cup profile.
Round
Round breast forms come in oval and circular shapes. These symmetrical forms are the right fit for women with a naturally full cup profile.
Mastectomy Bras
No matter which type of breast surgery you had, or whether you underwent reconstruction, it is important to continue to wear a bra to support your body post-surgery. Unfortunately, your regular bra may no longer offer the support and comfort you need, and won't accommodate breast forms easily.
A mastectomy bra is an essential part of your post-mastectomy wardrobe and is specifically designed to hold breast forms securely.
Features to Look for in a Mastectomy Bra
When choosing a bra after mastectomy surgery, there are a few important features to look for to ensure that your bra fits comfortably and meets your style needs.
Bilateral Interior Pockets
The primary feature to look for when shopping for a mastectomy bra are pocketed cups for a symmetrical appearance. Pockets made of soft cotton, microfiber or mesh are sewn directly inside the bra cup to hold your breast forms securely without the need for adhesives.
Adjustable Straps
Adjustable straps are essential for finding the best fit. To prolong the elasticity in your bra straps, start on the longest setting and gradually bring the straps over your shoulder to find a setting that offers support but doesn't dig into your skin.
Look for straps that are wider than standard bra straps and lightly padded to evenly distribute the weight of the breast forms across your shoulders and back.
Wide Under Bust Bands
The under bust bands on your bra are what provide the most support. Look for extra wide bands that sit high under your arms to disguise surgical scars.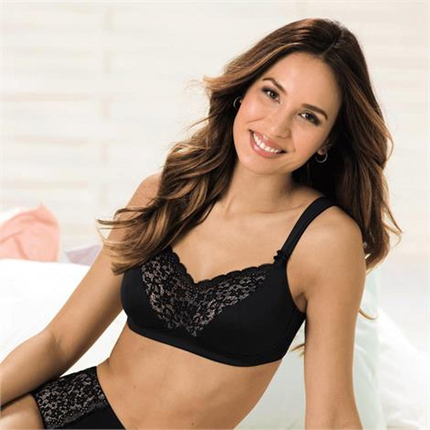 Styles of Mastectomy Bra
Just like standard bras, there is a huge variety of styles to choose from. Some essential styles to have in your post-mastectomy wardrobe include:
A compression bra for immediately after your surgery
A leisure bra to use while relaxing at home or sleeping
A wirefree seamless bra for wearing under tight fitting garment like you favorite t-shirt
A lacy fashion mastectomy bra for special occasions
A sports bra to minimize bounce when exercising
To find the perfect mastectomy bras and breast forms, schedule a professional fitting with a certified fitter approximately 4-6 weeks after your surgery.
The Wrap Up
Finding the right bras and breast forms doesn't need to be a challenge at MastectomyShop.com. Call us at (877)-912-0775 to speak with our experienced staff about our extensive range of mastectomy products and how they can help you regain your confidence after breast cancer.