Breast cancer tumors, treatment, and mastectomies are the reason cancer survivors are more susceptible to developing lymphedema. Mastectomy alert bracelets are one way for survivors to make sure the condition doesn't control their lives.
The link between lymphedema and breast cancer treatments
During a mastectomy, your doctor may remove lymph nodes and lymph vessels situated near the tumor. Removal makes it harder for your body to send lymph fluid from your extremities to your chest where it can get back into your bloodstream. Instead, the lymph fluid starts to build up and causes pain and swelling. This condition is known as lymphedema. The arm on the side of the affected breast is most at risk from lymphedema.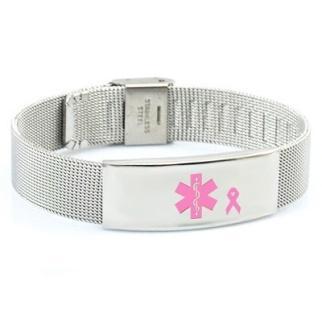 It's not only a mastectomy that puts you at risk of lymphedema. The flow of lymph fluid might also be impacted by the tumor itself or scarring caused by radiation treatment. Another critical trigger is any form of trauma to the arm on the mastectomy side of your body such as taking a blood pressure reading, drawing blood, or inserting a needle for an injection or IV feed into the affected arm. You can use mastectomy alert bracelets to help prevent medical trauma from triggering or aggravating lymphedema.
Why is it important to wear a lymphedema alert bracelet?
A lymphedema or mastectomy alert bracelet acts as your voice when you are unconscious or sedated. If a first responder, paramedic or doctor needs to make a quick call about medical treatment in an emergency, they need to know that you have, or are at risk of developing lymphedema. The bracelet will alert the medical professional to take necessary precautions.
A voice when you can't speak
It is important you wear your bracelet at all times, and you keep it on the correct arm to indicate which side of your body was affected.
A beautiful solution
MastectomyShop.com offers a beautiful and functional range of mastectomy alert bracelets for sale. We've highlighted some of our favorites below: The Lymphedema Alert Heart Strand Bracelet design has a stainless steel heart-link band. The tag features a medical alert ID with a pink symbol and pink ribbon to celebrate how far you have come. We etch the phrase "lymphedema alert" on the front of the tag.
Our Lymphedema Alert Stainless Steel Mesh Bracelet features an elegant and adjustable mesh strap with the pink ribbon and pink medical alert symbol on the front of the solid tag. The Lymphedema Alert Triple Strand Silicone Pink Bracelet features a stainless-steel medical ID tag with a pink ribbon and medical alert symbol. The triple strand silicone strap is comfortable and soft to the touch.
We etch the words "NoBP/IV/Needles in this arm" on the back of all our stainless-steel bracelet tags. MastectomyShop.com chooses designs of mastectomy alert bracelets that you can wear in all conditions and situations. You won't need to remove your bracelet when you swim, shower or take part in physical activities.