A mastectomy or lumpectomy is a major surgery that can have potential complications if you do not follow the recommended recovery protocols. One of the suggested ways to facilitate your recovery is with a mastectomy camisole which offers supportive and comfortable features. Learn more about why post-surgical camisoles are a good option during the healing phase.
What is Lymphedema?
One of the most significant complications that can occur post-surgery is lymphedema. Lymphedema is a build-up of lymph fluid (a result of your body's natural immune reaction) in the tissues surrounding the incision site. If this fluid cannot flow freely away from the site, it puts you at risk of infection and excessive swelling.
To combat lymphedema and swelling, medical staff will often fit you with a drainage tube which flows from the incision point to an external bag which is periodically emptied.
A post-surgical camisole typically features built-in or removable pouches designed to hold your drainage bags discreetly against your body while still allowing for easy access to change over the bags.
How Does a Post-Surgical Camisole Aid Healing?
In addition to lymphedema prevention, a post-surgical camisole offers many other features that can help aid the healing process.
Front Closures
After mastectomy surgery, you may experience muscle weakness and tenderness under your arms which can make dressing difficult, especially pulling garments over your head. Many styles of post-surgical camisole feature front closures, either zippered or hook-and-eye, which allows you to quickly and easily dress and undress without overexerting yourself or risking undoing your stitches.
Detachable Shoulder Straps
Another comfort feature that many styles of camisole offer are removable shoulder straps to help with dressing. Detaching the straps from the front of the camisole allows you to easily step inside and pull up the garment which is ideal for women with limited mobility.
Padded Adjustable Straps
To eliminate painful digging in and provide additional support, some mastectomy camisoles feature padded adjustable straps. This design feature helps to distribute the weight of remaining breast tissue and breast forms (if you are permitted to wear them) and allow you to create a custom fit.
Soft Material
Incision sites and skin can be tender and sensitive after surgery, so it is important to avoid further irritating the area to prevent inflammation and infection. Mastectomy camisoles are constructed from lightweight breathable materials such as cotton microfiber with added stretch fabrics such as spandex or elastane to feel gently on your skin and encourage optimal air flow around the surgical site to promote healing.
Types of Post-Surgical Camisole
At MastectomyShop.com, we have a range of post-surgical camisoles to suit your health and style needs. Some of our favorite styles include: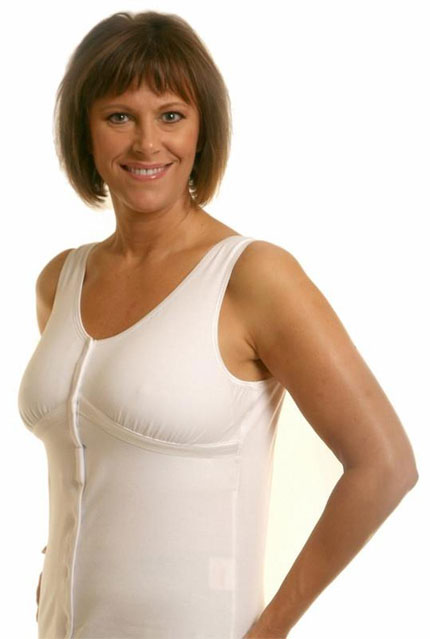 The Dawn Post-Surgical camisole has a Velcro closure with a comfort pad to avoid irritation to the chest and most significant from "no pill" brushed cotton for the best comfort. It also features a hidden shelf bra with interior pockets allowing you to wear it with or without breast forms.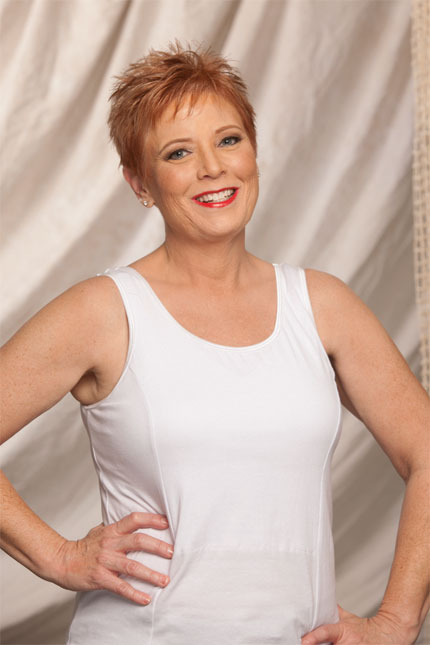 Rather than closures or removable straps, the Nearly Me Post Op camisole features a wide elasticized neckline which allows you to easily step in and out of the garment. The built-in shelf bra has bilateral pockets for breast forms and attaches to a hidden pouch for drainage bags and tubes.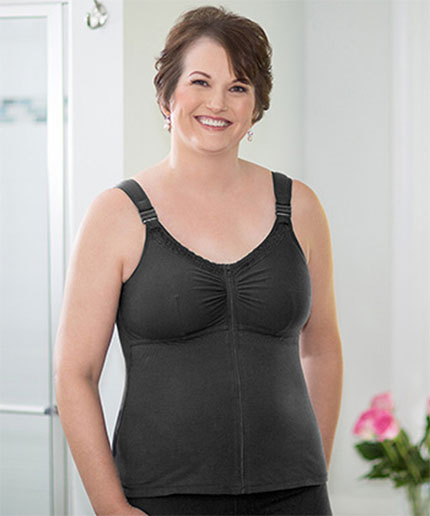 The ABC Post-Surgical Camisole features a front zippered closure as well as removable shoulder clasp straps for easy dressing. It also comes with two removable pouches for holding drainage bags that fasten with Velcro patches and are secure to an interior elastic band. As a bonus, each ABC camisole comes with two lightweight puff breast forms to give your body shape and balance after surgery.
Final Thoughts
To make your recovery more comfortable, try a mastectomy camisole from MastectomyShop.com. Call us on (877)-912-0775 to talk to our experienced staff about which post-surgical camisole is right for your needs.