Amoena bras offer women who have undergone a mastectomy or other breast surgery the opportunity to wear underwear that is supportive, comfortable, and stylish. If you're exploring the brand's range for the first time, you will be delighted to discover the variety of styles they have available: there's something for everyone.
However, you may be wondering what features you should look for in your Amoena mastectomy bras.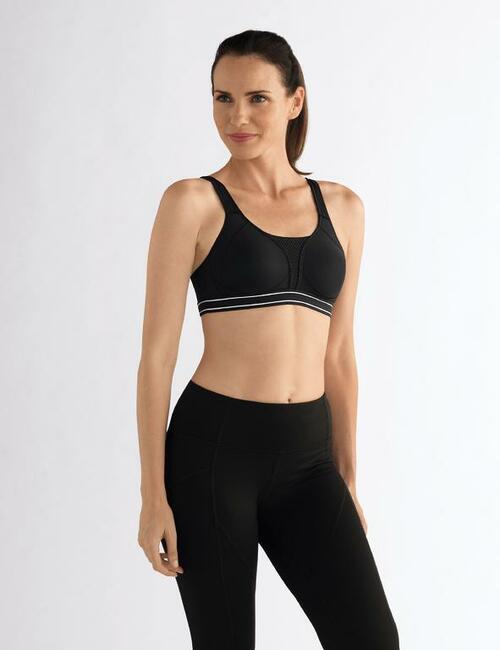 Support is Critical
Whatever style or brand of bra you are shopping for, support should always be high on your list of necessary features. The level of support you need depends on several factors and circumstances, such as what you will be doing while wearing your Amoena bra. The Amoena brand has an impressive range of supportive mastectomy bras in different styles and other feminine accessories for sale.
If you are starting an exercise routine after breast surgery, you need a high-impact bra, such as the Amoena Sports Performance Mastectomy Bra, to ensure comfort while being active. The plush backing wicks away moisture, and the 3-way closure and adjustable straps enable you to find the perfect fit for your body.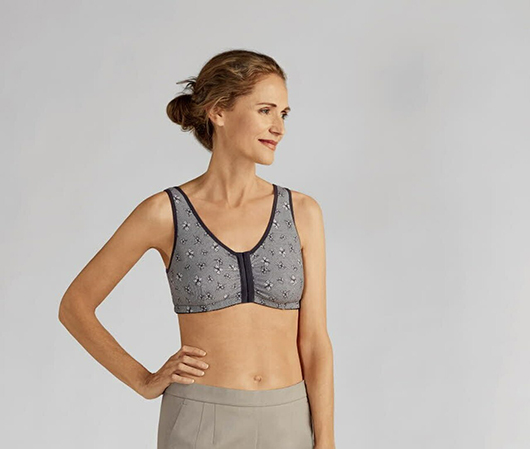 After undergoing breast surgery, on the other hand, you should look for a bra that offers gentle support without irritating the chest wall or incision site. The Amoena Frances Leisure/Recovery Care Front Closure Mastectomy Bra is the ideal choice after breast cancer surgery. The front fastening allows you to put this surgical bra on and off even while your range of movement is limited while the ultra-soft cotton pockets are delicate against the skin. This supportive yet comfortable bra is available in a range of colors, including black, white, nude, blue, and aqua.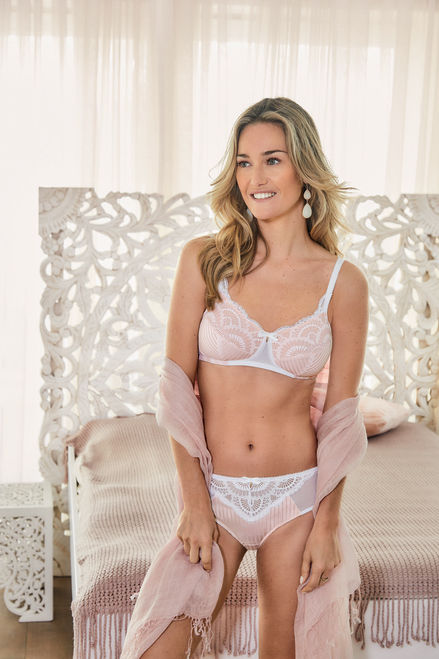 Style is Important
A bra can do many things; as well as being functional, providing support and comfort, a bra can make you feel beautiful and sexy. A bra with pretty details like lace can be fun to wear and fun to shop for. Amoena has a selection of attractive bras in varying colors, so you always find the right one to go with your outfit.
The Amoena Karolina Wire-Free Bra has a stunning fan motif designed with delicate curves of luxurious lace in a pretty shade of pink and white. Not only are the three-part cut and sewn bra cups gorgeous to look at, but they also offer fantastic support, exceptional fit, and thanks to their wire-free style and seal hook and eye closure that's soft to the touch, it is an extremely comfortable bra.
The chic Amoena Karolina Bra also comes with matching panties; this set is definitely one for your clothing wish list! Feeling confident in the way you look is an important part of many women's wellness journeys, and a special bra can help make you feel full of life. Pair this Amoena set with your favorite silver jewelry and a new haircut or wig for maximum confidence.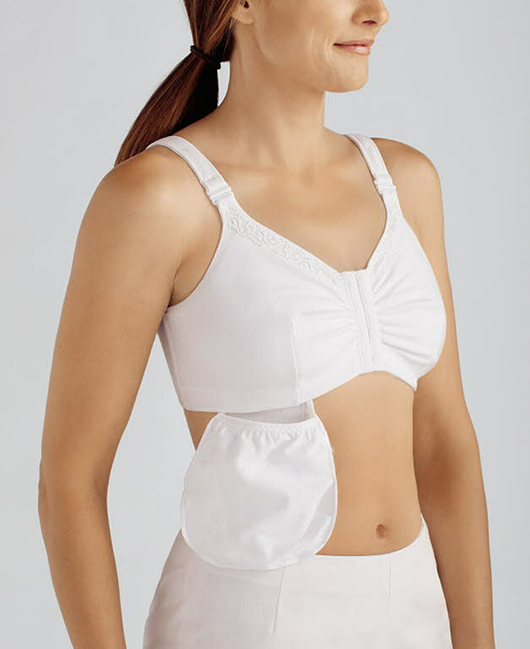 Functionality is Essential
A bra needs to do many things, depending on how you wish to wear it, and Amoena mastectomy bras offer a versatile range of functions. They offer front-fastening bras that are super easy to slip on and off, while others, such as the Amoena Hannah Wire-Free Mastectomy Bra, have discreet removal drain pouches for easy post-surgical wound dressing.
One of the most functional features of Amoena bras is the internal bilateral pockets. Amoena's pocketed bras allow women to wear fashionable, comfortable bras that flatter their natural shape while keeping their breast form securely in place. This design means you can go about your day feeling confident and looking fantastic.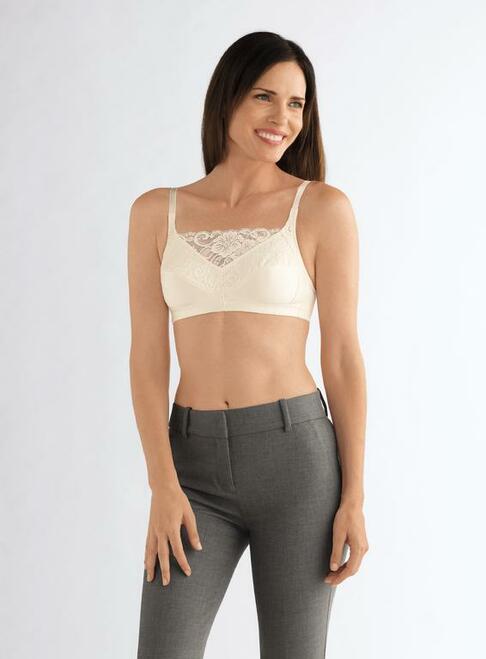 While some women don't mind wearing lower necklines with any of Amoena's pocketed bras, others, such as those with high scarring, prefer the brand's highly functional range of camisole bras, such as Amoena Isabel Wire-Free Bra. The bra's pretty lace insert easily disguises scarring while looking pretty under low-cut clothing. For sale in black, white, and candlelight, this versatile bra is a brand standout addition to your wardrobe.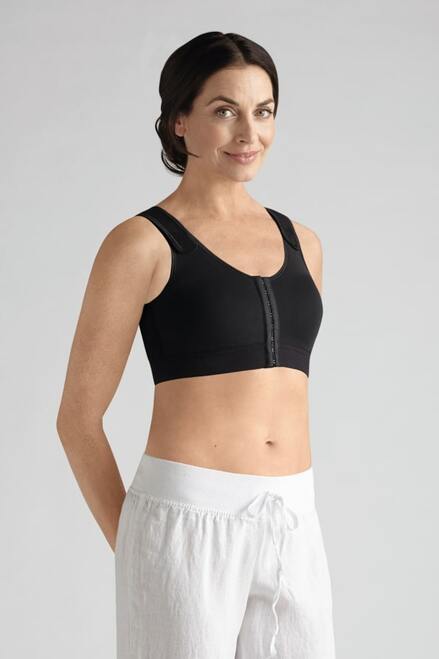 Depending on your circumstances, your mastectomy bra should have different functions. For instance, you need a different bra if you've had a recurrence of cancer and require further surgery or radiation therapy, or you are suffering from lymphedema.
If you have lymphedema, you should talk to your doctor about the benefits of compression bras such as the Amoena Sarah Recovery Wear and Compression Bra, which can be worn with or without an Amoena Compression belt. The broad, velcro straps and flat seams reduce irritation and discomfort, making this model the ideal lymphedema or surgical bra.
Versatility is Key
If you've ever struggled to find a bra to wear with a strapless dress, a one-shoulder top, or even a form-fitting t-shirt that can't disguise seams, you know that versatility is a huge plus when it comes to bras. Every woman needs at least one bra that can be worn on days you want to wear those tricky items of clothing.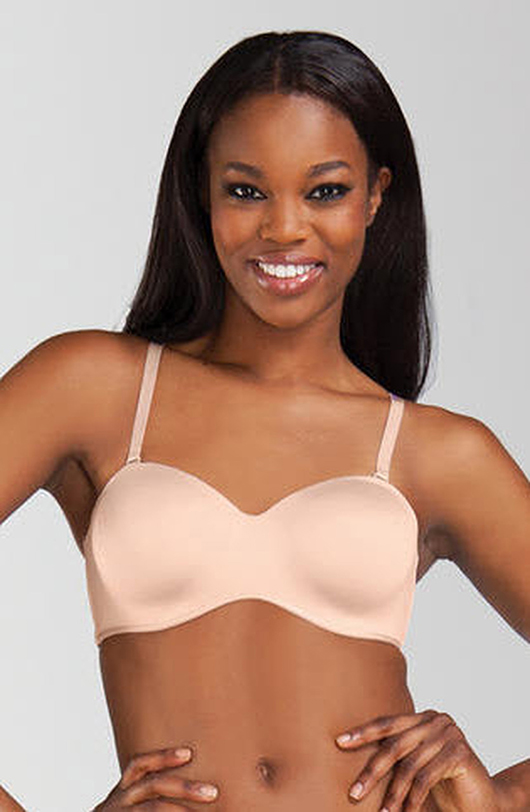 The nude Amoena Barbara Molded Cup Underwire with Convertible Straps Bra offers a fantastic level of versatility. This multi-functional piece of lingerie can be worn in numerous ways: strapless, with straight straps, crisscross straps, or in a halter neck style. It comes with an extra pair of clear straps so you can wear a strapless top even if you feel you need the support of bra straps.
Unlike many convertible bras, which often struggle to offer support to women with larger cup sizes, the Amoena Barbara has several features, such as the soft silicone details that keep the bra firmly in place. In addition, the versatile elastic straps are wide enough to offer secure support for the wearer; they sit comfortably on your shoulders and can be adjusted to the exact size you need.
The molded foam bra cups create a seamless silhouette, meaning it can be worn under close-fitting clothes such as t-shirts without lumping seams. As well as being pretty against any skin tone, the nude color of the Amoena Barbara means you can wear it under light-colored clothing without issue.
The Joy of Shopping for Amoena Bras
Shopping for a mastectomy bra with a brand like Amoena can be a fun, empowering experience. While you may have struggled to find bras you love and that offer you everything you need elsewhere, Amoena's wide selection of underwear, from pretty pieces to practical sports bras, are sure to suit you.
For more stylish, versatile, functional, and comfortable bras, check out the wide range of Amoena bras and other mastectomy products, including swimwear and breast forms. Explore mastectomyshop.com or call us for more information about styles and to place your order today.