Getting back in the water can be beneficial and therapeutic for women who have undergone breast cancer surgery. Swimming is a gentle yet effective exercise that is beneficial to both the body and mind.
Many women who have not experienced breast surgery already feel self-conscious when shopping for swimwear and those feelings can become intensified for those women who have. Mastectomy swimsuits are designed for breast cancer survivors and come in many fashionable colors and styles. Knowing what to look for prior to purchasing can help you choose the best swimsuit for you.
Know the Basics
Mastectomy swimsuits are designed to support women who have undergone breast cancer surgery such as mastectomy or lumpectomy. They are often designed with a high neckline which helps to cover any scars.
Adjustable straps make it easy to adjust your swimsuit as needed throughout your recovery. Mix and match tops and bottoms make it easy to choose pieces that you will feel comfortable in.
Chlorine resistant fabrics help to ensure the longevity of the fabric of your suit. All these features are important to look for when searching for the perfect mastectomy swimsuit.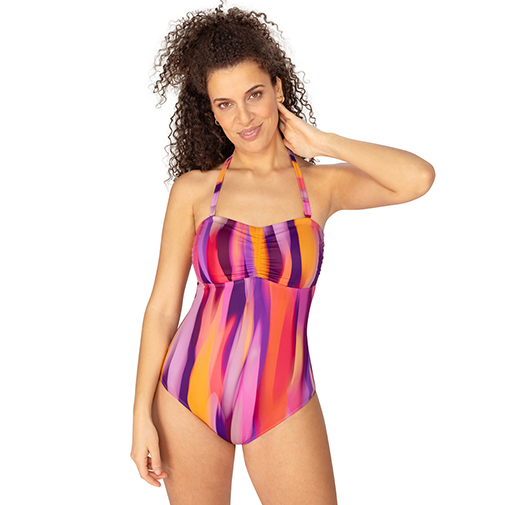 Suits for Breast Forms
Following breast cancer surgery, many women choose to wear breast forms as opposed to getting breast reconstruction surgery. While not many breast forms are waterproof or chlorine resistant, swim forms are available for women who want to wear them.
Swim forms are often made from lightweight silicone and can be safely worn in the pool and ocean. Mastectomy swimsuits are designed with pockets sewn into the cups to keep your breast forms secure while swimming.
Shop for Comfort
Finding the perfect post-mastectomy swimsuit can feel overwhelming, but feeling comfortable and confident and your bathing suit is most important. You will want to try on several suits, if possible, before choosing a suit that is right for you. Comfortable suits feature seamless and soft fabrics that won't pull or irritate your incision site. High neck and armholes can help give you full coverage and to protect the incision sites and scarring as well.
Work with a Certified Fitter
Board-certified mastectomy fitters are trained professionals in the area of post-mastectomy items such as bras and swimsuits. They can take accurate measurements and assess your surgical areas to make a recommendation that matches your personality and lifestyle. In addition to ensuring you find the perfect fit when it comes to post-mastectomy swimwear, your certified fitter can address any questions or concerns you might have in the process.
Choose Your Style
Whether you prefer vibrant colors and floral patterns, or you would prefer a simple monochrome bathing suit, there are a wide variety of styles and colors to fit every woman's needs. Patterns can sometimes provide a slimming effect, while a one-piece swimsuit can provide maximum coverage. Each woman has a different style preference and should choose a swimsuit that makes her feel comfortable and confident in her body.
Final Thoughts
Swimming is a great way for women to get active again following breast cancer surgery. Speak with your doctor prior to beginning any physical activity, but swimming is a moderate exercise that can usually be started shortly after the recommended healing time frame. Mastectomyshop.com strives to ensure that each woman has an enjoyable experience when shopping for swimwear, and we are happy to answer any questions or concerns you might have.