The days, weeks, and months following breast surgery are a crucial time for wearing the right bra to ensure a healthy recovery. It can also be confusing, so knowing the best bra for your body can help ease the burden and get you back to being yourself sooner.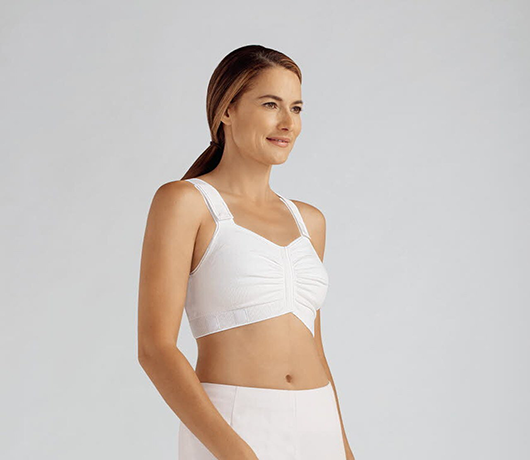 Following a mastectomy or breast augmentation surgery, you'll need to wear a bra for comfort along with support and functionality. Recovery bras are made specifically for you during this healing time and come in various bra sizes, but it's essential to seek the best fit possible.
You can find these recovery bras on your own or, better yet, seek the help of a certified bra fitter to ensure you are wearing the best option for your breasts. Whichever way you choose, here are key things to look for in a breast surgery recovery bra.
Comfort
Comfort is crucial as your chest wall and breasts are sensitive as they heal. Search for a post breast surgery bra made of a soft, smooth material. This not only provides a gentle touch but also protects your sensitive skin, including incisions, scar tissue, and radiation burns.
Besides the fabric, look for soft seams and a wide underband that is not too tight. It is also recommended that you don't wear an underwire bra as they poke at your skin and lead to discomfort. The Amoena Frances Mastectomy Bra is an outstanding example of a bra that provides pure comfort with its high cotton fabric offering a soft layer against sensitive skin. It's so comfortable you will even want to sleep in it.
Support
Following breast cancer surgery, you need different support. While underwire bras or a sports bra typically offer the most supportive structure, they should not be used after surgery as they can damage the incision site and irritate your chest wall. Instead, opt for a special wireless bra with gentle support. For this, look for bras with less structure, including non-foam cups.
A key component of recovery is wearing bras that provide the right kind of support. This includes the right bra cup size and band size for your body. Measure precisely, or ask a friend to help. A certified bra fitter can also be found at specialty stores, and some even do virtual online fittings to make it easier for you.
Your post-surgical bra should come with fully adjustable straps so you can fit the bra to your body more precisely. It's also a good idea to keep in mind that you may experience swelling immediately after surgery. This can affect your bra's fit and support initially and needs to be adjusted as that swelling subsides.
Look for recovery bras with wide underbands, as this feature provides most of the support in a bra.
Functionality
Your breast surgery bra is meant to be a healing aid in your recovery phase. Start with a bra with front closing hooks. Following surgery, your range of motion will be limited, and a front closing bra can ease the movement required to get dressed each day.
These post-surgical bras also come with pockets sewn into the cups to hold breast prostheses. While you may not need these at first, they may be an option down the road to create a natural, balanced appearance. If so, you will want to secure these breast forms without worry when wearing them.
Besides pocketed bras, many recovery bras come with removable drain pouches for those who need them. The Amoena Hannah Wire-Free Mastectomy Bra is made of ultra-soft fabric with cotton pockets, a front closure, and two removable drain pouches, so you have everything you need in one bra.
You may also receive instructions to wear compression garments following your surgery. Post breast surgery compression bras assist with reducing fluid retention, minimizing your risk of developing lymphedema. They also help decrease inflammation, increase circulation, and protect against infection at the incision site.
Compression bras also help prevent breast implants from swelling or shifting following plastic surgery as well. This allows for healing as the bra smoothly and comfortably adheres to your new shape.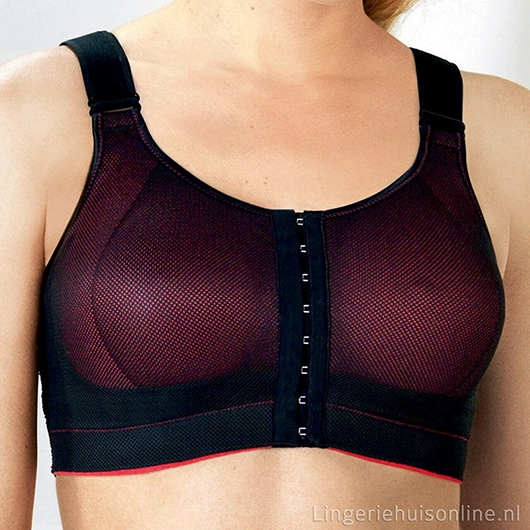 Be sure, however, to follow your doctor's recommendations when it comes to wearing any type of compression garment. If recommended, the Anita Initial Post-Operative/Compression Bra is an excellent choice. Made of a breathable material to keep you dry and avoid extra skin irritation, it also promotes healing with its compression properties.
With all you go through during breast cancer surgery, taking care of yourself and facilitating your healing can do wonders for your health and confidence. Following your doctor and plastic surgeon's advice along with wearing the best post-surgery recovery bra can set you on the right track for faster healing and getting back to life your way.
Visit Mastectomyshop.com for Your Breast Surgery Recovery Bra
To get started on your recovery journey, browse our online shop and call (877) 413-2272 to ask our compassionate staff any questions you may have. We provide a full line of post-mastectomy products, catering to all your needs following breast surgery.