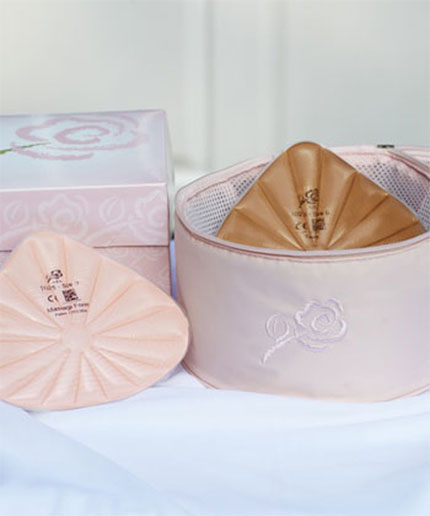 The battle with breast cancer and the subsequent surgeries and treatments can leave many women with low confidence and poor self-esteem. Self-care is an important part of regaining mental and physical wellbeing, and one of the ways that many healthcare professionals recommend is by using a breast prosthesis and a mastectomy bra.
For decades, American Breast Care has been one of the leading brands providing breast cancer survivors with high-quality mastectomy products and intimate apparel. Here are some of the amazing ABC prosthesis and bras available.
ABC Breast Prostheses
ABC Massage Form Classic Air Silicone Prosthesis
For the most natural looking shape without the weight of traditional silicone, the Classic Air offers a lightweight alternative that is constructed from aerated silicone inside a lightweight silicone shell.
This prosthesis is 45% lighter than standard silicone breast prostheses and features a unique modified triangle shape that contours to the body and provides more coverage along the chest wall to securely hold. This specialized shape offers women a shallow to average profile while still providing optimal symmetry.
The ABC Massage Form Classic Air also features a ribbed backing for air circulation to prevent skin irritation and comes in 12 sizes.
ABC Apex Silicone Shapers
In cases when a full mastectomy was unnecessary, and only a partial or lumpectomy was performed, you may still have some remaining breast tissue but lack the volume or definition you desire. ABC's range of partial forms and shapers lift and shape the remaining breast tissue and add volume to natural breast tissue areas affected by surgery. This partial form will help you feel good post mastectomy.
ABC Apex shapers are made from lightweight silicone and fit perfectly inside your ABC mastectomy bra. They come in a range of shapes including round, triangle and asymmetrical shapes which extend under the arm. These prosthesis fit perfectly with pocketed bras.
ABC Silicone Swim Forms
Learning to enjoy the activities that you used to love after surgery can be a big step to regaining your self-confidence. Many breast cancer patients find that resuming exercise can not only help them to heal mentally but also physically, and to get the most out your activities; you need the right type of breast forms.
While silicone forms can be used in water, swim forms a specifically designed to repel and resist extreme conditions for better longevity. The range of ABC swim forms are constructed from lightweight medical-grade silicone that is formed into a concave shape for better buoyancy and hold giving you a perfect fitting. They come in a range of shapes to suit your body type from oval to triangular for wider chest walls and feature ribbed backing to allow for water to run off easily and preventing suction.
ABC Mastectomy Bras
American Breast Care has created a full range of mastectomy bras to suit your needs from recovery through to everyday basics and intimate apparel.
Compression and Recovery Bras
ABC compression bras use gentle compression to aid healing and prevent health complications post-surgery, including lymphedema and infection. They feature full coverage cups, side and back panels with front closure for easy dressing and over the shoulder Velcro straps for easy access to drainage ports and wound dressings.
Leisure Bras
Following your recovery, you need bras that are soft and smooth and won't irritate surgical scars. ABC leisure bras are constructed from ultra-soft breathable cotton and often feature seamless construction for wearing under close fitting garments.
ABC leisure bras feature built-in bilateral pockets for holding leisure forms securely and are so comfortable you can use them as a sleep bra.
Mastectomy Bras
Unlike standard bras, ABC mastectomy bras offer many features to help you feel more comfortable and confident including pocketed cups for holding breast forms, wide adjustable straps for creating a more comfortable fit and wide side panels for disguising surgical scars.
ABC mastectomy bras come in a range of gorgeous feminine styles embellished with lace, beading, and scalloping to help you look and feel great.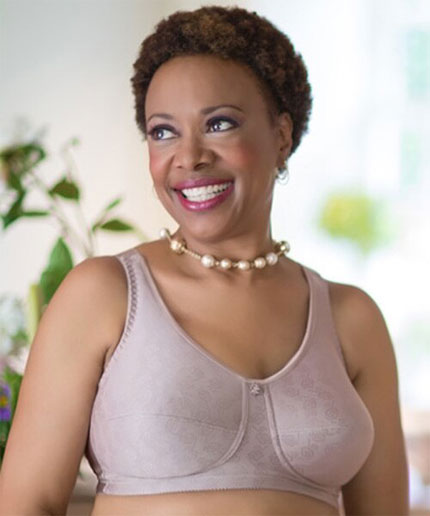 Final Thoughts
Building your self-confidence after mastectomy surgery can be a challenge but using American Breast Care breast prostheses and mastectomy sports bra from MastectomyShop.com can help you regain your self-image and enable you to enjoy all your favorite activities. MastectomyShop.com offers a wide variety of post-mastectomy products to ensure complete comfortability, visit us today!