A post-surgical bra can help you heal if you've recently undergone a procedure for breast cancer treatment. Post-op bras provide comfort and support, allow you to access the wound site easily, and should be aesthetically pleasing.
Healing is not fast, nor is it easy, but you're up to the challenge. With tools like the right post-surgical bra, you can greatly improve your results after an operation and reduce your discomfort. Here are some other elements to keep in mind while you're shopping around for your new bra.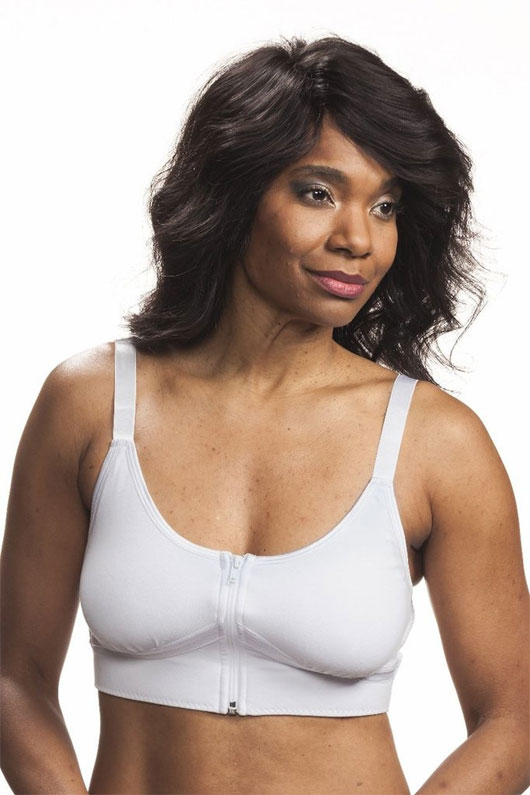 Compression
Most post-surgical bras have some element of compression, like the Allyson Post Surgical Bra by Wear Ease, to hold the tender areas of your body still so that optimal healing can occur.
With controlled compression of the scar tissue, movement is limited, and your new scars will heal properly and thoroughly. These bras also reduce post-op swelling and soreness by holding your remaining breast tissue close to your chest wall.
Another excellent benefit of compression bras is that they stimulate the blood flow so that, during the healing process, you don't suffer from lymphedema or infection. Increased blood flow also allows for quicker healing.
Although a compression bra may look a little like a sports bra, it is designed with healing in mind. With targeted compression, these post-op bras can help you heal quickly and with lesser scars.
Access to Wound Site
After a procedure, you need to tend to the incision areas carefully, and your new post-op bra can help you access these areas in a comfortable manner.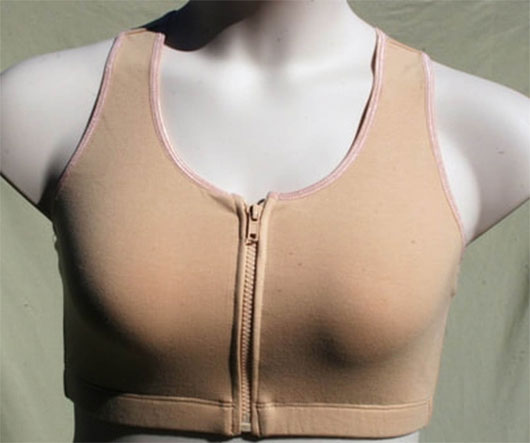 Many post-op bras, like Luisaluisa Zipper Front for Light Compression, have a front zipper to allow you to open and close the bra quickly.
Wounds from surgeries need tending, and you shouldn't have to struggle with your bra whenever you need to change your bandage or check your incisions. Taking a bra off over your head can stretch or even pop your stitches.
Some post-op bras with front closures have pockets for breast forms if you haven't opted for breast reconstruction. It will help you breathe easier, knowing that tending to your sore spots will not be a huge ordeal.
Adjustable and Padded Straps
Bodies change over time, and surgery makes your body change even more quickly. One of the primo details of post-op bras is their ability to adjust to your needs.
When you are just starting your recovery process, you may need to have a lot of compression to limit movement and reduce swelling. As you heal, you will be able to move faster and with a more extensive range of motion.
Your bra should adjust to your new abilities, and adjustable straps are vital to this transition. Most post-operative bras have adjustable straps that allow the wearer to tailor the bra to their needs, no matter their bra size.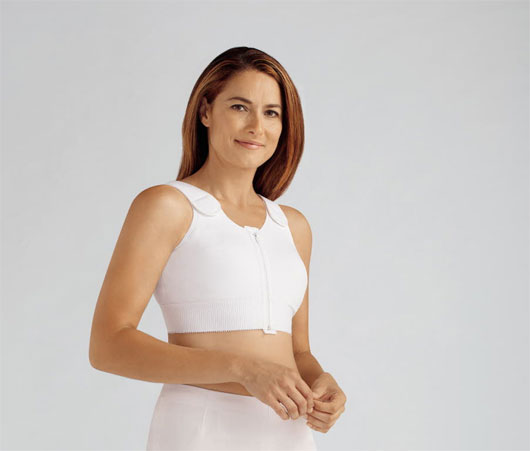 Another intrinsically designed feature of many post-op bras – like the Amoena Patricia Light Compression Vest – is padded straps. When your body has been through a lot, you may become more sensitive in areas that weren't particularly sore or irritated before. Padded straps help mitigate the pressure on your shoulders and reduce irritation.
A key feature on many post-operative bras, adjustable, padded straps provide support and comfortable stability.
Wire-Free is Best
Most medical personnel strongly suggest a compression bra directly after surgery, and they would follow that with the suggestion that you procure a wire-free bra for your post-op needs.
Underwires can dig into tender areas and cause damage at incision sites. Look for a bra that provides the comfort and stability you need, without an underwire. Many post-op bras feature a wide elastic band under the bra cups that provide as much support as an underwire would.
Comfort is Key
After an ordeal like a serious surgery, you want to be comfortable. More than that, you need to be comfortable. Post-op bras are designed for support and safety, but they are also intended to be the most comfortable bras for post-operative clients.
Some of the details that aid this high level of comfort is super-soft cotton. More than any other fabric, cotton is the most breathable by far.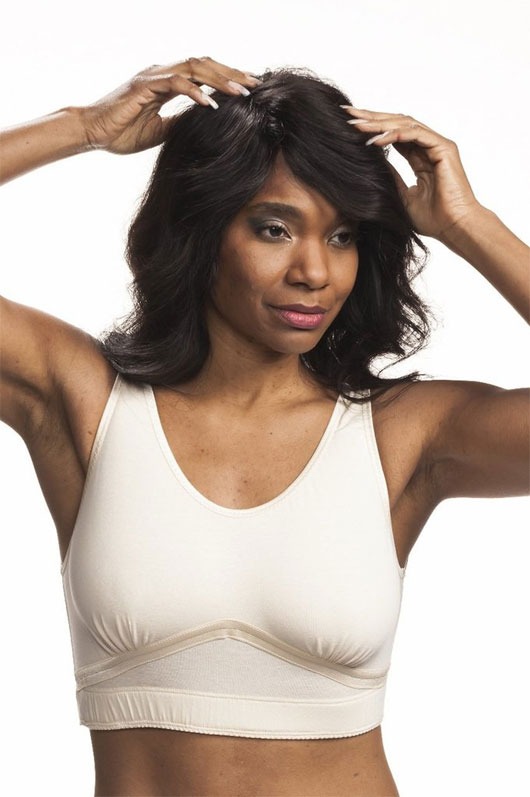 When you're healing, your body is working hard and can get overheated easily. To stave off internal temperature variations, post-op bras, like the Dawn Post Surgical by Wear Ease, are made out of super-soft, breathable cotton (with polyester and spandex) to keep you fresh.
Along with cotton, many post-op bras are made with polyester and spandex to give them the maximum capacity to stretch. It's a delicate balance between stability and the comfort provided by a super-stretchy garment.
Blending practicality and comfort, some bras sport cotton cups for soft breathability with straps that are made of more elastic material. The combination of both cotton and elasticity increases your satisfaction by providing the stretch you need with the cotton feel you love.
Style is Important
It can be challenging to find yourself after a stressful episode like surgery. With all the attention given to your body's comfort, you have probably had little time to think about style. Post-op bras provide stability, support, and breathability, but they also can be stylish.
There's a misconception that post-op bras are uncomfortable and unsexy. This couldn't be further from the truth. These days, you can find a range of beautiful post-op bras that give you the streamlined contouring you crave while also providing the support that your body needs.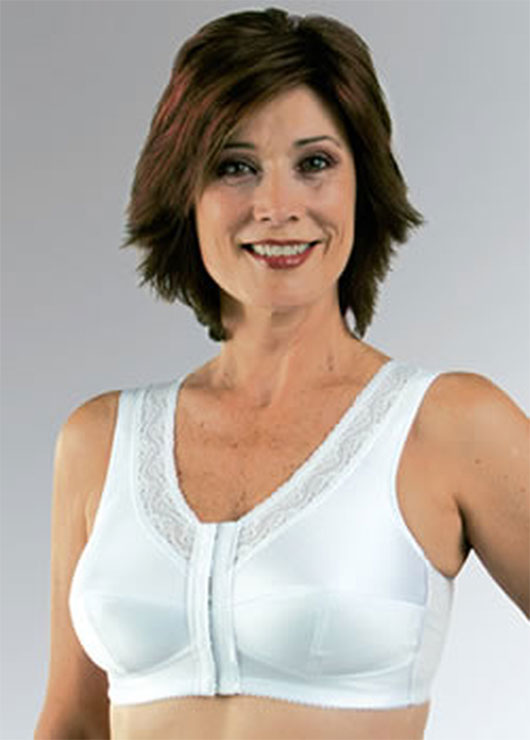 The Classique Leisure Bra is just such a post-op bra. With pockets for breast forms, a front closure, and superior breathability, this bra hits all the right notes for your recovery. It also includes adorable detailing like lace on the extra-wide straps. You don't have to sacrifice style over comfort.
With elegant contours and specific detailing, the right post-op bra can make you feel like yourself again. Most post-op bras come in a variety of colors with some well-placed stylish details. There's no reason you need to sacrifice style for function; you can have both with the right post-op bra.
Final Thoughts
As you heal, you deserve comfort, support, and style that an excellent post-op bra can offer. At Mastectomyshop.com, we provide expertise and fantastic customer service. Our post-op bras have your lifestyle in mind.
Recovery is a process that you should take day by day. It's a difficult transition for many women. Luckily, finding the right post-op bra is not. At Mastectomyshop.com, we have all your post-op needs covered – from breathability, versatility, support, and style.
Whether you need extra support, more versatility, or brilliant contours, we can provide you with what you need in your recovery. Call us today at (877)-413-2272 for more information about our products, browse our inventory online and explore our blog for more post-op tips.