Having the right bra after you have breast surgery can aid in the healing process and enable you to recover in better comfort. When the surgery site is still sore, you need a bra that's easy to take on and off so you can access your wound area easily. You also need a bra that minimizes breast movement, has soft seams and is adjustable.
If you're healing from breast enlargement or reduction, there are some questions to consider when looking for the right post-op bra.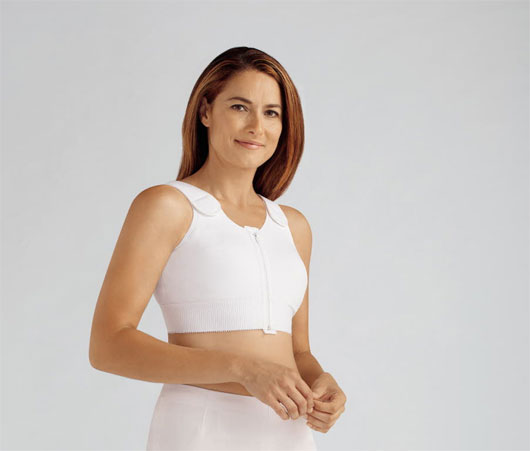 Why Wear A Special Post-Op Bra?
A post-op bra is necessary for your healing process. The right kind of bra helps you feel good about yourself and also facilitates healing.
Unlike your regular bra, post-op bras are softer and do not have underwires which reduces irritation to surgical sites. They also offer easy access features including Velcro straps and front closures that allow for easy dressing for patients who have limited mobility.
Post-surgical bras also prevent potential health complications such as lymphedema which can cause excessive swelling and increase your risk of infection.
Who Needs a Post-Op Bra
Not every patient has the same post-surgical needs, and these needs will change throughout the recovery period. A good post-op bra will have options and be able to adapt to the patient's needs.
For women who have undergone a breast enlargement the Allyson Post-surgical bra by Wear Ease is made from a special blend of cotton and spandex to adapt to the contours of your new body. It also features adjustable straps for a custom fit and soft, wide bands for added support.
Another popular post up bra, the Beth Post-Surgical Camisole by Wear Ease, comes in a convenient camisole style, is adaptable for breast forms and drainage ports, and has soft seams and a front closure.
Features of Effective Post-Op Bras
Compression – Compression bras are excellent for post-operative patients because these bras hold the sensitive tissue and implants close to your torso, minimizing the amount of movement and irritation and preventing implant dislocation. A compression bra features targeted support areas designed to improve blood and lymph flow to reduce the risk of lymphedema.

Soft seams –Your post-op bra should have soft seams so as not to exacerbate painful areas. These specially designed surgical bras have a wide under-panel that stabilizes your entire torso, and they do not include an underwire, which can be painful to wear post-surgery.

Adjustable fit – Post-surgery, there will be some initial swelling which can take up to three months to subside. It's crucial to your comfort and recovery that you can adjust your post-op bra after breast augmentation or reduction.

No-pill cotton – Successful post-surgery bras have high cotton content, which is more breathable than other fabrics. You may experience hot flashes or internal temperature variations after breast surgery, so a bra that lets you cool down quickly is essential.
Front closures – These allow you to take your bra on and off without having to raise your arms overhead, which is critical for limiting your movement to accelerate healing.
Strap padding – Some post-op bras also include comfort features like strap padding. Padding not only improves the comfort of the straps but can help to distribute the weight of your breasts more evenly across your shoulders and prevent the straps from slipping.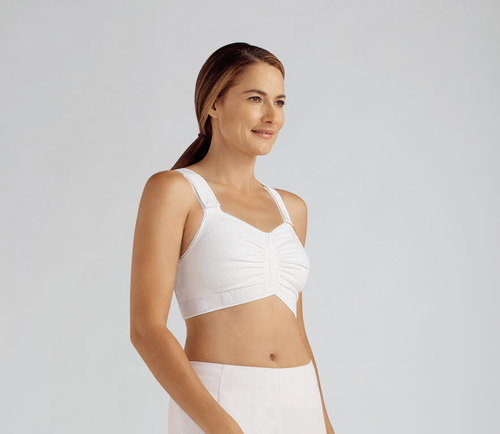 Final Thoughts
Having breast reduction or enlargement involves a recovery process that isn't always easy. Finding a fabulous post-surgery bra that is comfortable, breathable, and adaptable is easy with Mastectomyshop.com.
At Mastectomyshop.com, we understand the sensitive nature and specific expectations of our clientele. We offer a wide range of solutions for your post-operative needs. Call us today at (877)-413-2272 to begin the healing process.