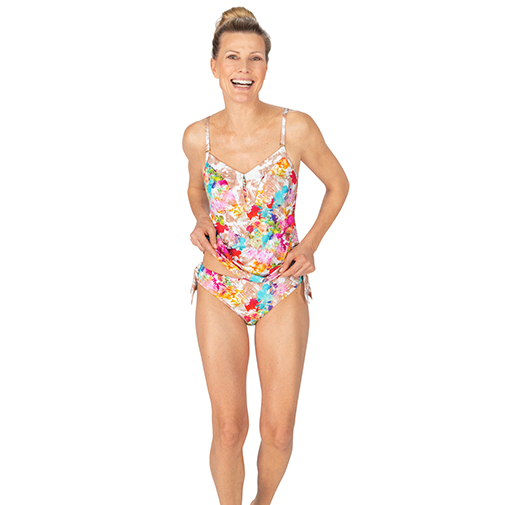 While many women dare to bare at the beach or pool, others prefer a little extra coverage to help them feel more confident in the water. Many women's mastectomy swimwear brands offer modest swimsuits and separates, ideal for breast surgery patients who want additional coverage over their backside and thighs or to securely hold breast prostheses.
But dressing modestly for the beach doesn't mean you can't also feel feminine. Explore these stunning modest mastectomy swimsuits that ensure you feel gorgeous and glamorous, whether splashing in the waves or soaking up the sunshine.
Types of Mastectomy Swimwear
When choosing mastectomy swimwear, there's a diverse range of products and styles to pick from at Mastectomyshop.com. However, it is crucial to understand the features to look for in each popular mastectomy swimwear style so you can make an informed decision when you're ready to shop.
Swim Tops
There are a number of comfortable and protective swim tops available, each style offering a different level of coverage. You'll first want to decide whether you prefer a one or two-piece swimsuit.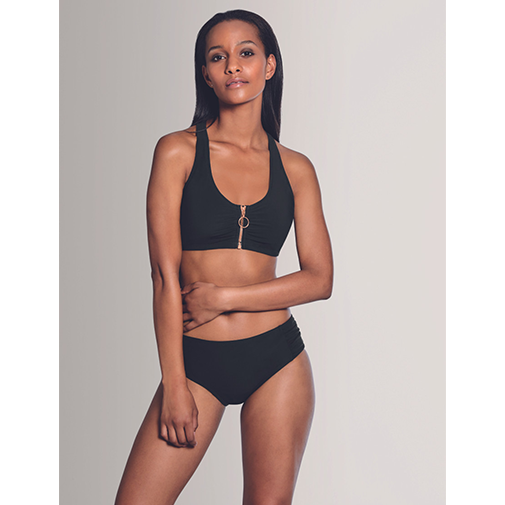 Standard bikini tops offer minimal coverage, but you can find models with full cups and wide back panels like the Amoena Dubai Wire-Free Mastectomy Swim Top that provides similar coverage to a one-piece - especially when paired with high-waisted bikini bottoms.
Tankini tops offer better coverage for your midriff and back. Tankini tops typically fall to your hips, softly draping across your stomach. Many women find tankinis preferable after breast cancer surgery. Many styles feature ruffles and tactical color blocking that naturally slim the figure without drawing excess attention to the surgical site.
It is essential to look for swimsuits, bikinis, and tankinis that feature internal pockets. Pockets sewn into cups securely hold breast forms and prevent them from slipping while you are in the water. They also create a protective barrier between the breast form and your chest wall to avoid skin irritation.
Swim Bottoms
The swim bottoms you choose may not directly impact your surgical site, but they can still make a difference in your comfort and confidence.
If you're opting for a standard bikini bottom, look for a style with a wide, soft waistband and comfortable, seamless fabric. This ensures it won't roll or dig into your skin.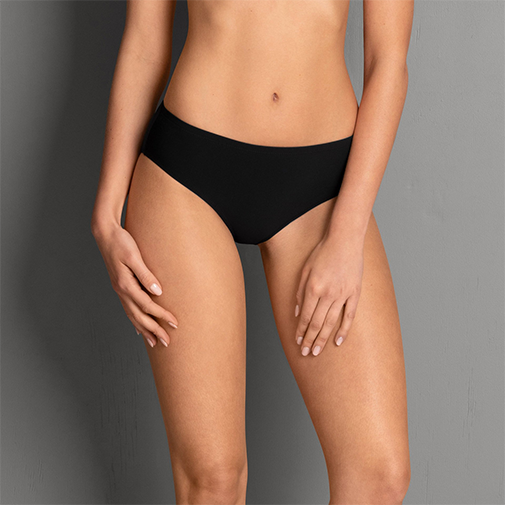 For additional shaping around your midsection, choose mid to high-waisted swim bottoms that feature slimming panels or side ruching like the Anita Comfort Mix and Match Swim Bottoms. These features create the illusion of a flat stomach and gently curved hips.
Swim Dresses and Sarongs
A swim dress or sarong is a great way to reconnect to your femininity and show off your unique style while ensuring maximum coverage for your thighs and rear while also providing surgical site protection.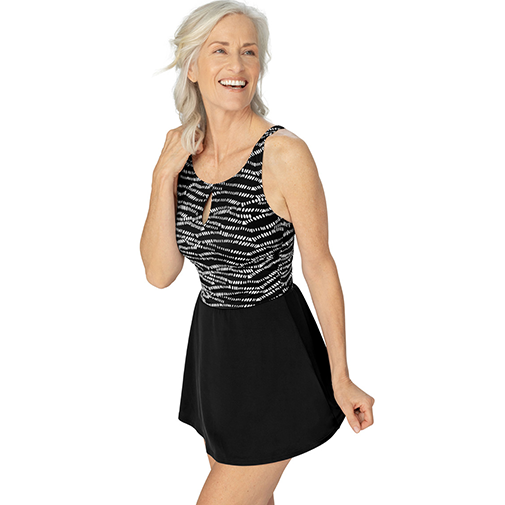 Swim dresses generally come in a huge range of colors, patterns, and cuts, so it's easy to find a style that feels like you. If you want a luxe look, opt for the Amoena Reflection Mastectomy Swimdress, which features a chain print design in monochrome. A princess-cut swim dress with a flared skirt can work wonders for a slimmer waistline.
Great for lounging and swimming, most post-surgery swim dresses and sarongs also feature pockets for breast forms or enhancers.
Swim Shorts and Skirts
If you are looking for more coverage below the waist, a swim skirt or pair of swim shorts is a great option. The best mastectomy swim shorts and skirts feature a wide, stretchy waistband that slims your midsection and provides full bottom coverage that helps shape your natural curves.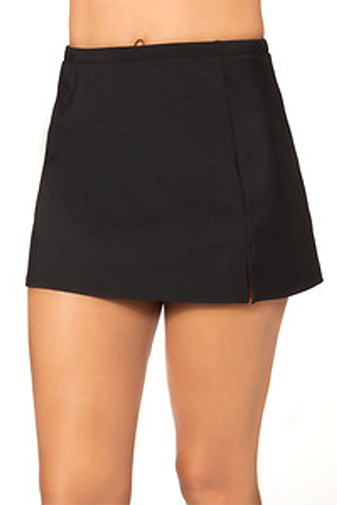 Many of these bottoms come in solid colors that are great for mixing and matching with your favorite tankini or bikini top. Try the Penbrooke Side Slit Skirted Brief. It features a tummy control panel and a streamlined design that won't balloon when you are in the water.
Maternity Swimwear
If you have a baby on board, you can still enjoy the ocean, pool, or lake. Maternity swimsuits are incredibly comfortable, typically made from durable nylon and elastane for stretchability. For extra comfort, look for a maternity swimsuit with a lined bust and wide supportive straps like the Anita Rongui Maternity Swimsuit.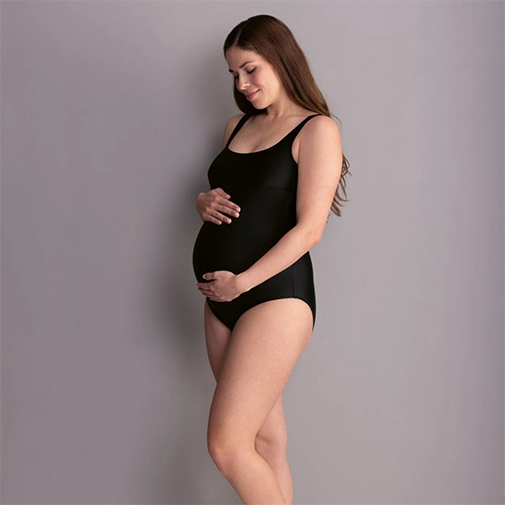 Swimming is incredibly beneficial when pregnant, as the buoyancy of the water can take some of the pressure off your lower back and baby bump. Pregnant women who swim regularly generally have better blood circulation and stronger core abdominal muscles.
Features of Mastectomy Swimwear
For the most part, the features to look for in a mastectomy bathing suit overlap with the features you need in a mastectomy bra after breast surgery. Learn about these features and how they specifically apply to post-mastectomy swimwear.
Fabric
Many mastectomy swimsuits are constructed with quick-drying fabrics resistant to salt water, chlorine, and UV rays. Look for high-performance fabrics like LYCRA XTRA LIFE and micro nylon.
Higher Neckline and Arm Holes
Tankini tops, swim dresses, and sarongs offer maximum total coverage, but certain mastectomy swimsuits also have higher necklines that help cover surgical scars or radiation burns. This extra coverage can protect women of all body types from harmful UV rays and sunburns. Many suits also feature higher armholes that ensure your surgical site is not exposed.
Pocketed Cups
Most mastectomy swimsuits (including many dresses and sarongs) come with pockets sewn into the cups that can keep breast prostheses secure while you're enjoying the water.
If you're a regular swimmer, investing in swim forms and prostheses designed for swimming may be worthwhile. Generally made of silicone, these forms come in various shapes, and most are chlorine and saltwater-resistant. They also feature a ribbed back to allow water to run off while providing optimal airflow to prevent the forms from suctioning to your chest wall.
Wide, Adjustable Straps
Like post-surgical bras, mastectomy swimsuits generally have wide supportive straps that can reduce the pressure on your shoulders, so you feel great when swimming. It is also helpful to look for straps that can adjust to your comfort level.
No Underwire
Underwires, which can irritate and potentially damage your sensitive surgical site, have no place in either mastectomy bras or swimsuits. When shopping, make sure you choose a wire-free bathing suit unless your doctor or surgeon has approved you to wear one.
Find Modest Mastectomy Swimwear You'll Love
At Mastectomyshop.com, we offer a huge selection of gorgeous modest mastectomy swimwear for breast surgery patients to help you feel comfortable and confident in and out of the water. Our collection includes pieces from trusted industry-leading brands Anita, Amoean, and T.H.E Collection. Explore the complete range today.