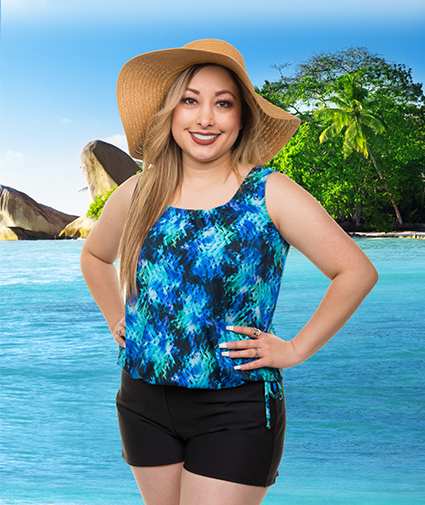 After breast cancer surgery, like a mastectomy, it can be helpful to build gentle exercise into your daily routine. Women of all ages are discovering the restorative power of swimming post-mastectomy.
Swimming is a great way to strengthen your core and the muscles in your chest, increase your range of motion, and prevent muscle atrophy. However, returning to the water after breast surgery can still be challenging. You may worry about coverage, protecting your surgical site, and feeling confident with your body image.
If you're considering swimming after a mastectomy, set yourself up for success with this guide to the best mastectomy swimwear for women of all ages.
Mastectomy Swimsuit Tops
Mastectomy-friendly swimwear looks just like traditional swimwear. However, mastectomy bathing suit tops are designed with specific features that women need after a mastectomy or other breast surgery, like wide straps, higher necklines, and front closures. Most mastectomy swim tops also come with prosthesis pockets that secure breast forms, partials, and shapers.
Here are a few of our favorite one and two piece suits.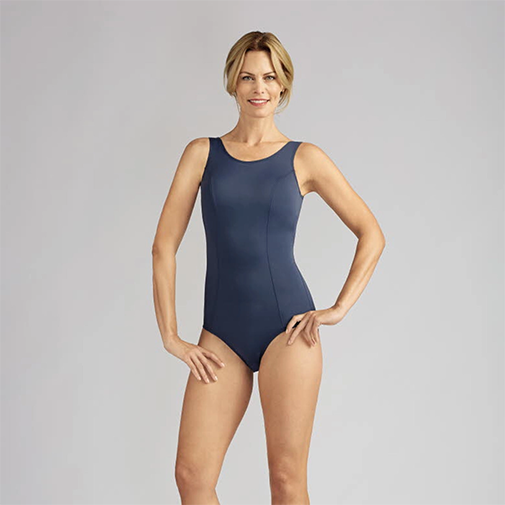 One Piece Swimsuits
One piece swimsuits offer more coverage than traditional bikinis, a great choice for women who want a more modest look that is still flattering and naturally slimming. The Amoena Rhodes One-Piece Swimsuit is streamlined and sporty in a tasteful dark blue.
Made with super soft cups and 100% chlorine-resistant fabric, you can enjoy the pool without worrying about damage from chemicals. The double seam in the front creates a natural paneling that slims the figure, and its wide straps help distribute pressure across your shoulders, making you feel comfortable in the water. Its high neck can also help cover any surgical scars and radiation burns that breast cancer survivors face.
The T.H.E. Collection Triple Tier One Piece may be more appropriate if you enjoy patterns and color. Its vibrant floral print is fun and eye-catching, and the tiered ruffling is stylish and naturally slimming.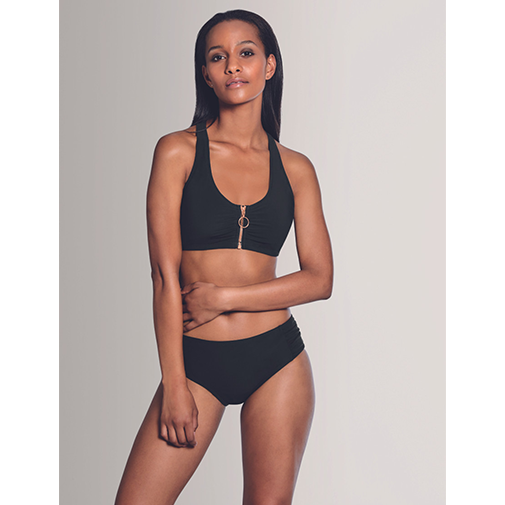 Two Piece Swimsuits
If you prefer a two piece suit, you can choose between a mastectomy bikini and mastectomy tankini. Most women prefer the extra coverage of a tankini after breast surgery. However, there are swim tops that have the same great features that provide less coverage, like the Amoena Dubai Wire Free Mastectomy Swim Top. Its zipper front closure makes the Amoena Dubai convenient to put on and take off while adding a bit of edge and interest to a traditional black suit.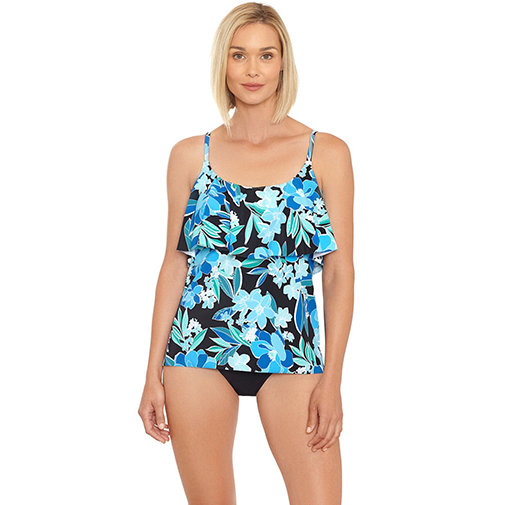 Tankinis are a great choice for women of all ages because of their extra coverage and because there are typically so many color and pattern options available. Floral prints, like the Penbrook Single Tier Tankini Mastectomy Swim Top pattern, are trendy now.
This tiered tankini top features a print of electric blue and teal flowers on a black background. The top falls gently underneath the hips, offering sun protection and tummy control. The single ruffle enhances your breast area, enhancing the curves of your natural silhouette.
Mastectomy Swimsuit Bottoms
Swimsuit tops are not the only way to keep you comfortable in the water. You can use mastectomy swim bottoms to enhance your silhouette and care for sensitive skin. If you're feeling confident and creative, mixing and matching different bottoms and tops is a great way to showcase your personal style.
Shorts
A relaxed pair of shorts, like the Jodee Swim Shorts, can be a great go-to on hot days, whether or not you plan to hit the water. These swim shorts are made with nylon and spandex for a durable, elastic feel and fit. Its color options (black, royal blue, and navy) pair well with tops in various colors or patterns.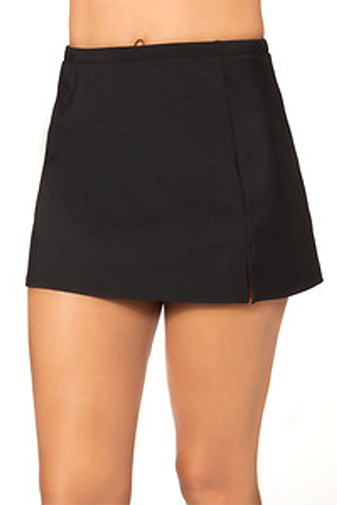 Skirts
The Penbrooke Side Slit Skirt has all the comfort of swim shorts with a little extra emphasis on enhancing your curves. This swim skirt was designed to create a natural hourglass silhouette, with tummy control that completely flattens your stomach and tapered coverage of your hips and thighs. Made of Nylon and Lycra Spandex, this skirt is a comfortable and easy option for coverage at the beach or by the pool.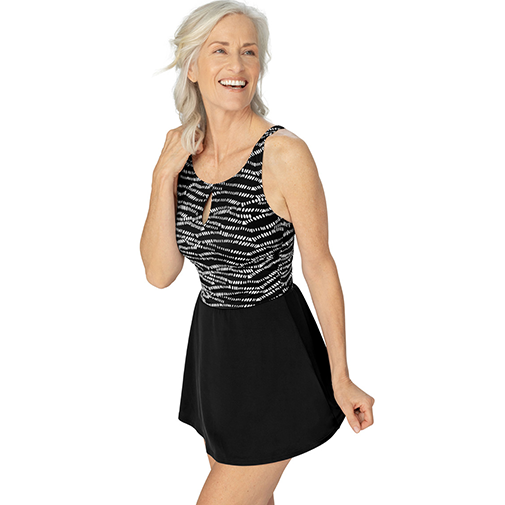 Swim Dresses
Women of all ages will love the fun, flirty energy of a mastectomy swim dress or swim sarong. The Amoena Reflection Mastectomy Swim Dress is as elegant as it is practical. The silver chain design looks upscale and luxe paired with the tasteful black skirt, and the dress naturally cinches at the waist, slimming your silhouette.
Made from LYCRA® XTRA LIFE™ fabric that ensures shape retention and a long-lasting fit while remaining highly chlorine resistant. The fabric even offers UV protection 50+ that reduces your risk of an uncomfortable sunburn. The dress has a sophisticated and protective high neckline, adjustable straps, and an innovative seam that keeps breast inserts secure.
Find Great Mastectomy Swimwear at Mastectomyshop.com
At mastectomyshop.com, we have not only one of the widest selections of mastectomy swimwear but also post-surgical bras, compression garments, robes, and tops for women of all ages. Shop by category to find your new favorite outfit.
If you're still nervous about returning to the pool or ocean, check out our Tips for Swimming After a Mastectomy. For more information on our products, call us at (877) 413-2272.