Finding a swimsuit for your body can help you get back to the water after a mastectomy. The perfect suit boosts your confidence and looks great while catering to your needs with high necklines, full chest coverage, adjustable shoulder straps, and pockets for your breast prostheses.
Swimsuits leave little room to hide, and most women want designs that flatter their bodies. With a wide variety of features and designs, it is easy to pull off a mastectomy swimsuit that helps you visually knock off a few pounds and highlights the parts you love about yourself. Explore these ten easy ways to look thinner in your mastectomy swimsuit.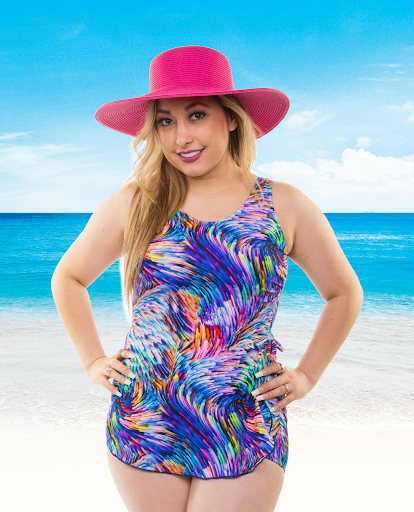 1. Bold Patterns
Bold, floral patterns draw attention to the design rather than any areas of your body you are uncomfortable with. A swimsuit like the T.H.E. Classic Sarong Front Mastectomy Swimsuit features a colorful, swirling pattern that distracts from problem areas and pockets for your breast forms.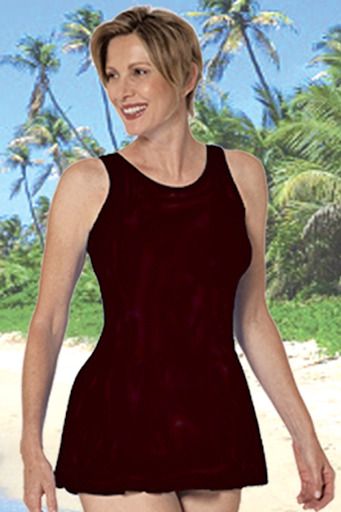 2. Focus on Black
Black is a universally slimming color because it helps shape your body and hides flaws that make you uncomfortable. For a full-coverage swimsuit option that is shape-flattering, opt for the Jodee Solid Black Swimdress with a thigh-skimming skirt, nylon tummy control panel, high neck, and wide shoulder straps for an ultra slimming look.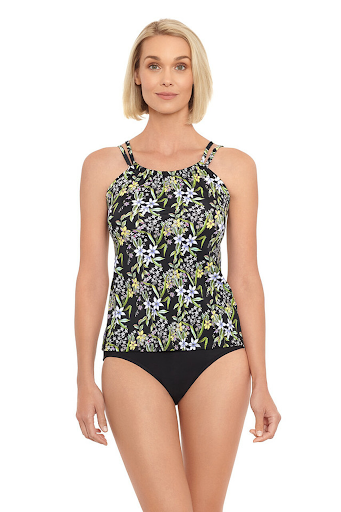 3. High Neckline
A high neckline, like on the Penbrooke Hi-Neck Tankini Swim Top, provides great coverage for your chest and tummy. Higher necklines are slimming because they elongate your body, drawing the eye to your shoulder rather than your midsection. The gathered neckline on the Penbrooke tankini top also makes your upper body appear more slender, and the dual halter straps lengthen the neck.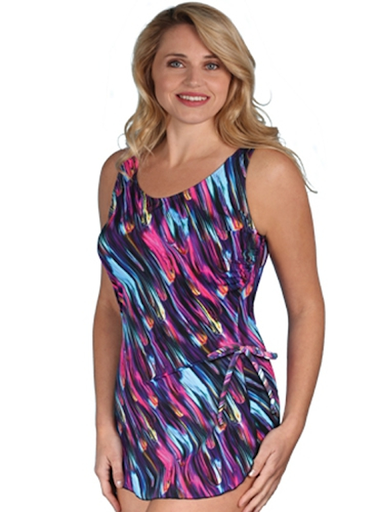 4. Swimsuit Ties
Swimsuits with ties on the side, like the Jodee Mastectomy Sarong Swimsuit, cinch in your waist and bring attention to the cute tie on the side. Flattering on any figure, the front-tied panel drapes gracefully across your midriff rather than clinging like a traditional one-piece to disguise your stomach. This swimsuit also contains pockets for your prosthesis and provides full coverage at your chest, hips, and thighs.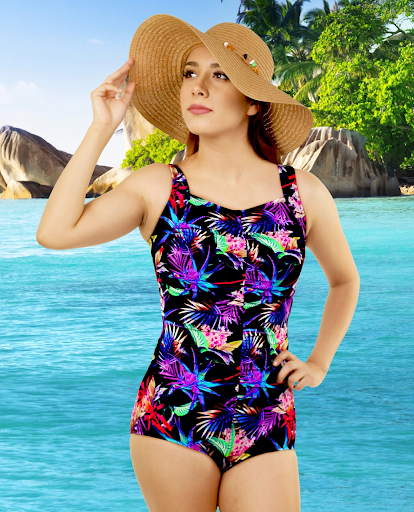 5. Waist-Slimming Silhouette
The T.H.E. Collection Shirred Girl Leg Swimsuit is the perfect waist-slimming swimsuit. This shirred-front piece is fitted to your body just right, giving you a balance of coverage and cinching that works in your favor. With adjustable straps, this swimsuit is perfect for the beach or hot tub.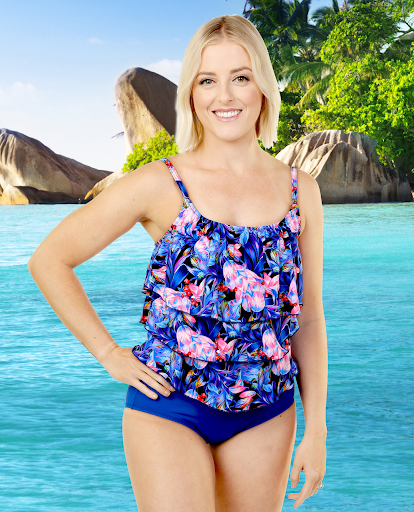 6. Ruffles
Ruffles give your swimsuit fun movement and work well to hide any parts you don't want to draw attention to. A flattering top like the T.H.E. Collection triple Tier One-Piece Swimsuit features pockets for your prostheses, adjustable straps, and a fun, bold pattern. The tiered design creates volume at the chest to balance the proportions of your hips, thighs, and backside.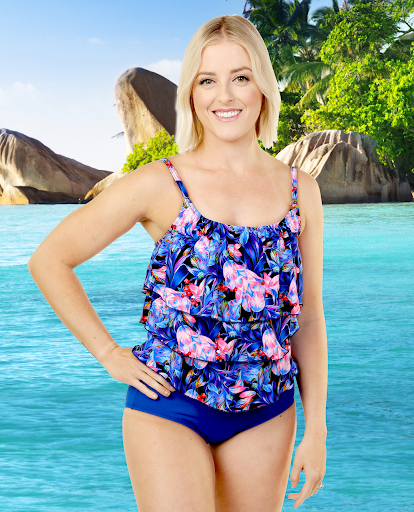 7. Wide Straps
Wide straps on a bathing suit slim your arms and offer great support. The T.H.E. Collection Mastectomy Draped Front One-Piece Swimsuit combines draping with wide straps and bright colors to give you a slimming silhouette.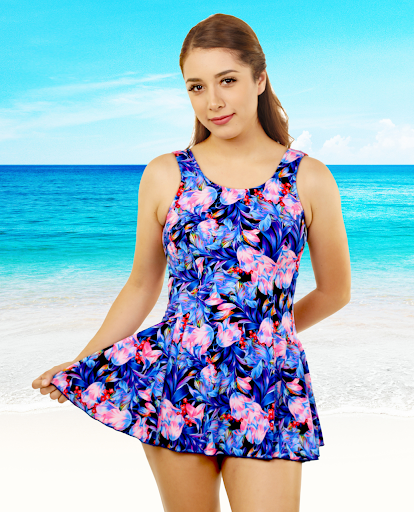 8. Swim Dress
Perfect for creating a classic hour-glass figure, a swim dress like the T.H.E. Collection Swim Dress instantly slims your waist. The flared skirt, floral pattern, and princess cut top accentuate the narrowest part of your waist, allowing you to lounge or swim with confidence. This piece has pockets for breast forms and 3-button adjustable straps.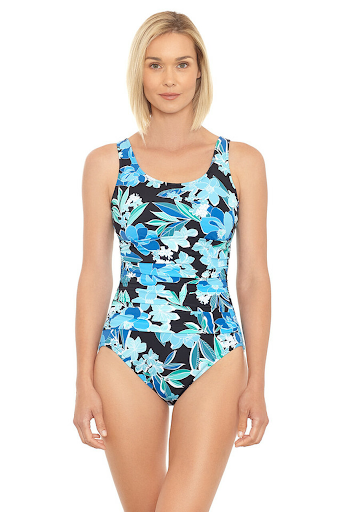 9. Tummy Control
Nothing slims your midsection down like tummy control features on a swimsuit. Ruching, draping, and gathering at the stomach and waist work to narrow your stomach and create a lovely figure. The Penbrooke Empire Mio Soft Cup Mastectomy One-Piece Swimsuit is a beautiful option that features a flattering tummy control panel with pleated ruching for a tightened look.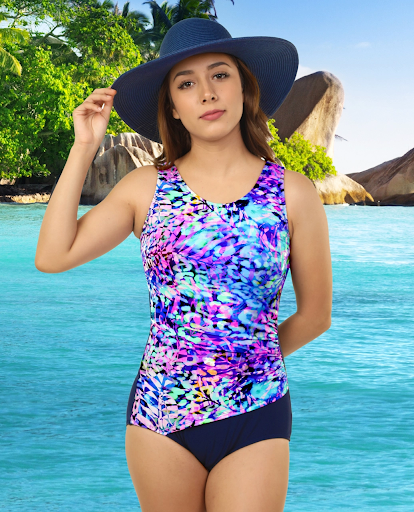 10. Asymmetrical Drape
An asymmetrical design on a swimsuit creates an interesting focal point that pulls attention away from your midsection and arms. Combined with a vibrant pattern and draping, the T.H.E. Collection High Neck Print Drape Swimsuit is a great piece to wear to the pool. It boasts a tummy slimmer front lining and pockets for your symmetry shaper.
Wear Your Swimsuit With Confidence
Finding the perfect mastectomy swimsuit to slim your body while accentuating your shape is easy with the selection from Mastectomyshop.com. We carry a wide variety of post-mastectomy swimwear that supports you in building your confidence and getting back to the water after beating breast cancer.