Finding a flattering mastectomy swimsuit as a plus size woman is sometimes challenging. However, you can discover a wide array of stylish post-mastectomy swim attire that flatters your shape and gives you a confidence boost with the right approach.
When searching for plus size mastectomy swimwear, use the following tips to find the perfect plus size mastectomy bathing suit from Mastectomyshop.com.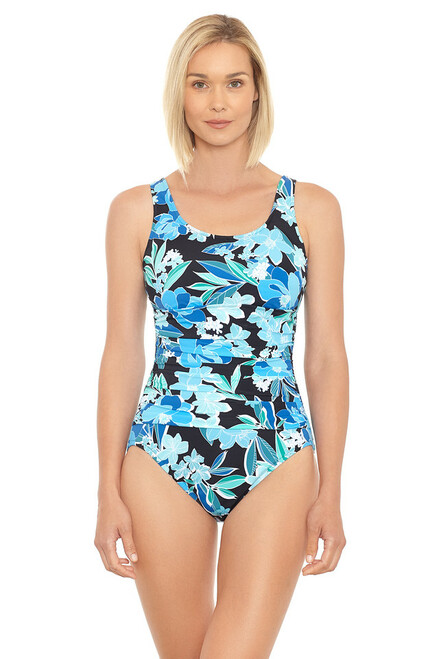 Find a Flattering Fit
An important aspect of finding the perfect swimsuit is to look for a flattering fit. Explore swimsuits designed to help give your body a slimmer shape, such as those with tummy control panels, ruffles, or pleated ruching. These features create a flattering silhouette and camouflage places on your body you may feel uncomfortable with.
The Penbrooke Empire Mio Soft Cup Mastectomy One Piece Swimsuit is a flattering option for plus size women. The suit features a high neckline, wide straps, and a pleated tummy control panel to give you full coverage and confidence.
Go With Bold Prints
As a plus size woman, you may have been told to avoid prints, especially patterns with bright colors and bold designs. This myth is outdated and incorrect, so don't skip over visually exciting patterns for fear of standing out in your mastectomy swimsuit.
Bold prints are great for plus size bodies. Big, bright patterns can help draw attention away from problem areas, but more importantly, they help you celebrate your body. Vibrant colors and bold prints look great on bigger bodies and highlight your bright personality and confidence.
The T.H.E. Classic Sarong Front Mastectomy Swimsuit is the perfect bold pattern piece for plus size women. Its colorful, swirly pattern creates a gorgeous visual, while its design and cut look great on bigger bodies. It also features pockets for breast enhancers to complete the look.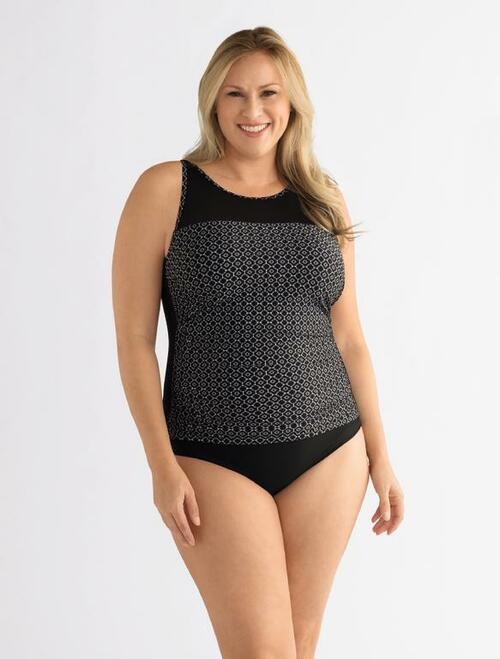 Opt for Monochrome or Solid Colors
If you prefer to avoid bold prints in favor of a solid color swimsuit, opt for an elegant monochrome palette with blacks, grays, and whites. Monochrome or solid suits are a classic choice for curvy women because they are simple and slimming. Black is an excellent choice due to its ability to camouflage and smooth problem areas.
The Amoena Ayon Half Bodice Swimsuit from Mastectomyshop.com is a gorgeous option with a monochrome color palette. This suit features a high neck, pocketed bra cups, and an understated geometric pattern that looks great on bigger body types.
Embrace Your Curves
It is wonderful to embrace your curves when looking for a swimsuit as a full-figured woman. The Jodee Solid Black Swim dress is a lovely piece that gently hugs your curves while keeping you comfortable. The high neckline and breast form pockets help you feel secure while being active in the water, and the flattering feminine shape helps you rock your curves with confidence.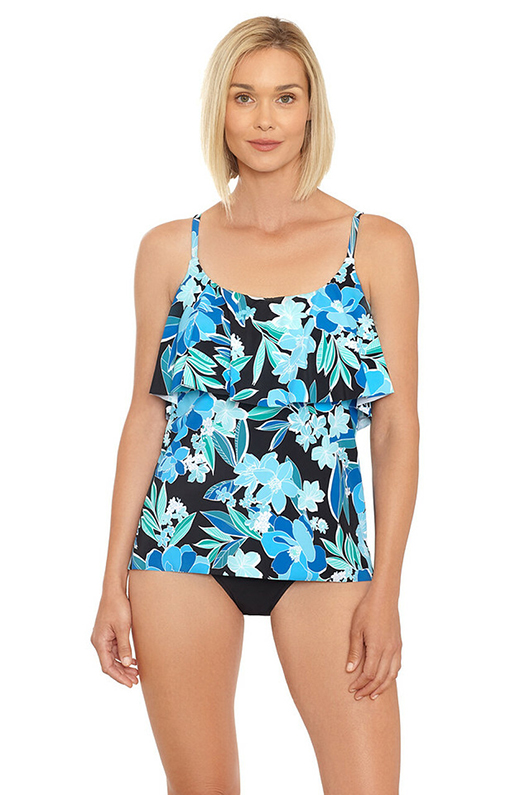 Piece it Together
Mixing and matching swim tops and bottoms is a helpful approach for choosing a plus size mastectomy swimsuit. You get the best of both patterns and solids by piecing together a cute tankini top with a solid bottom. Try the Penbrooke Single Tier Tankini Mastectomy Swim Top with a flattering one-tier ruffle paired with the Anita Comfort Mix & Match Swim Bottoms for a plus size flattering look.
Find Your Perfect Plus Size Mastectomy Swimsuit
Mastectomyshop.com is the perfect place to find a stylish swimsuit that flatters every body type. Our swimsuits hug your curves in all the right places and boost your confidence so you can enjoy your day by the pool or on the beach.
Shop our plus size mastectomy swimwear to find the perfect piece for your post-mastectomy body.