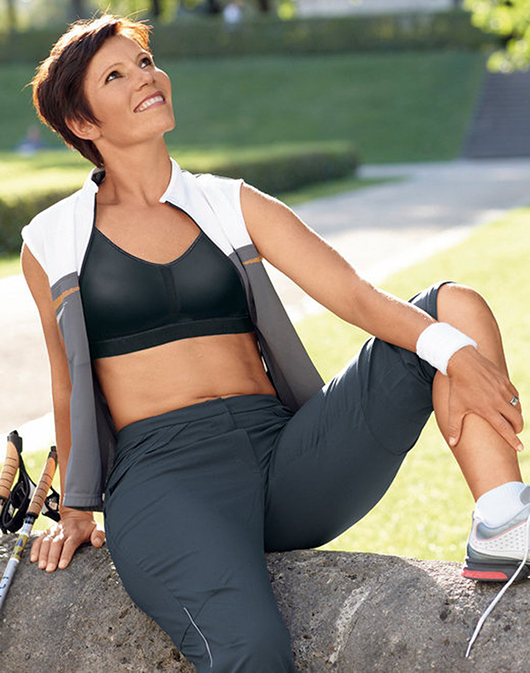 Getting and staying fit is a lofty goal at times, but a target many of us strive to reach. Your mastectomy doesn't need to keep you from enjoying the activities and exercises you once did, or even from trying new ones.
While you may feel self-conscious following surgery, at Mastectomyshop.com, we believe that with the right sports bra, you can more confidently and comfortably pursue your favorite sport, exercise, or stroll in the park. So, we offer a wide selection of mastectomy sports bras for you to choose from.
However, you may be wondering how to find the perfect sports bra for you. Not everyone needs the same features in a sports bra, and fortunately, there is a variety to choose from. Here are some helpful tips on finding that perfect sports bra for your body and favorite activities.
Determine How Much Support is Needed
Supporting your breasts during any level of activity is essential, as excessive bounce can damage the delicate skin and connective tissue in your breast and cause neck and back issues. Your post-surgery body will thank you for taking the time to determine the right sports bra for your particular activity choice.
The intensity of the activities you pursue relates directly to the levels of support you will need. If you plan to return to the more rigorous sports, such as running or other high aerobic activities, look for a high impact activities sports bra to provide the most support.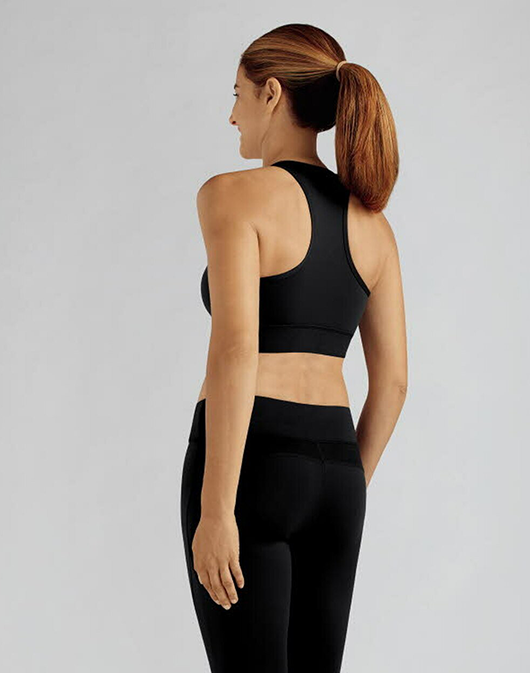 If cycling, hiking, or cross-training is more your style, a medium-impact support sports bra is your best selection for good support. The Amoena Zipper Bra Medium Support features a zippered front closure to secure your breasts in place and a wide bust band and racerback to support your posture.
Strength training and yoga activities require the least level of breast support. Light-support sports bras offer a way to stay comfortable while enjoying less intensive activities. The flexible movement and ultrasoft materials also allow you to use a light sports bra as your everyday bra.
Remaining active and exercising is a crucial way to stay healthy while recovering from breast cancer surgery. If you like to mix up your activities, consider keeping a few different sports bras in your wardrobe and deciding the type of support you need each day.
Style Selection
The style of sports bra you choose is also an important consideration. Breast movement occurs both up and down and side to side when active, and bra style can play an essential role in keeping them secure. Your choices for this are either compression or encapsulation styles.
Compression bras are shelf bra styles that flatten the breasts against the chest wall. They are mostly geared toward low-to-moderate intensive activities and are best suited to smaller cup sizes.
An encapsulation style of sports bra contains individual cups, often with multiple panels that separate, lift, and compress the breasts. These styles are best for larger breasts, regardless of the intensity of the activity.
Strap Features
Sports bras come with several different strap styles that can impact the support and comfort of the bra.
Standard shoulder straps work in conjunction with the underbust and sideband to offer vertical support to the breast. However, they can cause neck and shoulder strain during high-intensity exercise due to the added pressure.
With wide strap styles, the weight is distributed more evenly across your shoulder to minimize discomfort. These straps offer better adjustability than racerback styles.
Racerback styles cinch in the back, creating a snug fit to the body. The Coobie Seamless Fusion Racerback Yoga Bra, in particular, is a comfortable choice. It has adjustable straps and a longline underbust band creating ample support and comfort at the same time.
Band and Cup Fit
In addition to straps, the cup, and band, including side panels, contribute to the support offered by your sports bra. When choosing, pay close attention to both the cup fit and band sizing.
For the cups, whether encapsulation or compression style, each cup area should hold the entire breast, without part of the breast spilling out. If not, it's best to choose the next size up.
To determine your ideal band size, wrap a tape measure around your body, just under your breasts, to get an accurate measurement. Refer to this number when searching for the perfect fitting sports bra. In general, bra sizing differs across brands, and often you will need to review a size chart for each to know where to start on your search for the perfect fit.
One way to show if the band is a good fit is by inserting a finger under the band between your breasts and see how much pull it has. It should not pull away more than an inch.
If the band style is adjustable, be sure you do not need to clasp the last eyelet to get a snug fit. If you do, try going to a smaller size.
Finally, raise your arms overhead, stretching as you do to see if the band creeps up. If it does, the fit is not right, and a smaller size will benefit you more.
Final Thoughts
Finding a perfect fitting sports bra is your first step in getting back out there and participating in all the sports and activities you love.
At Mastectomyshop.com, we carry sports bras that adapt in ways that ordinary sports bras don't, always taking into account your post-surgery body. For help with sizing or ordering, call our friendly staff at (877) 413-2272.