As you age, your body and fashion taste change, and nowhere is this more apparent than when buying a bathing suit. With a lot of life experience under your belt by the time you reach 50, you may dread the thought of swimsuit shopping. Following a mastectomy or lumpectomy, you may even believe your days sitting by the pool or ocean are long past, at least for wearing a revealing swimsuit.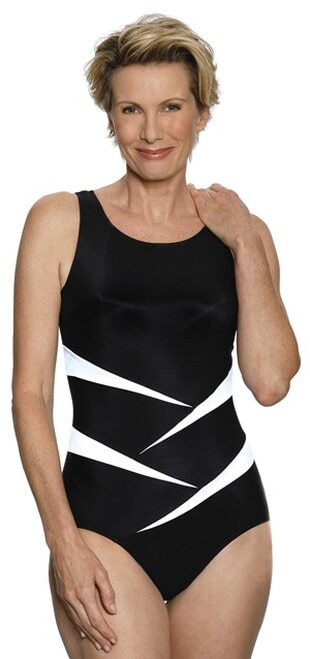 Don't give up or settle for anything other than a perfect bathing suit that is comfortable and beautiful. Choosing a bathing suit when you are over 50 is a gift to yourself. A gift for the strength you've shown going through breast cancer treatment and life and understanding what it means to value the good days ahead.
Whether you want to feel confident, sexy, covered-up, or eccentric, swimsuits for women over 50 following breast cancer surgeries abound. These specially designed swimsuits offer variety while also are stylishly age-appropriate to help you feel great.
Go for the Stylish One-Piece
The classic lines of a one-piece swimsuit are timeless. Add to that today's modern touches, and you have the perfect swimsuit type for any age.
Mastectomy one-piece suits come with interior pockets for breast forms so that you can feel secure and confident. Along with stylish design touches, their design creates a natural silhouette, allowing you to relax and enjoy your time outdoors.
One feature to look for in a mastectomy one-piece is a high, rounded neckline. This adds a touch of femininity while also providing additional support. You may also want to consider higher armholes to cover any scarring and add extra coverage for swim forms.
If like many women over 50, you are looking for a suit to cover your midsection, a one-piece swimsuit with ruching can provide this while also adding style. The ruching effect hides any excess skin and helps you feel more comfortable with how you look.
Wide shoulder straps can provide superior support, and consider going for a halter top style, which ties behind the neck. A halter neckline lifts your breasts and brings you together from the sides, creating support and eliminating the spilling-out effect that can happen with regular strapped suits.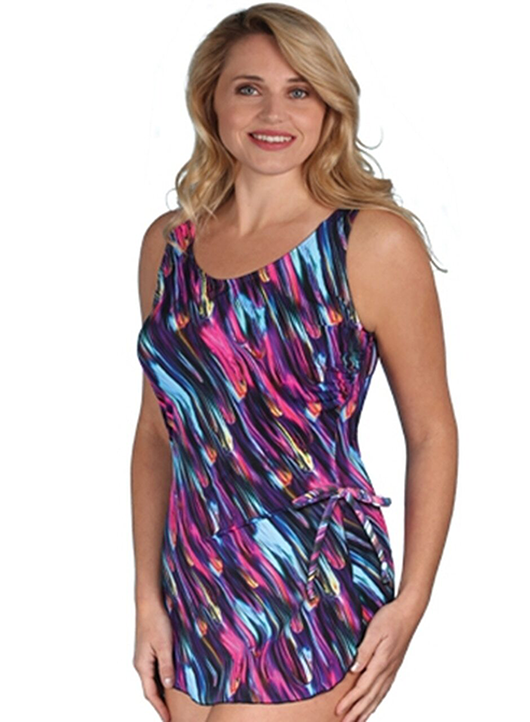 Explore the Mastectomyshop.com site to find out what's available today, and you're sure to find a one-piece that fits your needs and style. Go for a classic design in black and white or a floral design. Add a sexy touch with the off one-shoulder one-piece like the Penbrooke One Shoulder Mio Swimsuit, or go with the island feel of the Jodee Mastectomy Sarong Swimsuit. The sarong style brings a stylish nipped-in element to your waist and draws attention away from your breasts.
Enjoy the Versatility of Tankinis
Despite the one-piece suit coverage, many women find them uncomfortable with their snug overall fit and potential pull on the shoulders. An excellent alternative for enhanced comfort or a little more versatility is the tankini.
This two-piece swimsuit is cut in different designs, comes in a myriad of colors, and offers various pairings. For instance, one tankini top can be matched with bikini bottoms, boy shorts, swim shorts, or swim skirts. Mix and match colors as you like, creating a fresh look each time you go out.
Tankini swim tops, much like tank tops, also come in unique designs. Choose one with a non-square neckline, which gives a boxy look. Also, consider a tankini with ties in the front or side to add a modern touch.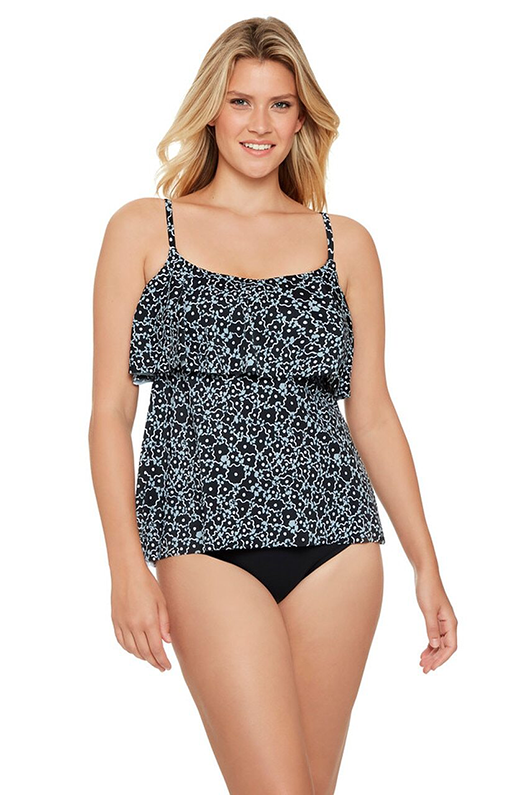 A new trend is tiered tankini swimsuits, like the Penbrooke Single Tier Tankini Top with flowing ruffles and classic black and white colors. The ruffler helps create the illusion of volume, making it ideal for women who have had a bilateral mastectomy and prefer not to wear swim forms. This suit comes with soft cups and adjustable shoulder straps so you can get a better, more comfortable fit.
Don't Give Up on All Bikinis
For many of you, being over 50 doesn't mean giving up on the bikini. If this is you, go for it and wear one with a top that provides enough support and coverage following your surgery. Choose the less revealing cuts and instead try high waist bottoms with tops sporting higher necklines.
Add a Feminine Touch with a Swim Dress or Skirted Bottom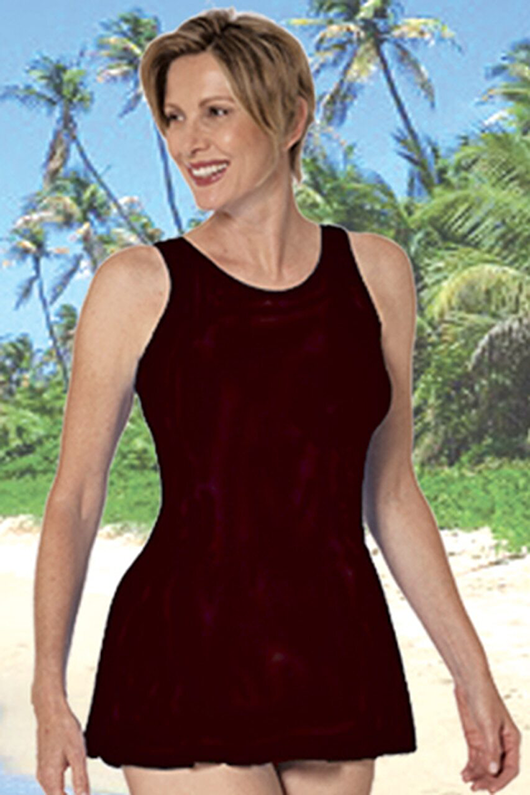 For anyone looking for more coverage on the lower half of the body, a swim dress is a perfect option. These often offer tummy control with power mesh features, which can help you feel more confident.
Look for bathing suits crafted out of high-quality materials so they keep their shape longer. Materials should be UV-, chlorine-, and heat-resistant for the best durability. Avoid underwire swimsuits following surgery to prevent skin irritation and wires painfully digging into scar tissue.
With colors, the sky's the limit. Darker suits often create a slimming effect and are always an excellent choice. Color blocking and small prints, like polka dots, are other superb choices for women over 50.
If you're still feeling self-conscious in the beginning, treat yourself to a pretty cover-up or two to wear over your swimsuit until you're ready.
Find Your Next Bathing Suit at Mastectomyshop.com
Resist the urge to buy unflattering, shapeless swimwear. But you should also understand that you don't have to give up comfort for flattering looks. From modern bikinis to one-pieces to tankinis to swim dresses, you've got choices.
Mastectomyshop.com offers a huge variety of swimsuits. Browse our collection to find the right style and size to fit your post-surgery body. Call us today at (877)-413-2272 to see how we can help you choose the perfect swimwear.