Breast cancer treatments such as mastectomy surgery and radiotherapy have a high rate of success. However, complications, including lymphedema and clotting disorders, can occasionally occur after treatment that can have a serious impact on your health.
Medical professionals recommend compression therapy to increase circulation and support the veins following breast cancer surgery. Compression garments are used as a preventative measure against the formation of blood clots, leading to deep vein thrombosis (DVT). They also help to reduce swelling in the extremities and around the wound site to facilitate healing.
Compression Therapy
Compression therapy works by adding firm, consistent pressure to a specific area of the body so that restricted areas of blood flow can begin to circulate more freely. Increased circulation prevents the accumulation of lymph fluids and allows oxygen and nutrient-dense blood to flood surgical sites.
Typically, pressure is applied to the extremities of the body: the legs, feet, arms, and hands. There are various custom garments that provide easy compression therapy at home.
These garments come in various styles to fit a particular area of the body and often resemble regular clothing. You can buy compression socks, stockings, gloves, or sleeves. These items are worn for long periods, sometimes even for 24 hours a day, depending on the severity of your condition.
Preventing and Managing Lymphedema
The lymphatic system is responsible for transporting white blood cells through the body and helps defend against harmful viruses, bacteria, and germs, which could lead to illness or infection. The lymphatic fluid is full of white blood cells that help fight pathogens. Unlike the circulatory system, the heart can't move lymph fluid, and there are no valves in the lymphatic system to transport lymph against gravity. So, the lymph system depends on the movement of joint pumps and the muscles to circulate.
During surgery, lymphatic fluid surrounds the wound site to help repair cells and fight against potential infection. However, if the lymph fluid can't move away from the surgical site or becomes trapped in the extremities, patients can potentially develop lymphedema.
Lymphedema can be a common side effect of cancer treatment. The removal or damage of lymph nodes can create a blockage within the lymphatic system, preventing proper drainage and resulting in uncomfortable swelling. Swelling in itself isn't a life-threatening issue, but the secondary complications from it can be; tissue inflammation—also known as cellulitis—and infections are common complications.
Compression can help reduce and control lymphedema. The additional pressure helps manage lymph fluid, preventing build-up and moving it to other areas of the body, encouraging drainage.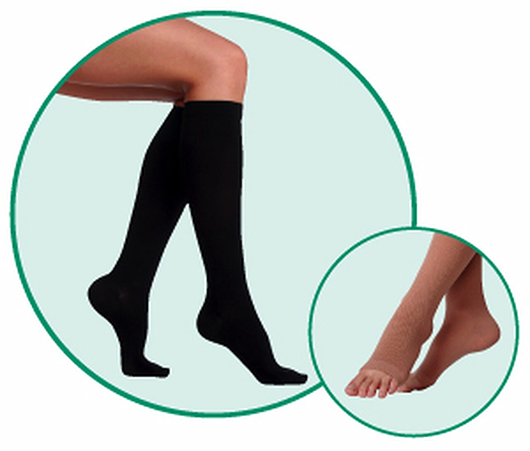 The Benefits of Compression Stockings
Compression stockings are specially designed to address swelling in the legs and feet. They can stop your legs from aching and getting tired and are a great asset on long flights when people are inactive, and therefore, at higher risk of developing DVT.
Make the most of the benefits offered by compression stockings. Use them as a discreet and non-invasive form of treatment which can speed up your own healing, and prevent issues related to surgery.
Compression Hosiery from JOBST
JOBST is considered the number one physician-recommended brand in the United States for compression therapy. It is ranked so highly that the American Medical Association publicly backs the brand.
JOBST is a well-established brand, founded in 1950 by Conrad Jobst, who invented products to relieve his own issues with varicose veins. Since then, it has become a trusted company with an impressive legacy. JOBST offers a wide selection of high-quality compression garments; they aim to create easy to wear items made from innovative materials.
Choose the right garment for you from JOBST's wide range of compression items. These come in varying pressures, indicated by mmHg, which stands for millimeters of mercury. Use the following scale to select the right pressure for your physical condition.
8-15 mmHg - Very light compression. A good choice for those who experience occasional or minor swelling. Can be useful if you're on your feet a lot.
15-20 mmHg - Another suitable choice for those who have issues with occasional or minor swelling. Can be useful for travel.
20-30 mmHg - If you frequently experience swelling in your feet or ankles, or want to prevent lymphedema, this mid-range pressure will suit you. This level of pressure is classed as Medical Grade I and does not require a prescription.
30-40 mmHg - For those who experience significant, persistent swelling or are at high risk of DVT. Compression garments with this pressure level are labeled as a Medical Grade II item.
40-50 mmHg - Provides extra firm support. These garments are a Medical Grade III item and shouldn't be worn without the supervision of a medical professional.
Choosing the Right Style For You
Along with utilizing the JOBST pressure grade scale, consider the kind of garment which suits your needs and lifestyle. If you struggle with leg issues, the wide-range of socks and stockings is a worthwhile addition to your wardrobe.
These come in both closed toe and open toe styles. An open toe can be comfortably worn in warm weather, worn with open-toed shoes, or worn underneath your regular socks. Closed-toe styles are ideal for colder weather and when you want full protection and coverage.
If you suffer from extensive leg swelling but need a cooler, more versatile option, browse the range of JOBST stockings and open toe knee-high compression socks. There are also several thigh-high options if you want full leg coverage and additional pressure higher up your leg.
JOBST Compression Sock Accessories
If you struggle to grip your JOBST compression garment, then Donning Gloves are a useful addition to your routine. This supplemental product allows you to slip on your socks or stockings without risk of punctures and runs, which can be caused by jewelry or fingernails.
This is especially helpful when using stockings with higher pressure levels when it takes more force to pull the garment into place. The latex coating on the palm ensures you get the grip you need.
If you choose to wear thigh-high compression stockings and are looking for an alternative to sticky silicone borders, JOBST has created a line of garter belts to keep your garments in place no matter the activity. The JOBST Over-the-Shoulder Garter Belt is ideal for patients who can't tolerate pressure on their abdomen and come in dual and single-leg variations.
Another option, if you need additional localized support, is JOBST Comprilan Bandage. This is a short stretch bandage that helps remove fluid from the extremities. Other long stretch bandages available on the market do not have the same therapeutic benefits.
JOBST Activewear Athletic Sock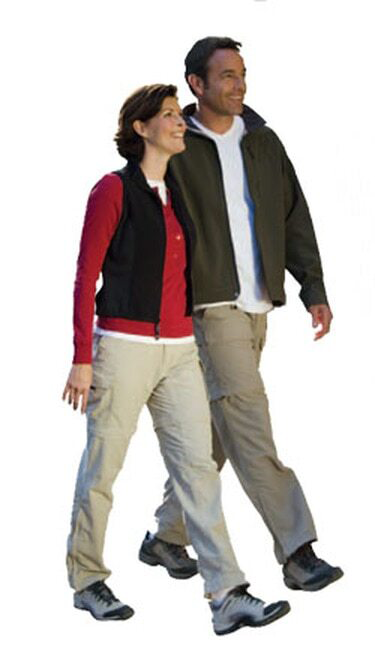 If you need discreet compression therapy, then JOBST Activewear Athletic Sock is the perfect product. Choose from the beige or black color options and varying pressure levels.
Whatever your preference and needs, this unisex garment has an option for you. This piece comes in 15-20 mmHg, 20-30 mmHg, and 30-40 mmHg, allowing you to purchase a wide range of pressure levels. JOBST classifies these levels as providing Moderate, Firm, and Extra Firm compression levels.
If you are seeking to address or prevent more severe issues like DVT or lymphedema, the Extra Firm 30-40 mmHg socks are recommended. According to the JOBST Gradient Compression Indication Guide, this pressure level offers the optimal pressure level for managing the symptoms of these conditions.
Enjoy being active with the JOBST Activewear Athletic Sock, a piece that will suit any kind of activity. The Dri-release yarn feels like cotton, providing the ultimate moisture control while stopping you from feeling uncomfortable or constricted.
The comfort knee band holds the garment in place but doesn't pinch the skin. The design of the sock supports the aim of compression therapy: for pressure to be applied for long periods. This sock makes extended wear effortless.
This piece lives up to the Activewear name and has been designed with features that make active living possible. There's no risk of rubbing with the seamless toe, and the 360° cushioned foot adds further comfort.
Wash your favorite compression pieces with your standard laundry load. Just add them to a mesh laundry bag before throwing them in the washing machine.
Built to last, the reinforced heels and the Polyester, Nylon, Cotton, and Spandex blend helps construct a durable compression piece.
Making The Best Choice
Selecting compression hosiery as a part of your post-operative care is a wise investment in your well-being. The compression garments offered by MastectomyShop.com are a great place to start your self-care. Enjoy an active lifestyle while ensuring a successful recovery in your compression piece.
To select the right compression piece for your needs, call (877) 413-2272 to get personal advice from one of our knowledgeable staff members. Browse our website to discover the compression pieces we currently offer and feel free to contact us with any questions you may have.