Wearing compression arm sleeves from Mastectomyshop.com is a great way to take care of yourself. From professional athletes who are in the top shape of their lives to patients who have developed cancer, everyone is starting to understand the benefits of wearing arm and leg compression garments.
The compression levels may vary, but the results are steadfast. This short stretch garment has become popular for increasing blood circulation and delivering high oxygenated blood levels to recovering arm muscles. While football players, basketball players, hockey players, and even pro-wrestlers have come to respect the improved circulation and injury prevention these garments provide, patients undergoing various cancer therapies have seen improvement with their lymphatic system.
There are many reasons to use compression wear, including UV protection, assistance with blood flow, body temperature regulation, and an improved immune system.
Compression Sleeves Create a Second Skin
A compression arm sleeve, like the Juzo Signature Compression Sleeve, works as a second skin. Use a compression arm sleeve when you play any contact sport outdoors to protect your skin from scrapes and cuts when you collide against another player. While things like sunblock and sunscreen can sweat off over time, the sun's damaging UV rays can't penetrate the opaque fabric of a compression arm sleeve.
Compression Sleeves Improve Blood Circulation

When you suffer from an injury, sports-related or otherwise, your immune system triggers blood cells to clot around the injured area while healthy white blood cells rush to start the healing process. This reaction causes swelling and inflammation in the injury area.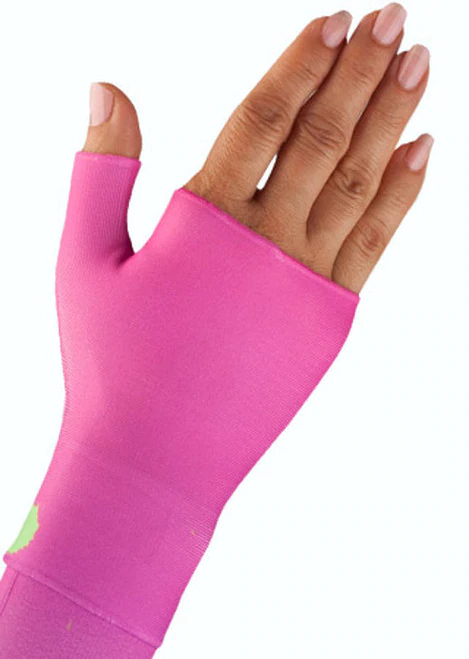 A compression arm sleeve helps improve blood circulation to reduce excess swelling and build up muscles, ligaments, and tendons to help protect muscles from future injury. Without compression, injury recovery time increases, and regaining full range of motion may not be possible. A compression sleeve or gauntlet, such as the Juzo Signature Compression Gauntlet, also stabilizes the arm to ensure mobility after the injury is healed.
Following mastectomy surgery, a compression sleeve enhances blood flow to the surgical site to aid the healing process. It also boosts lymphatic drainage to prevent infection and reduce the risk of lymphedema.
Compression Sleeves Regulate Body Temperature
Regulating your body temperature in all aspects of health is very important. Some illnesses make it difficult to do so, and a compression arm sleeve can help keep you warm in colder months and cool in hotter weather.
After breast cancer surgery and subsequent treatments, many patients experience fluctuations in temperature. By regulating blood flow and providing a warming layer of protection, a compression sleeve can minimize the impact of post-surgical temperature changes.
Compression Sleeves Ease Muscle Soreness
If you've suffered a previous injury, a compression sleeve can support the injured area to keep the injured area flexible and loose. They can help prevent soreness and work to increase blood flow throughout your body. This increased blood flow helps your body heal quicker and minimizes the time it takes to recover from injury.
The Takeaway
Using a compression arm sleeve is an excellent way to keep the blood and lymphatic system circulating, and is vital to preventing and recovering from injuries and surgery. These sleeves are comfortable to wear.
There are many ways that arm sleeves can support you on your road to health. Mastectomyshop.com stocks compression sleeves in a range of pressure levels and styles to meet your needs. Contact us at (877) 413-2272 or browse our website to find out more about our range.