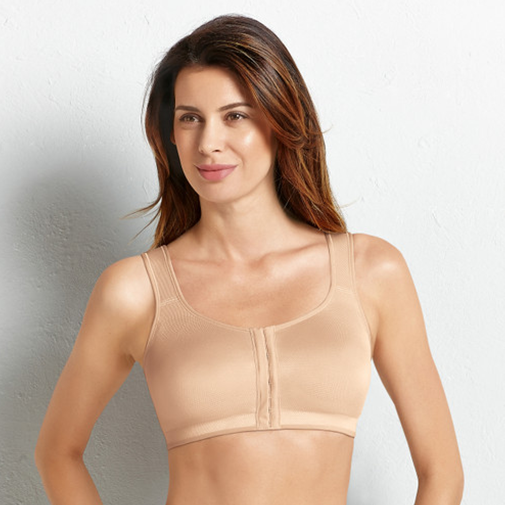 Nearly 1 in 8 women in the U.S. will develop breast cancer during their lifetime, with many having to undergo a mastectomy or lumpectomy procedure. Post-mastectomy aftercare is a vital step in the recovery process.
If you've undergone a mastectomy procedure, finding a bra that makes you feel comfortable and improves your recovery is essential. Explore the different post-mastectomy bras available and learn what features to look for to help support your breast cancer surgery recovery.
Types of Mastectomy Bras
Mastectomy bras are created for different phases of recovery. While looking for the right mastectomy bra, you'll need to consider what stage you're at in your recovery and what features fit your needs.
Post-Surgical Bra
A post-surgical bra is designed for you to wear immediately after breast surgery. It offers compression technology to speed up your recovery and prevent post-surgical complications like bruising, swelling, or infection. They also include drainage pouches and over-the-shoulder straps for easy wound dressing and drainage tube management.
Try our Anita Cosamia Front Closure Post Mastectomy Bra that features wide straps and double molded cups. The pockets are made of very soft microfiber, making it an excellent option for during and after radiation therapy.
Leisure Bra
Leisure bras are ideal for wearing at home in the months following your breast surgery. They are often seamless and made from ultra-soft fabrics like poly-cotton blends that won't irritate surgical sites and are comfortable enough to sleep in.
They typically feature front closures like our ABC Leisure Mastectomy Bra so you can get dressed easily without straining your neck, back, or shoulders.
Sports Bra
Exercise is critical to your recovery and can improve your upper body mobility once the surgical site has adequately healed, usually after six to eight weeks. However, you need a bra that offers bounce control by limiting breast tissue movement.
Sports bras with encapsulation and compression features like our Amoena Power Wire-Free Medium Support Mastectomy Bra secure your breasts in place, allowing you to enjoy all the activities you used to love, from low-impact yoga to high-impact sports like jogging and tennis.
Seamless Bra
Reducing skin irritation can help the recovery process be more comfortable, which is why seamless bras are popular. They avoid clasps and closures that can rub against the skin and cause irritation.
The seamless design creates a smooth finish under clothing and is an excellent choice for sleeping in. Seamless bras can come with or without molded cups to provide added volume and definition to your silhouette.
Try our Amoena Becky Wire-Free Seamless Bra with center ruching for a comfortable feel and smooth look. It has no single seam or closure, so it appears invisible under clothes, even tight-fitting garments. It is crafted from a combination of elastane and polyamide that offer the right amount of stretch to support remaining breast tissue and breast forms without digging in uncomfortably.
Features to Look for in a Bra After Breast Cancer Surgery
If you're shopping for a post-surgery bra, consider features that benefit your comfort and recovery.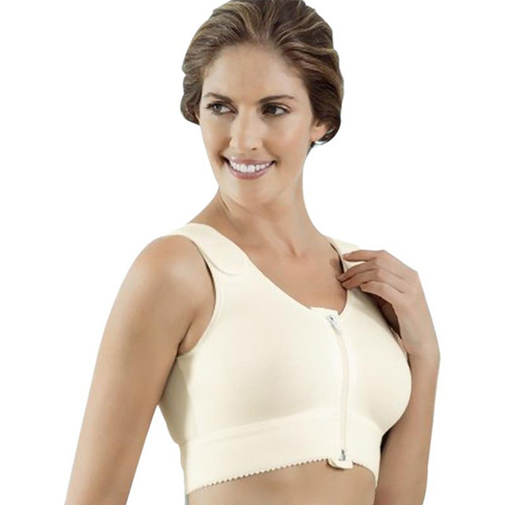 Compression
Many post-surgery bras, like our Anita Post-Operative Compression Bra with adjustable straps, offer compression to help promote proper circulation and prevent swelling and fluid buildup during the healing process. Compression garments are often recommended after mastectomy surgeries to lower the risk of lymphedema and blood clots.
Compression bras can help hold the skin in place so that stitches aren't stretched or damaged. They are also ideal for patients who have had a breast reconstruction with implants to prevent implant dislocation.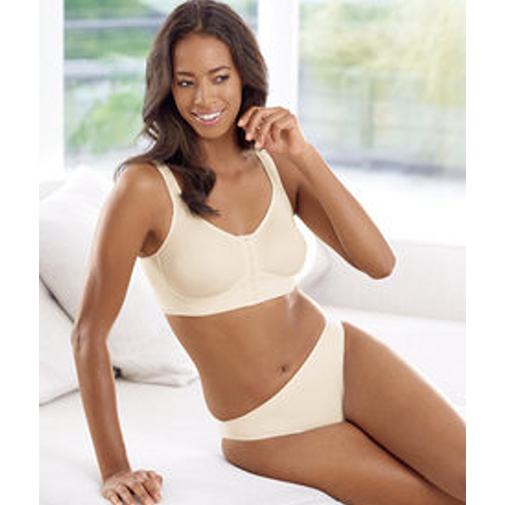 Pocketed Cups
Many bras offer pocketed fabric cups to accommodate breast forms and shapers, like our Anita Salvia Front Fastener Mastectomy Bra. Breast forms can help even the bra size between cups or be used to give shape to the chest. The pockets also provide a protective barrier between your breast forms and skin to prevent chafing and irritation.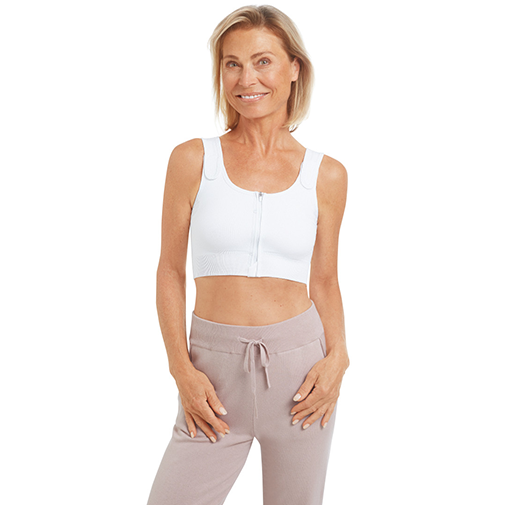 Adjustable Straps
Adjustable straps can offer flexible comfort that allows you to change the length of your straps to prevent them from digging into your shoulders. You should also look for extra wide straps with padding. These straps help to redistribute the weight of your remaining breast tissue and prostheses across your shoulders to prevent neck strain.
Try our Pamela Seamless Post-Surgical Bra Mastectomy Kit with adjustable straps for exceptional support and comfort. It features straps with adjustable Velcro fasteners that close over the shoulder, allowing for easy dressing.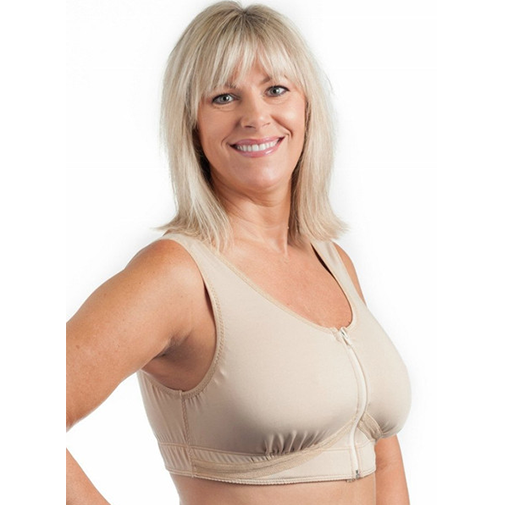 Front Closures
A front closure bra offers convenience and comfort by eliminating the need to try to fasten a clasp behind your behind. Front closures help avoid strains from stretching muscles while trying to reach to fasten the clasp, making it perfect for women with limited upper body range of motion following surgery.
Our Wear Ease Grace Post-Surgical Mastectomy Bra with front zip offers comfort and convenience with moisture-wicking fabric and no inside seams.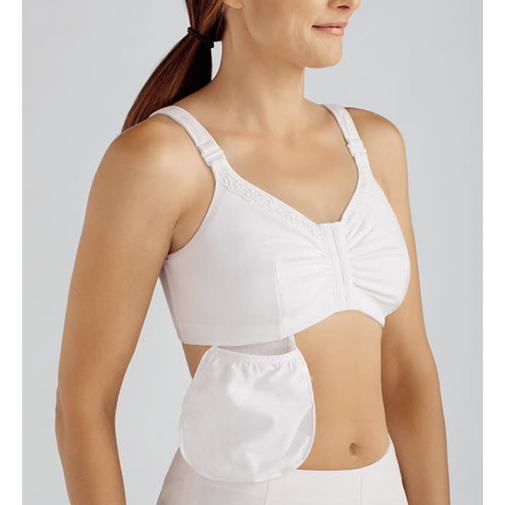 Drain Tube Management Pouches
Some mastectomy bras offer features that help manage a surgical drain after a reconstruction surgery or breast cancer surgery. The pouches typically help support the drain bulb by anchoring it to the band to help reduce pressure on incision sites. Drain tube management pouches can ensure comfort and prevent irritation to incision sites.
Try our Amoena Hannah Wire-Free Mastectomy Bra Kit for a drain management solution that features two removable drain pouches and a non-restrictive fit.
Ultra-Soft Fabrics
Soft fabrics help keep you comfortable after surgery so you can wear your bra throughout the day or night without irritating stitches and incision sites. Since you often need to sleep in a post-surgery bra for the first few weeks of recovery, soft fabrics eliminate discomfort that can keep you up at night.
Try our comfortable Amoena Marlena Wire-Free Mastectomy Bra that uses microfiber cups and Naturexx fabric for breathable, moisture-wicking fabric.
Top Bras for After Surgery
At Mastectomyshop.com, we have a variety of post-surgery bras that are designed for your comfort and health. Some of our top picks for post-surgery bras include: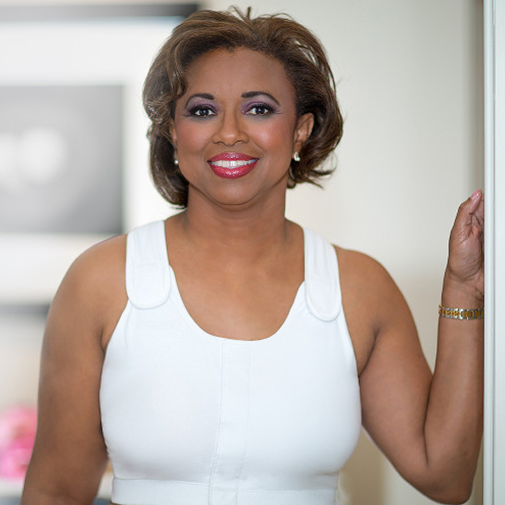 Our ABC Velcro Front Compression Mastectomy Bra is a great full-coverage option that offers compression to help stabilize the tissue and reduce swelling. It features a convenient Velcro front closure, inner pockets to hold breast forms, and adjustable straps so that you can choose the perfect support level.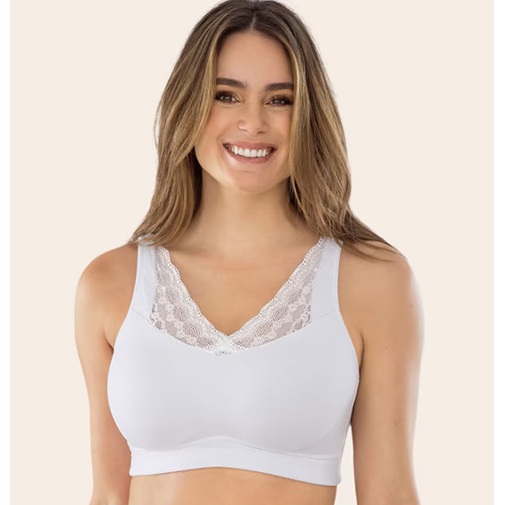 The Leonisa Pocketed Lace Trim Wireless Mastectomy Bra features a stylish neckline, pocketed cups, and wide straps that won't dig into your shoulders. It avoids the discomfort of a wired bra and is made of soft, lightweight fabric.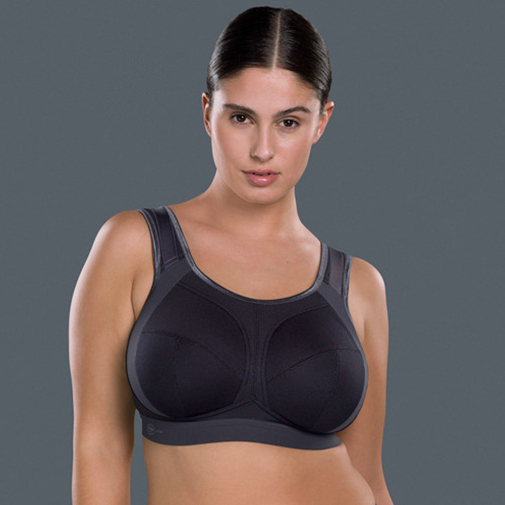 Our Anita Extreme Control Plus Sports Bra offers control, support, and comfort with ventilation zones and thick straps. The cups offer a firm fit and are suitable for cup sizes up to a K cup. With the Anita bra, you can exercise without discomfort to improve your health during recovery.
Find the Right Post-Surgical Bra at Mastectomyshop.com
Finding the right post-surgical bra can benefit your health and comfort throughout your recovery process. Shop the wide selection of bras at Mastectomyshop.com and find the perfect fit for your recovery needs.