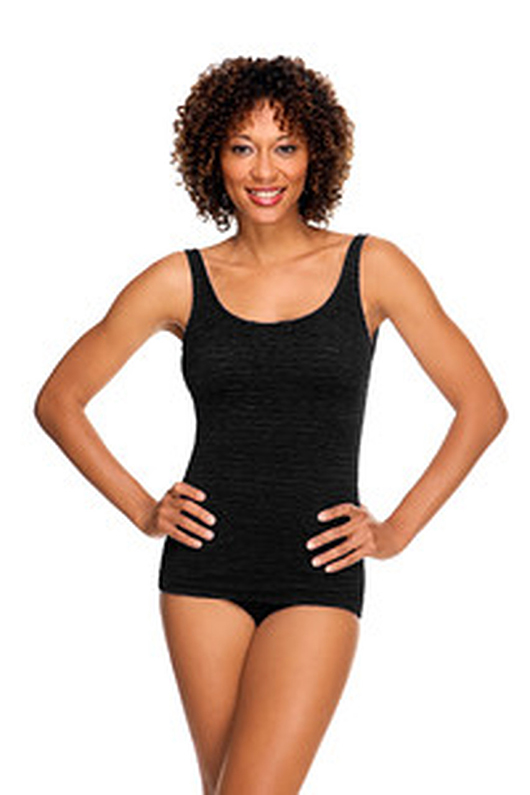 Recovery from the treatments for breast cancer is challenging both emotionally and physically. The psychological element included in fighting against cancer is well documented and understood by physicians, who often encourage their patients to go out and re-enter the world with the support of friends and family.
Unfortunately, it's not always so easy to start a new normal. Following a mastectomy, women are faced with some difficult decisions. Since surgeries are physically taxing, some may choose to wear breast forms instead of undergoing a breast reconstruction surgery. This can create more anxiety and stress surrounding clothing and style.
Many companies have developed amazing post-mastectomy swimwear to help women live an active life after breast cancer. For women who prefer not to wear breast forms whether due to discomfort, weight, or appearance, there is a wide selection of mastectomy swimwear to suit available to meet your unique situation and style.
What is Mastectomy Swimwear?
Mastectomy swimwear are women's bathing suits that contain hidden pockets in the bra cups of the suit that can hold breast forms. However, mastectomy swimwear also offers other features to enhance your comfort and support your body if you choose not to wear breast forms while swimming.
Mastectomy Swimwear Design Features
Doctors all agree that swimming is a great form of low impact exercise that should be available to everyone, including breast cancer patients and survivors. There are common features of mastectomy swimwear that every design should include to help you feel comfortable when you exercise in the water while also being completely functional.
No underwire – or soft, flexible underwire - so you don't damage your breast form or irritate your skin.
Swimsuits that fit snugly help to keep your natural breast and the prosthesis firmly in place against the chest.
Wide underbust band that helps keep the pockets and your breast prosthesis close to your body.
Breast pockets that keep prosthetic breasts in place.
Removable soft cups designed to smooth natural breasts. These can be removed and breast forms can be inserted in their place.
All these features can help women feel more supported post-mastectomy. But if you prefer not to wear breast forms, there are plenty of features to support women who choose to wear mastectomy swimwear without the prosthesis as well.
Choose between more or less coverage depending on your scarring and preference
Tummy control features firm and flatten the belly.
Slightly higher armholes to disguise high scarring in the underarm area. A mastectomy swimsuit should have higher armholes without being excessively high, tight, or uncomfortable.
Adjustable straps make the suit fit more to your personal physique.
Wide straps and a high neckline hide potential scarring.
Styles of Swimwear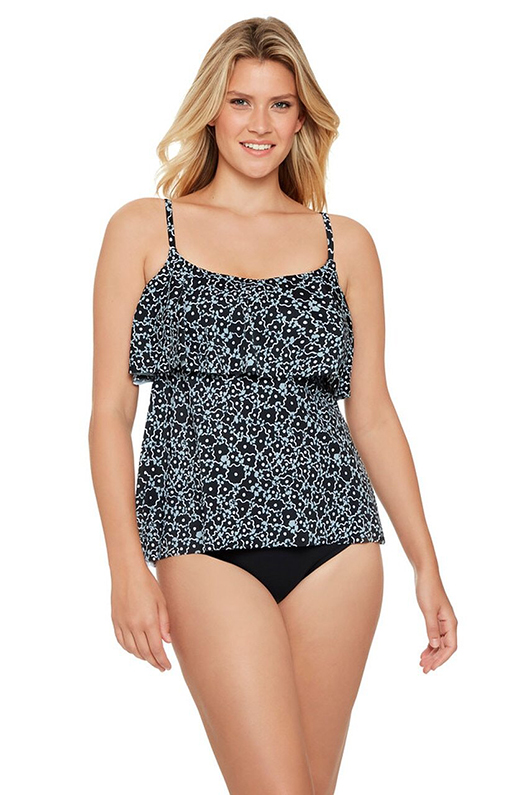 Post-mastectomy swimwear has as wide a variety of styles to choose from.
Tankinis are two-piece swimsuits that offer more coverage than a traditional bikini bathing suit. The tops offer longer lines and cover the belly with the bottoms ranging from traditional high cut legs or boy shorts.
One-piece swimsuits offer support and fuller coverage, some include skirting or other coverage options.
Swim shorts and skirts are perfect for pairing with a tankini or bikini top if you want a little extra coverage for your behind. Look for tailored styles that won't balloon in the water but still give you freedom of movement when you swim.
Your bathing suit should be comfortable. If you feel more comfortable with adjustable straps, removable cups, or tummy control then find a style that includes all these features so you feel confident getting into the water or hitting the beach.
If you have opted out of wearing a breast form post-mastectomy but you still want to get your laps in, check out styles that create volume around the bust such as ruffled tankini tops or blouson style swimwear as these options will balance out the proportions of your body.
The Penbrooke Single Tier Tankini Top is perfect for women who choose to go flat. The chic monochromatic print draws attention to your body while the bold ruffle gives the appearance of a fuller bust. The long-line design is universally flattering on all body types and the adjustable straps help you to achieve a better fit. Pair with high waisted bikini briefs for added tummy control.
Go for a feminine retro style to enhance your curves with the T.H.E Shirred Girl Leg Mastectomy Swimsuit. The high sweetheart neckline and ruching along the front nips your waist and boosts your bust while disguising surgical scars. The long legs provide added coverage for your rear and give the suit a fun vintage twist.
The Penbrooke Hi-Neck Mio One-Piece Swimsuit is a gorgeous choice for women who decide not to wear breast forms while swimming. The upper part of the suit has a stylish abstract print and a halter neck. The interior features soft cups which can provide gentle shaping and bust enhancement. The bottom of the suit has a tummy control panel and ruching to give you a slim silhouette.
Living Your Best Life
Mastectomy swimwear is specifically designed to support the needs of post-surgical cancer patients but there are a lot of reasons why women would choose to not use them. Often women point to discomfort, the weight of the form being too heavy or too light and concerns about them staying in place as reasons to not wear them.
You can wear mastectomy swimwear without utilizing a form or prosthetic with it. Be aware that some swimsuits will not fit correctly or and others may lose symmetry if worn without breast forms but this life is about your comfort and confidence. If you decide that you don't want to wear a prosthetic, then don't.
The Wrap Up
Mastectomy swimwear and breast forms are deeply personal choices that women face following cancer treatment and surgery for breast cancer. These decisions should be made with confidence and with comfort in mind.
Just as when you shopped for swimwear before your surgery, the selection is broad and consists of choosing everything from color to style. These swimsuits have a variety of features to choose from, allowing you to not just choose the type of suit you'd prefer but also allowing you to personalize the depth of your neckline. Always look for the features that you're the most comfortable with to suit your unique needs.