After a mastectomy, it's essential to work with your body to promote healing and long-term health. An exercise regime is one of the fundamental components of post-mastectomy self-care and can make a massive difference in your recovery and how you feel. Even if you didn't workout seriously before breast cancer treatment, it's never too late to start and reap the benefits.
However, despite the benefits, there are crucial things to bear in mind if you begin a post-mastectomy running routine. Running after such a life-changing surgery is not the same as running would have been before. Mastectomy patients require additional support and specific design features to get the most from a post-mastectomy exercise regime.
Why Run?
There are many benefits associated with running. In addition to helping you maintain a healthy weight and being a high-calorie burning activity, running also:
Keeps your cardiovascular system healthy
Strengthens your muscles
Improves bone density
Helps lower cholesterol
Enhances your immunity
Improves cognitive functioning
Improves sleep quality
During your recovery from breast cancer surgery, running is an excellent addition to your wellbeing protocol once your incisions are healed, and your doctor clears you for exercise. Going through breast cancer treatment and surgery can take a toll on your mental and emotional wellbeing. Many mastectomy patients find running therapeutic, benefitting their mind as well as their body. It's been proven to help stress management, improve self-esteem, and even decrease the symptoms associated with depression.
Mastectomy patients also experience specific physical benefits with a running exercise routine. Aerobic activity is known to benefit women who've had breast cancer by strengthening the cardiovascular system and lowering your body mass.
You should expect to start running six to eight weeks after your mastectomy. If you have had more extensive surgeries that have removed lymph nodes or you've had a breast reconstruction, more recovery time will be required. However, these times are a prerequisite upon your doctor's approval and listening to your body. If you experience significant discomfort, you should discontinue immediately and check in with your healthcare professional.
The Magic of Sports Bras
Sports bras come with several benefits that differ from your regular bra. They are specifically made for active use and help support the chest to minimize breast movement. With running or other forms of strenuous movement, the breast moves in a way that can cause both short and long-term damage. Without adequate support, vigorous activity can weaken muscle ligaments and stretch breast tissue, resulting in breast pain and long-term breast sagging.
If you're going to undertake any kind of physical activity, a sports bra is invaluable for your comfort. Because they're so comfortable, many women also wear a sports bra daily, regardless of whether they plan on exercising.
The same characteristics which make a sports bra so comfortable are the same reasons which make it perfect for post-mastectomy wear. The wide understrap, wide shoulder straps, lack of underwire, soft molded cups, and full coverage support suit mastectomy patients' needs.
Finding a Good Sports Bra
There are so many great post-mastectomy sports bras on the market, and they come in two distinct styles: compression and encapsulation.
Compression sports bras` are different from specially-designed post-surgery compression bras and don't include the same features (such as a front-clasp.) Compression sports bras are designed to minimize breast movement by compressing the breast tissue; they are suited for medium-impact activities and women with small breasts.
On the other hand, encapsulation bras feature soft cups that support the breasts individually, preventing lateral and vertical movement and providing a more natural appearance. This sports bra style is best suited for high-impact activity and women with a larger bust who need more support.
You'll need to select a sports bra that suits your lifestyle, activity level, and body shape. It's essential to consider your breast size, whether you've had breast reconstruction and the kind of exercise you'll be doing. If you're running, a high-impact sports bra will suit you best.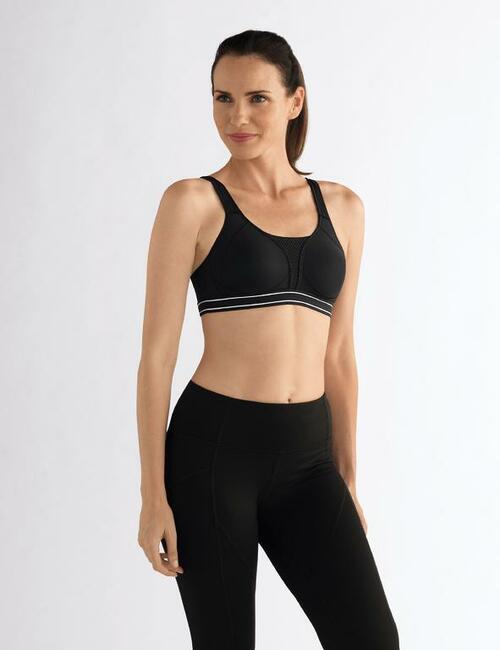 The Full Support Sports Bra
This Amoena fitted sports bra features soft molded cups and firm construction. The soft microfiber fabric has moisture-wicking properties, and the breathable mesh panels on the front, back, and sides ensure you stay comfortable and dry no matter how hard you run.
You can enhance this support with the three-way adjustable closure and adjustable straps.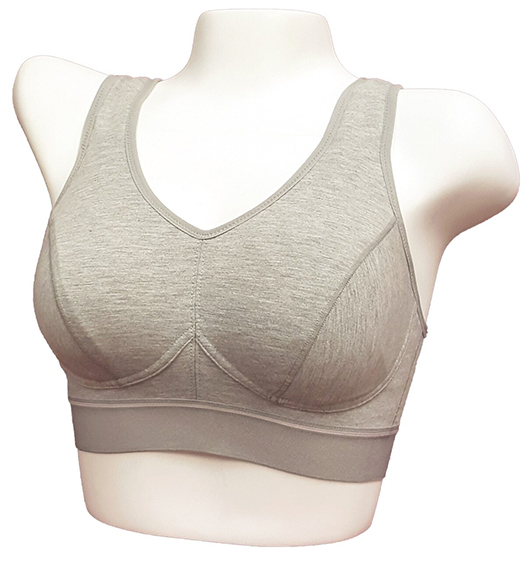 The Relaxed Sports Bra
The Nearly Me Sports Bra offers moderate support for someone who doesn't plan on a strenuous run but wants a light jog or fast walk. The jersey-like material is soft against the skin and allows your skin to breathe. This isn't a constricting bra; it has a close bra fit but has a relaxed feel.
Built with practicality and comfort in mind, the built-in pockets are perfect for adding your breast forms while the soft band backing doesn't rub the skin.
Final Thoughts
Taking care of yourself is crucial after a mastectomy. Once you feel well enough to begin exercising, running is an excellent choice with physical, mental, and emotional benefits. Sports bras offer supreme support, including features that set them apart from regular bras.
Mastectomyshop.com offers a range of specially-designed sports bras. Call 877-413-2272 to speak to one of our experienced staff members and ask any questions you may have about finding the right sports bra for you.